This roasted vegetable pasta is flexible, so use whatever veggies you have on hand! Garnished with fresh herbs, it's simple and delicious.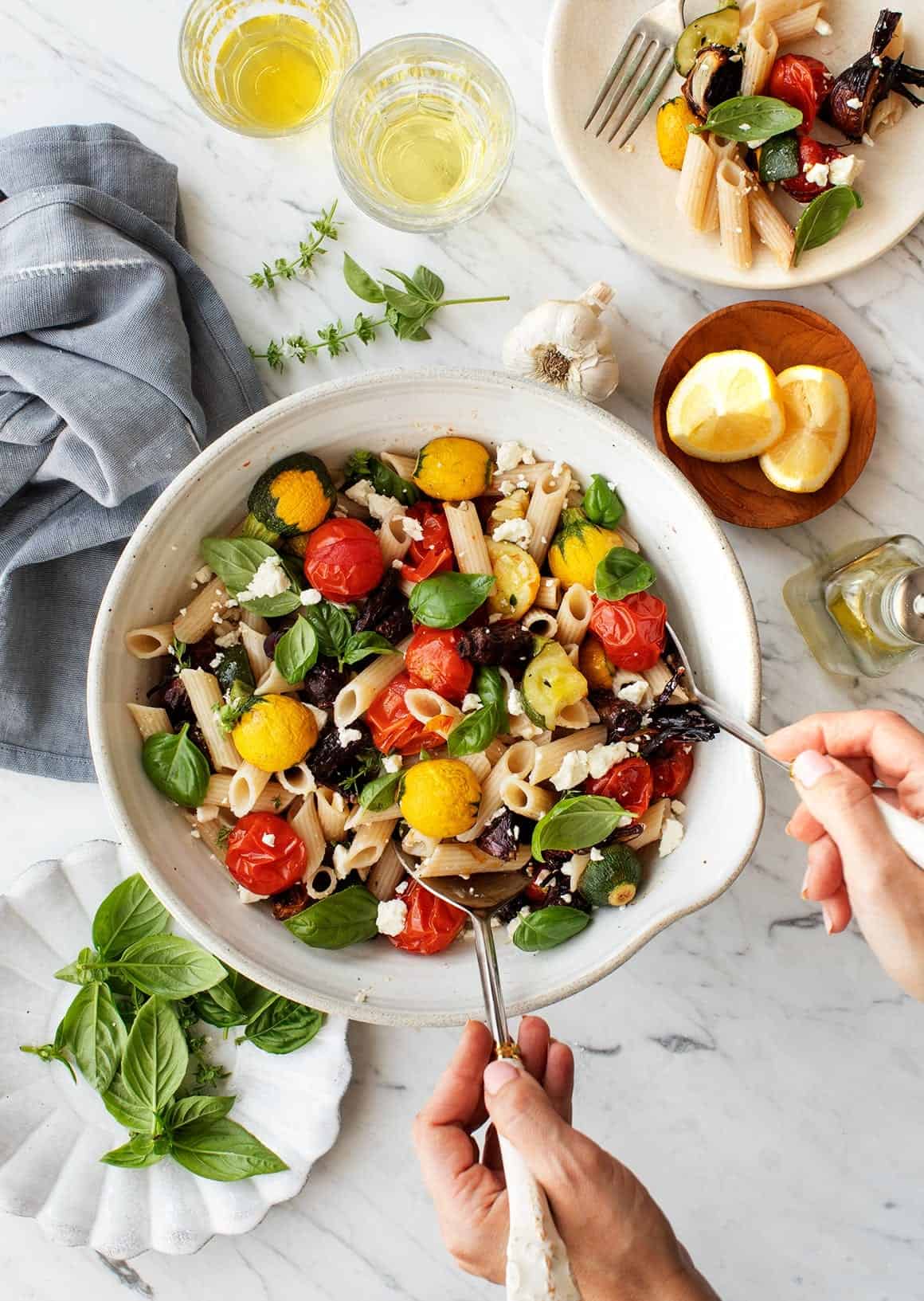 This roasted vegetable pasta dish makes me happy to cook! As the vegetables roast, they fill the kitchen with sweet, earthy, and savory aromas. When they're golden brown and caramelized, I pull them out of the oven and toss them with a zingy dressing, warm pasta, fresh herbs, and cheese. I don't use any measuring spoons (and you won't have to either). Instead, I taste and adjust to find a perfect balance of late summer flavors. Hint: You'll know it's right when you can't resist taking another bite. 🙂
This roasted vegetable pasta takes about 30 minutes to make, and it's simple, flexible, and fun. Filled with bright color and bold flavor, it's a delicious showcase for any farmers market haul of veggies.
Vegetable Pasta Recipe Variations
You'll love this recipe as written, but it's also a great one to play with. Feel free to use what you have on hand or whatever looks best at the farmers market. Here are some of my favorite variations:
Switch the veggies. Nearly any late summer veggie works well in this roasted vegetable pasta. Replace some of the summer squash with eggplant or bell peppers, swap the carrots for green beans, or add broccoli, cauliflower, fennel, or corn.
Grill the veggies. Too hot to turn the oven on? This vegetable pasta is just as good when you cook the veggies on the grill.
Swap the cheese, or skip it. If you don't have feta on hand, use shaved Parmesan cheese or crumbled goat cheese in its place. To make this recipe vegan, skip the cheese, or add a spoonful of capers instead.
Add some crunch. Toss in a handful of toasted pine nuts or roasted chickpeas.
Up the herbs. In addition to fresh basil, top the pasta with dollops of pesto.
Let me know what variations you try!
Vegetable Pasta Recipe Tips
Roast heartier vegetables for longer. If you make this roasted vegetable pasta with the same veggies I did, you'll find the roasting times in the recipe below. However, if you're using different vegetables, their cooking times will likely vary. Heartier veggies like root vegetables, onions, and cauliflower will take around 30 minutes, while tender veggies like zucchini and asparagus will take closer to 20. For reference, check out my guides to roasting cauliflower, broccoli, asparagus, butternut squash, and Brussels sprouts.
Dress the veggies while they're warm. The vegetables will absorb more of the bright, tangy dressing while they're still warm from the oven, so, for the best flavor, toss them with the oil and vinegar before they cool.
Taste and adjust. One of my favorite things about making this roasted vegetable pasta is that you can get away with not measuring anything (fewer dishes!) as long as you're willing to taste and adjust your final dish. Too bland? Add more salt, red pepper flakes, herbs, or cheese. Not punchy or bright enough? Add more lemon or vinegar. Too dry? Drizzle your olive oil a little more generously. As long as you season to taste, you'll end up with something delicious.
More Favorite Pasta Recipes
If you love this roasted vegetable pasta, try one of these healthy pasta recipes next:
Roasted Vegetable Pasta
This easy roasted vegetable pasta is one of our favorite weeknight dinners. The combination of veggies listed below is excellent, but feel free to swap in whatever you have on hand.
Ingredients
4

carrots

,

cut into 1-inch pieces

2

Vidalia onions

,

or 1 small yellow onion, cut into 1-inch pieces

5

small pattypan squash

,

sliced in half

2

small zucchini

,

cut into 1-inch pieces

10

cherry tomatoes

1

tablespoon

extra-virgin olive oil,

more for drizzling

1

tablespoon

sherry vinegar

2

garlic cloves,

minced

½

teaspoon

herbes de Provence

Leaves

from 8 sprigs fresh thyme

,

more for garnish

1

16-ounce package brown rice penne pasta

½

cup

crumbled feta cheese

½

cup

fresh basil

,

more for garnish

Juice of ½ small lemon

,

more if desired

Pinches

of red pepper flakes

Sea salt and freshly ground black pepper
Instructions
Preheat the oven to 400°F and line 2 large baking sheets with parchment paper. Place the carrots and onions on the first sheet and the pattypan squash, zucchini, and tomatoes on the other. Drizzle both sheets of vegetables with olive oil and generous pinches of salt and pepper. Place the sheet with the carrots and onions in the oven first and roast for 30 to 35 minutes or until the onions are tender and lightly charred, and the carrots are tender and browned. Place the second sheet in and roast for 20 minutes, or until the squash and zucchini are golden brown around the edges, and the tomatoes are lightly bursting. Remove from the oven and set aside.

In the bottom of a large bowl, combine the 1 tablespoon of olive oil with the sherry vinegar, garlic, herbes de Provence, thyme, ¼ teaspoon salt, and several grinds of black pepper. Stir in the roasted vegetables.

Prepare the pasta according to the instructions on the package, cooking until al dente. Drain and transfer the cooked pasta to the large bowl with the roasted vegetables and toss to coat.

Add the feta, basil, lemon juice, and red pepper flakes and gently toss. Season (generously!) to taste with more salt, pepper, and lemon juice, as desired.

Garnish with more fresh herbs and a generous drizzle of olive oil.