Don't underestimate beets! They might be a humble root veggie, but these fresh beet recipes prove just how versatile and delicious they can be.
One of my many missions in life is to create fresh beet recipes that will win over even the biggest beet skeptics. Luckily, Jack has given me ample practice over the years. When we first met, he wouldn't come near a beet, let alone taste one. But with time (and only a little trickery), I've gotten him to try and enjoy a host of beet recipes. Just last week, he devoured an entire beet salad at dinner, proclaiming how much he loved it with every bite.
So if you're still on the fence about beets, I get it. Their earthy flavor can be an acquired taste. But I hope you won't give up on them just yet. They're especially sweet in the fall, and a good seasoning only makes them better. To get you started, I'm sharing 15 of my best beet recipes below. They include fun snacks, fresh salads, and hearty entrees as well as beet basics like roasted beets and sautéed beet greens. Jack's happy eating all of them, so I think it's safe to say that you'll easily find one you love.
Basic Beet Recipes
Cooking beets for the first time? You're in the right place! Enjoy these basic beet recipes on their own, or use them as starting points for the other beet recipes in this post.
Roasted Beets with Citrus (pictured above)
If you have a bunch of beets in your kitchen and you don't know what to do with it, this recipe is the perfect place to start. You'll trim off the greens (see below for my favorite way to use them!), wrap the beets in aluminum foil, and roast them for about an hour (the exact timing will vary depending on the size of your beets). When they're tender, slip off the skins and season the beets with citrus juices, olive oil, and a little vinegar. Add them to any salad or bowl, or make them into a stunning side dish by tossing them with herbs, goat cheese, and a handful of toasted nuts.
Beet Greens
Don't toss those tops! Beets are famous for their roots, but their lush greens are delicious too. Sauté them and toss them with pasta, add them to a frittata, or serve them in this simple side dish with golden raisins and chopped walnuts.
Beet Veggie Noodles
Love zucchini noodles and spaghetti squash? Then you'll fall for beet noodles too! Lightly sauté them and top them with pesto or lemon vinaigrette, roasted chickpeas, fresh herbs, and feta cheese. For extra color, add other spiralized veggies like carrots or kohlrabi to the mix.
Beet Rice, page 151 of Love & Lemons Every Day
This vibrant veggie rice may not be as famous as cauliflower or broccoli rice, but it's every bit as versatile and delicious. Serve it with a stir fry, toss it into a salad, or use it as the base of an all-veggie grain bowl like this one.
Beet Appetizers and Sauces
In these vibrant spreads and sauces, aromatic spices like cumin and coriander play perfectly off the beets' sweet, earthy flavor. If you're on the fence about beets, these three beet recipes are bound to win you over.
Beet Muhammara Dip, page 71 of Love & Lemons Every Day
This creamy dip is my unconventional take on muhammara, a Syrian spread made from walnuts and roasted red peppers. Most often, I serve it as an appetizer with pita, crackers, and fresh veggies, but it's also a wonderful sandwich spread or topping for a simple grain bowl.
Beet Tahini Sauce
I love all my tahini sauce variations, but if I had to pick a favorite, the beet tahini would be it. Roasted beets add a hint of sweetness, while cumin and coriander give it a delicious spiced flavor. Drizzle it over falafel, toss it with a salad, dot it onto avocado toast, or scoop it up with pita and veggies. Anything regular tahini sauce can do, beet tahini can do too.
Beet Hummus
Jazz up classic hummus by blending in roasted beets! Like in my beet tahini, they give this creamy dip a lightly sweet, earthy flavor that makes it addictive on just about anything.
Salad Beet Recipes
In the fall and winter, beets are one of my favorite vegetables to add to salads. Raw beets are a great way to give any salad color and crunch, while oven roasted beets add sweetness and hearty texture.
Beet & Carrot Salad with Sweet Citrus Vinaigrette, page 115 of The Love & Lemons Cookbook
This wintry mix of citrus and root veggies is just as flavorful and refreshing as any summer salad! Roasted and raw beets mingle with crisp carrot ribbons, nutty farro, chickpeas, and fresh mint to create a bright, bold salad that's hearty enough to be a meal on its own.
Kale Salad with Carrot Ginger Dressing
This is my favorite salad to make for lunch in the winter! Topped with roasted chickpeas, creamy avocado, toasted seeds, and a rainbow of root vegetables, it always keeps me full till dinnertime.
Roasted Beet Salad with Balsamic Dressing
Use a mix of red and golden beets to make this elegant salad especially eye-catching. It's a wonderful dinner side dish, but I like it so much that I often bulk it up with some cooked quinoa and enjoy it as a meal on its own!
Harvest Haven Salad
This refreshing salad is flexible, so make it with whatever autumn veggies you have on hand. I like to use tender fall lettuces, late season cherry tomatoes, and lots of shaved root vegetables for crunch.
Beet Salad with Pistachio Beet Green Gremolata, page 127 of Love & Lemons Every Day
Welcome to my pink party! This vibrant winter salad features red beets, pink grapefruit, radicchio, radishes, and pickled red onions to boot. I top it all off with a beet-y riff on gremolata made with minced beet greens, lemon zest, and crunchy pistachios.
Main Dish Beet Recipes
Below, you'll find main dish beet recipes for every occasion – busy weeknights, fun weekend dinners, and even romantic date nights-in.
Easy Power Lunch Bowls
Shaved raw beets add crunch to this nourishing medley of kale, avocado, roasted sweet potatoes, and tahini dressing. But when it comes to beets in bowls, this combination is just the beginning. Roasted or raw beets would be fantastic in this buddha bowl, this veggie bowl, or this quinoa bowl too. For even more bowl inspiration, check out this post!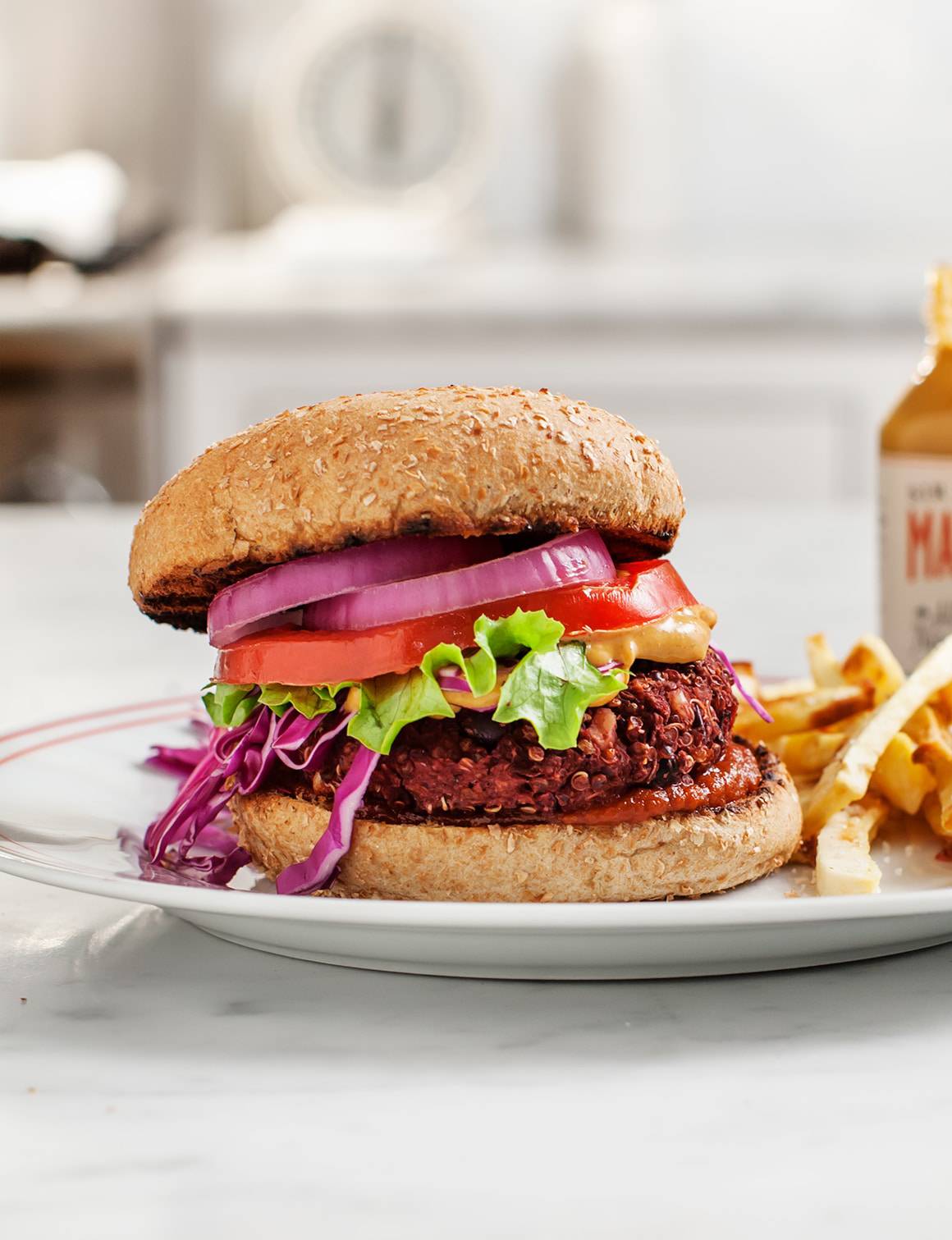 Quinoa Burger
Grated red beet adds meaty color to this hearty veggie burger. Slather it with chipotle sauce and pile it onto a homemade bun for a super fun and flavorful dinner.
Creamy Polenta with Roasted Beets
The beet-iest for last! In this comforting winter dish, a bright, zesty mix of roasted and raw beets, roasted chickpeas, and sautéed spinach tops creamy polenta. For an even beet-ier spin, replace the spinach with beet greens.
Enjoy!
Beet Recipes: Simple Roasted Beets
These roasted beets are one of our favorite beet recipes!
Ingredients
6 to 8

small or medium red or yellow beets

Extra-virgin olive oil,

for drizzling

1

large navel orange

Sherry vinegar or balsamic vinegar

,

for drizzling

Juice of ½ lemon

,

or to taste

Handful of watercress leaves

,

or arugula or microgreens

Sea salt and freshly ground black pepper

Flaky sea salt

,

optional
Instructions
Preheat the oven to 400°F.

Place each beet on a piece of foil and drizzle generously with olive oil and pinches of sea salt and freshly ground black pepper. Wrap the beets in the foil and roast on a baking sheet for 35 to 60 minutes, or until soft and fork-tender. The time will depend on the size and freshness of the beets. Remove the beets from the oven, remove the foil, and set aside to cool. When they are cool to the touch, peel the skins. I like to hold them under running water and slide the skins off with my hands.

Use a citrus peeler to peel long strips around the orange, avoiding the white pith. Grated zest would work here also. Slice ¾ of the orange into segments and reserve the remaining ¼ wedge for squeezing.

Slice the beets into 1" wedges or chunks and place them in a bowl. If you're using red and yellow beets, place each color into separate bowls so the red beets don't stain the yellow beets.

Drizzle with olive oil and sherry vinegar, then add the lemon juice, orange juice squeezed from the remaining wedge, and a few pinches of salt and pepper and toss. Chill until ready to serve.

Taste before serving and season with more salt (flaky sea salt, if using) and pepper or more vinegar (for more tang), orange, or lemon juice, as desired.

Serve on a platter with the orange segments, watercress, and citrus curls.