You won't miss the meat or dairy in this vegan burrito recipe. It's super easy to make, and the rice, bean, and veggie filling is SO flavorful and satisfying!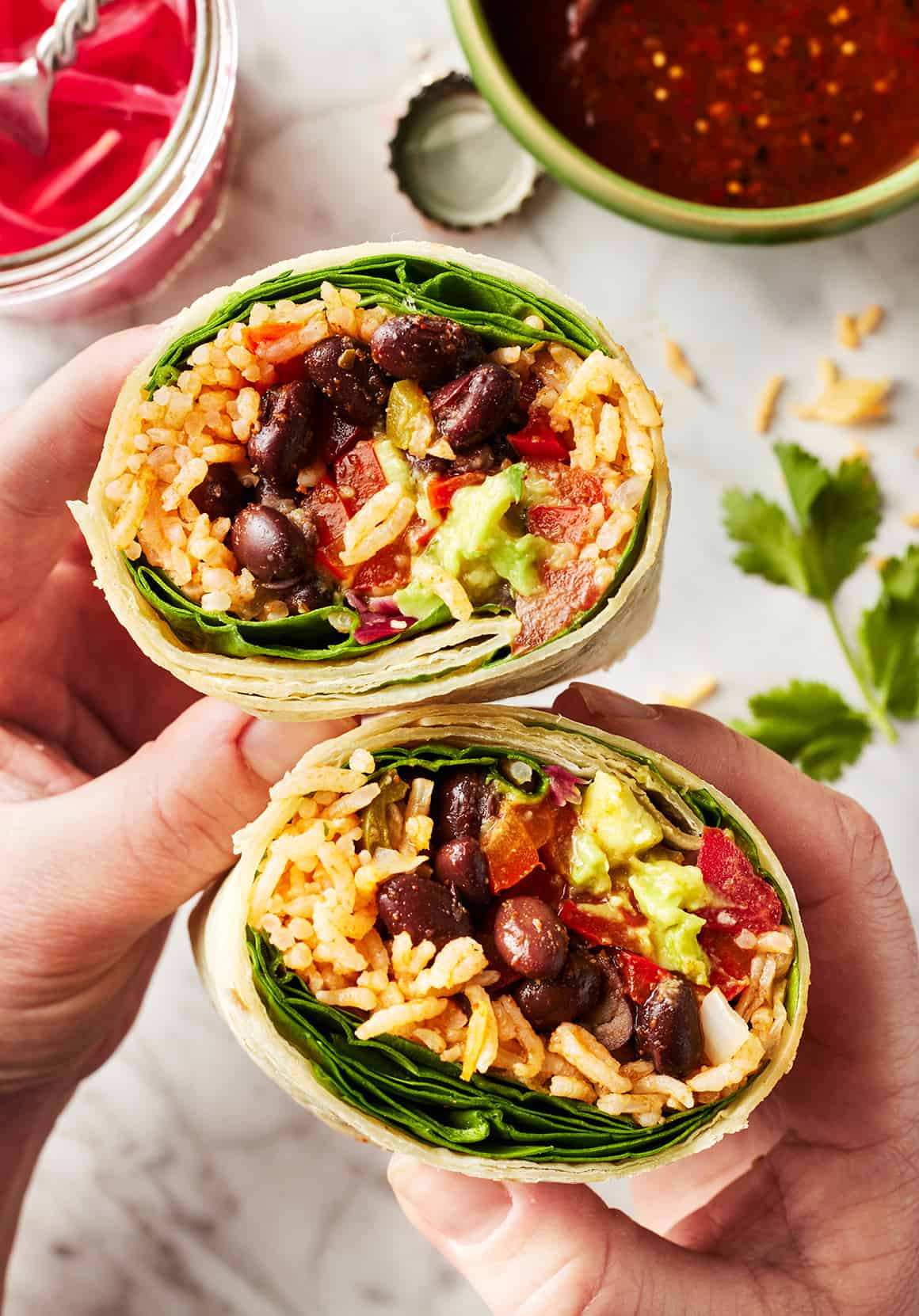 This burrito recipe happens to be vegan, but you don't have to be vegan to love it. It's easy to make, it's flavorful and fresh, and you can even meal prep it if you want to get ahead on lunch or dinner. The hearty filling consists of Spanish rice, seasoned black beans, guacamole, pickled onions, and veggies. Take it over the top with a side of salsa for dipping!
Below, I'll walk you through how to make this vegan burrito recipe, offer tips for how to store it, and share some tasty variations. It's my favorite burrito recipe, vegan or not, and I hope you enjoy it too!
Vegan Burrito Recipe Ingredients
Here's what you'll need to make this vegan burrito recipe:
Flour tortillas – Look for ones that are soft, pliable, and large enough to fit a good amount of filling. I typically use 10-inch tortillas.
Spanish rice – You could use plain white rice or brown rice in a pinch, but I love the depth of flavor the Spanish rice adds to this recipe.
Black beans – For plant-based protein! You'll season them up with fresh lime juice and a pinch of taco seasoning for bold, zesty flavor.
Red bell peppers – You'll quickly char them on the stove so that they become sweet and smoky.
Spinach – It adds refreshing crunch.
Guacamole – It offers a rich and creamy contrast to the fresh veggies in the filling. Don't feel like making guac? Avocado slices would work here too!
Pickled red onions – For a bright pop of flavor.
Fresh cilantro – A burrito essential, if you ask me. I love the kick of fresh flavor!
Jalapeños – For heat. Feel free to skip them if you're sensitive to spice.
Extra-virgin olive oil – For seasoning the beans and cooking the peppers.
And salt and pepper – To make all the flavors pop!
Find the complete recipe with measurements below.
Vegan Burrito Variations
I love the combo of fillings in this vegan burrito recipe, but if you want to change it up, by all means, do! Here are a few ideas to get you started:
Switch the rice. Fill your vegan burrito with cilantro lime rice instead of Spanish rice.
Change the beans. Creamy, cumin-spiced pinto beans would be SO delicious here!
Try different veggies. Swap out the spinach for lettuce. Use corn salsa, pico de gallo, or roasted broccoli instead of or in addition to the peppers.
Not an avocado person? Skip the guacamole and add a dollop of vegan sour cream or some shredded vegan cheese.
Make it gluten-free. If you have a brand of large, pliable gluten-free tortillas you love, feel free to use them instead of flour tortillas. Another great option is to forego the tortilla entirely and turn this recipe into a vegan burrito bowl.
Let me know what variations you try!
How to Make Vegan Burritos
This vegan burrito recipe is super easy to make! Here's how it goes:
First, prep the fillings. Start by making the pickled onions because they taste better the longer they sit in the fridge. For the best flavor, I recommend making them a day in advance.
You'll also need to cook the Spanish rice, season the black beans, and char the peppers. If you like, you can make all these components ahead of time. Store them in an airtight container in the fridge for up to 3 days before assembling the burritos.
When it comes to the guac, you can go all out and make my best guacamole recipe, or make a quick guacamole with mashed avocado, garlic, lime juice, and salt. Alternatively, use store-bought guacamole to simplify your prep.
Next, fill the burritos. Place the tortillas on a flat, clean work surface. Add a layer of spinach followed by the rice, beans, peppers, guacamole, pickled onions, cilantro, and jalapeños.
Finally, fold them closed. Fold the sides of the tortillas over the filling, and then fold up the bottom flap. Tuck and roll the burritos closed. Want more burrito-folding tips? Check out my post on how to fold a burrito!
Slice the burritos in half, if desired, and enjoy!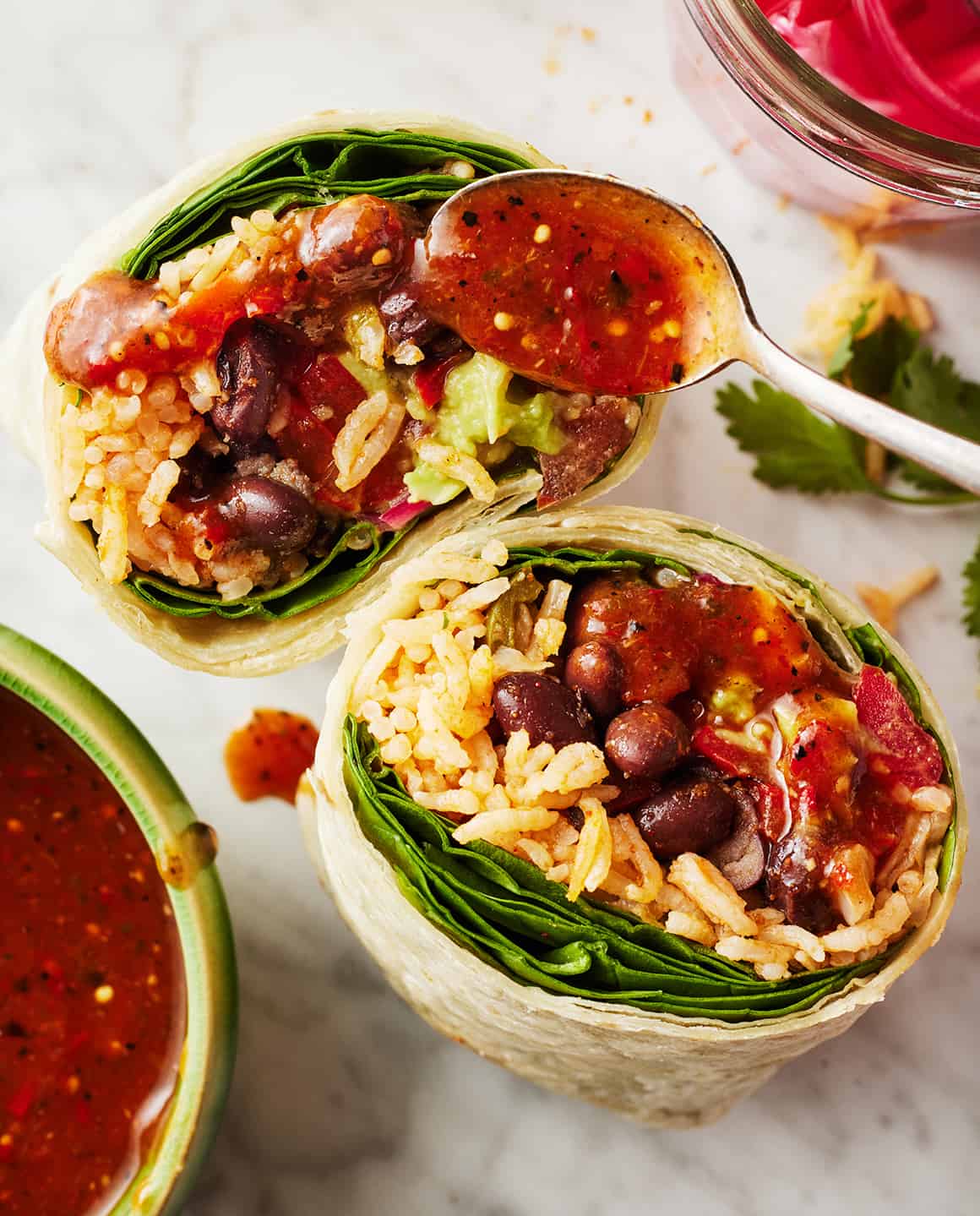 Serving Suggestions
If you ask me, no burrito—vegan or otherwise—is complete without a tasty sauce for dipping. My go-to is some kind of salsa. Make homemade tomato salsa or salsa verde, or use your favorite store-bought salsa or hot sauce. These homemade sauces would be great options too:
Want something to serve on the side? Round out the meal with my Mexican street corn salad, grilled vegetables, or a handful of tortilla chips.
How to Store Vegan Burritos
Leftover burritos? Wrap them tightly in foil and store them in the fridge for up to 2 days!
With a few adjustments, this vegan burrito recipe also freezes well:
Skip the avocado.
Use spinach, not lettuce or another tender green. It'll wilt when you reheat it.
Freeze the foil-wrapped burritos for up to 3 months. Transfer frozen burritos to the fridge to thaw overnight, or defrost them in the microwave. I like to wrap them in a kitchen towel and microwave them for 1 to 2 minutes per side, or until they're heated through. Enjoy with salsa or a squeeze of fresh lime juice for a quick and easy meal!
More Vegan Mexican Recipes
If you love this vegan burrito recipe, try one of these plant-based Mexican dishes next:
Vegan Burrito
This vegan burrito recipe is a delicious lunch or dinner. It has a flavorful filling made from Spanish rice, seasoned black beans, guacamole, pickled onions, and fresh veggies. Feel free to prep the components ahead of time for quick and easy assembly!
Ingredients
For the Peppers:
2

teaspoons

extra-virgin olive oil

2

red bell peppers

,

stemmed, seeded, and sliced into thin stips

Sea salt and freshly ground black pepper
Instructions
Make the beans: In a medium bowl, stir together the black beans, lime juice, taco seasoning, olive oil, and salt. Set aside to marinate while you prepare the other components.

Make the peppers: Heat the olive oil in a large skillet over medium heat. Add the peppers, a pinch of salt, and several grinds of pepper. Cook, stirring occasionally, for 8 to 10 minutes, or until the peppers are soft and browned in places. Remove from the heat and season to taste.

Assemble the burritos: Fill the centers of the tortillas with a layer of spinach, a scoop of rice, some of the beans, the peppers, guacamole, pickled red onions, cilantro, and jalapeños. Tuck and roll closed. Serve with salsa.