Looking for a fun, flavorful dinner idea? Try a taco bar! Warm a stack of tortillas, and let everyone fill them with their favorite taco toppings.
On nights when I have a bunch of odds and ends in the fridge – minced cilantro, sliced chiles, a container of cooked black beans – I warm a stack of tortillas and set out a taco bar for dinner. It's a long way from traditional Mexican food, of course, but Jack and I still have fun piling our tacos with whatever toppings sound best.
I love this kind of DIY dinner on weeknights. For one, it's way easier to drum up taco toppings than it is to make one composed main dish, especially if you start with fixings that you already have on hand. Second, it allows everyone to get involved in the cooking. Whether you have kids or just slightly different tastes from your partner (e.g. Jack doesn't like avocado…), it's a win-win.
You'll find 25 of my go-to taco toppings below. They're all simple and flavorful, and many will keep well if you make them ahead of time. Choose two, three, four, or more, and assemble a fun, fresh taco bar any night of the week!
Taco Bar Essentials
Before we get to taco toppings, let's talk taco bar basics. For starters, you'll need tortillas. A side of beans and rice never hurts either.
Tortillas
Whether store bought or homemade, tortillas are a must at any taco bar. I suggest choosing small corn tortillas, or soft tortillas made with a mix of corn and wheat flour. That way, you can enjoy the rich flavor of corn tortillas and the pliability of flour tortillas all in one!
Black Beans
Seasoned with cumin, oregano, and lime, they make a great taco filling or side. Cooked pinto beans or refried beans would be an excellent taco bar choice too.
Cilantro Lime Rice
No taco night is complete without some kind of side dish, and cilantro lime rice is one of my favorites. Lime, green onion, and cilantro pack it with fresh, zesty flavor.
Hearty Taco Toppings
Who says you need meat to create a tasty taco bar? These hearty taco toppings – though not at all traditional – are flavorful, satisfying, and entirely vegan.
Shiitake Walnut Taco Meat
Shiitake mushrooms add rich umami flavor to this savory, smoky vegan taco meat.
Jackfruit Taco Filling
This jerk-spiced jackfruit recipe comes from The Vegan Instant Pot Cookbook by Nisha Vora. I love it because it 1) packs a HUGE punch of flavor and 2) is perfect for making ahead. Cook it up to two days before your taco bar party, and warm it on the stove or in a slow cooker right before you eat.
Very Veggie Taco Bar Ideas
Tip: Veggies will make any taco bar better. For a crunchy garnish, make a quick slaw by tossing red cabbage with lime juice, salt, and pepper, or set out bowls of shredded lettuce, sliced radishes, and/or diced onion. Garnishes aside, veggies can make up the "meat" of a taco, too! These plant-based taco toppings are all hearty and flavorful. Better yet, they're super simple to make!
Fajita Veggies
A 5-ingredient marinade infuses grilled portobellos and bell peppers with tangy, smoky flavor.
Grilled Vegetables
Stuff them into tortillas with pickled jalapeños, cilantro, and a scoop of avocado sauce to make tasty veggie tacos in minutes.
Roasted Sweet Potatoes
Never tried sweet potato tacos? You're missing out! Tossed with chili powder or a little taco seasoning, roasted sweet potatoes are an irresistible sweet and spicy taco filling.
Air Fryer Cauliflower
I've been eating this crispy cauliflower as a snack for months, but only recently did I think to try it in tacos. What took me so long?! Crispy on the outside, tender in the middle, and spiced with cayenne and smoked paprika, it's a must-try taco filling.
Salsas
Scoop some into your tacos, and serve the rest with tortilla chips for dipping.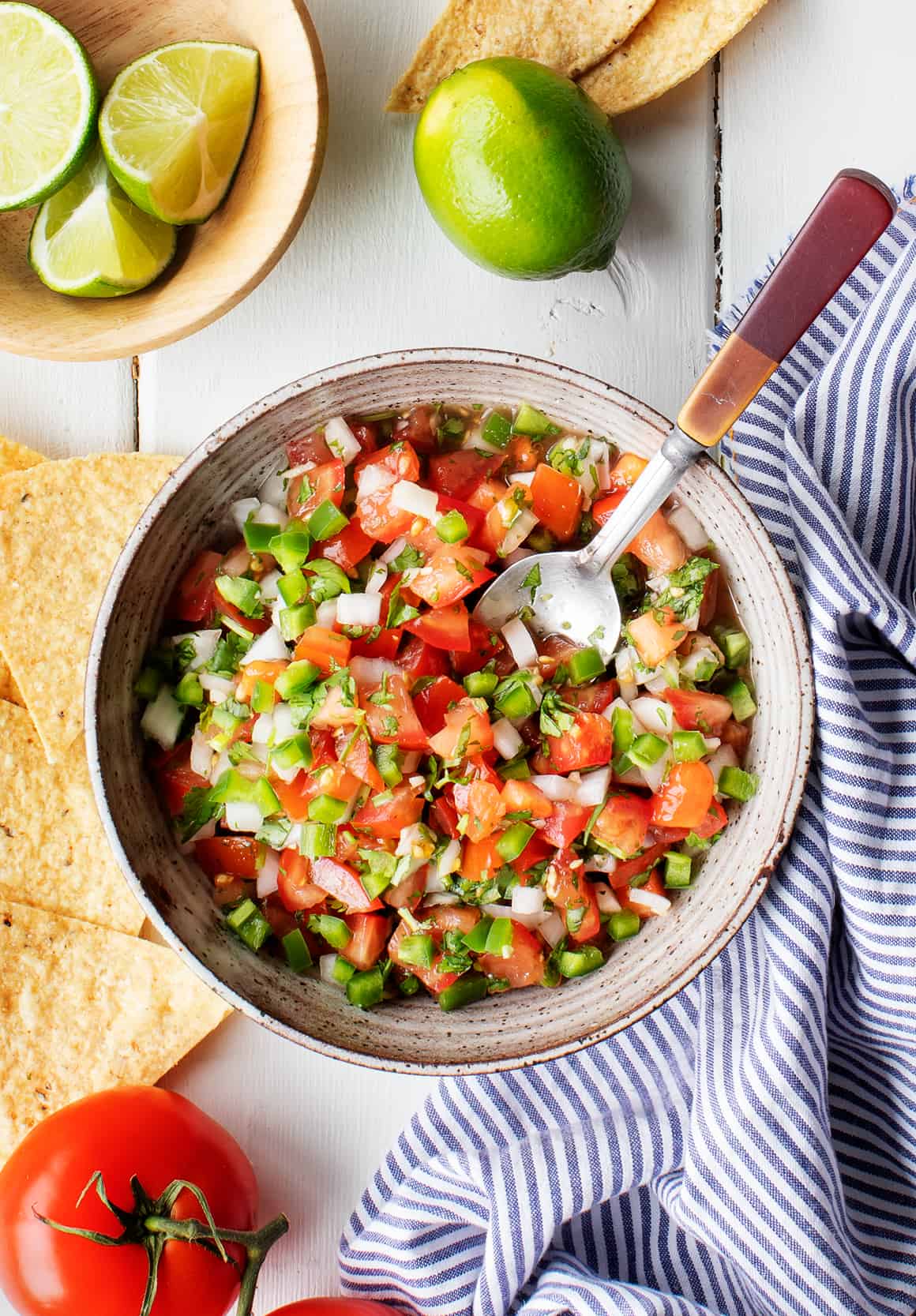 Pico de Gallo
If making homemade salsa sounds intimidating, salsa fresca is a great place to start. Dice up tomatoes, onions, cilantro, and chiles, mix them together, and add a big squeeze of lime and a pinch of salt. It's so simple and refreshing!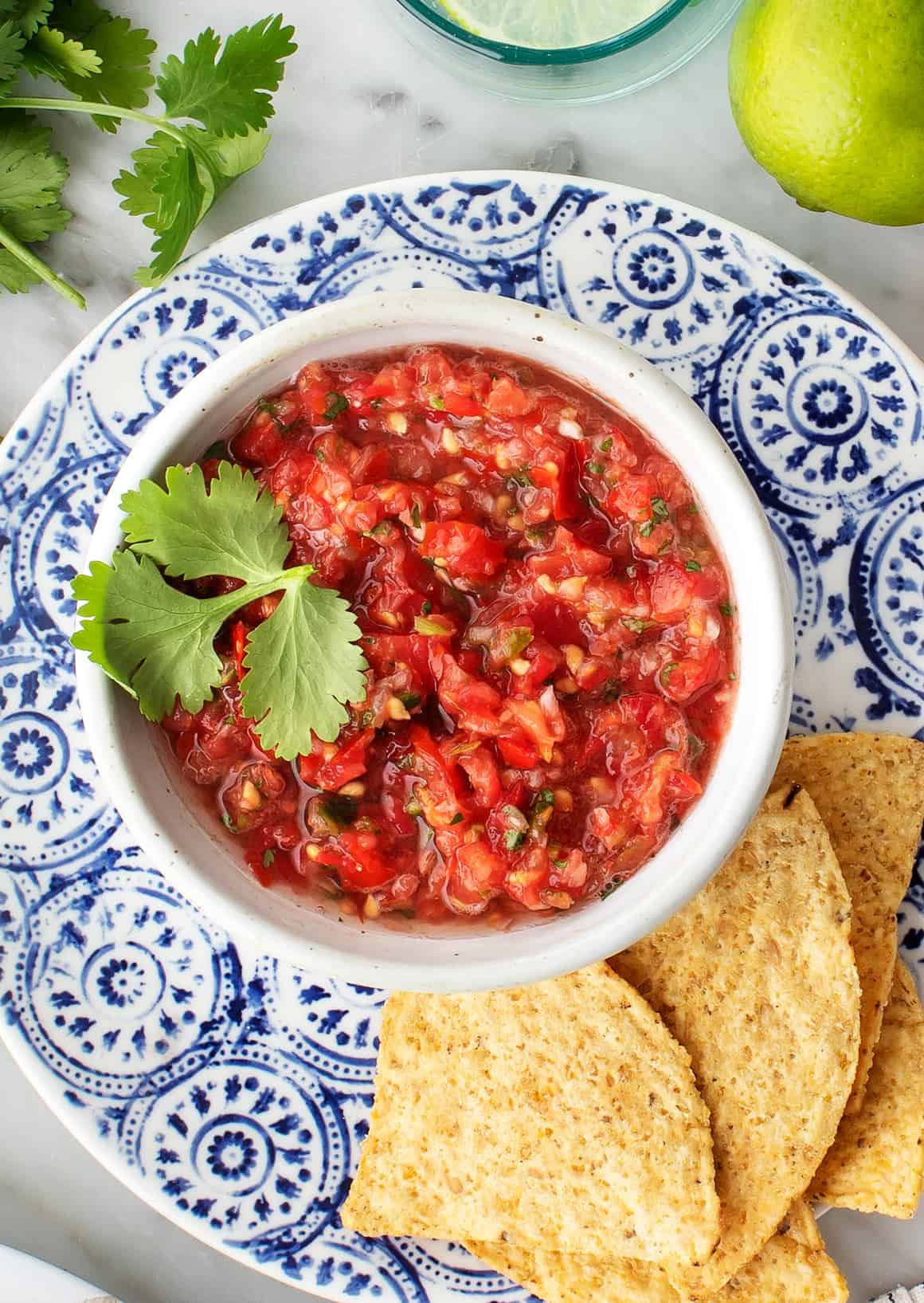 Homemade Salsa
Now that I think about it, making this salsa recipe might even be simpler than making pico de gallo. Add the ingredients to a food processor, pulse to combine, and season to taste (and taste, and taste…). You'll never get the store bought kind again!
Tomatillo Salsa Verde
If you love bright and tangy taco toppings, this salsa verde recipe is for you. For a fun creamy variation, toss an avocado into the food processor before you blend the salsa together.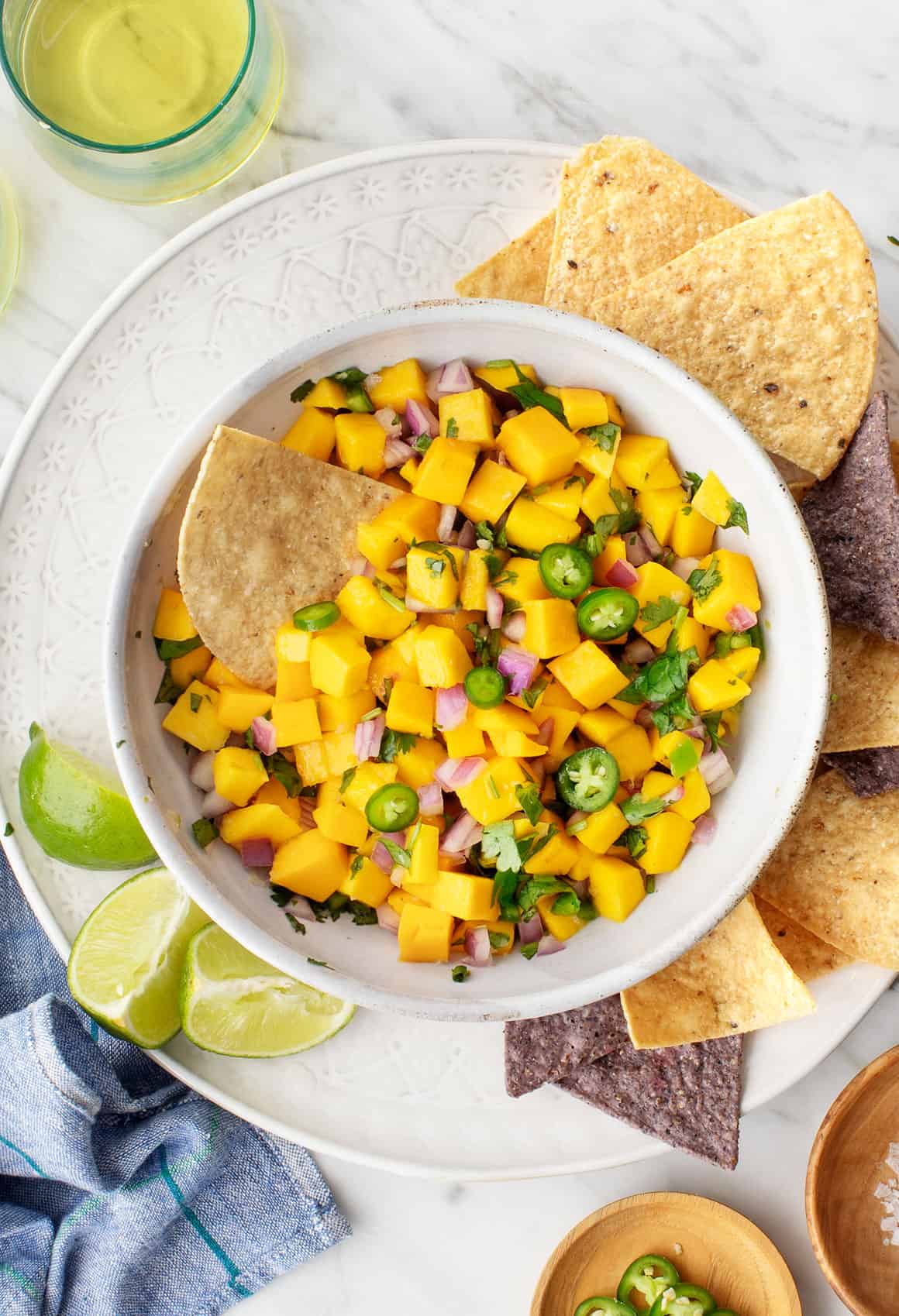 Mango Salsa
If you're adding rich, spicy taco toppings like this creamy chipotle sauce or this jerk-spiced taco meat to your taco bar, consider making this mango salsa too. It'll offer a sweet, refreshing contrast to the bold flavors.
Pineapple Salsa
Tip: use pre-cut pineapple to make this recipe quick and easy to prep.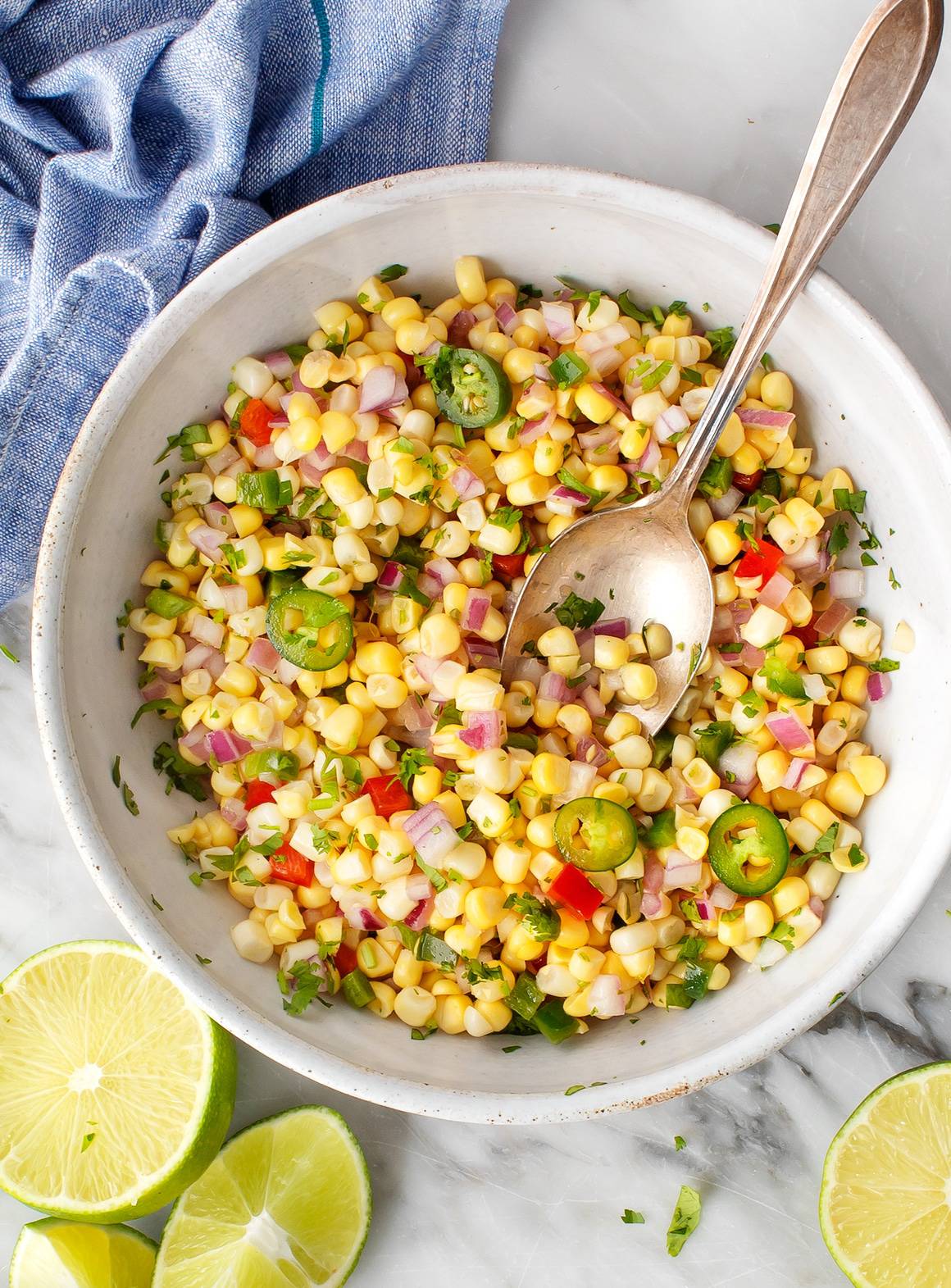 Corn Salsa
I like this salsa best in summer, when sweet corn is at its peak. Lightly grill the corn before mixing up the salsa, or toss the kernels in raw for easy prep and plenty of crunch.
Cowboy Caviar
This zesty dip is so darn versatile! Serve it as part of a taco bar for dinner, and toss the leftovers with mixed greens for a flavorful lunch salad the next day.
Rich and Creamy Taco Toppings
When I'm creating a taco bar with fresh fixings like salsa, crisp garnishes, and a veggie filling, I always include something creamy, too. It could be as simple as sliced avocado, or it could be one of the punchy sauces below. No matter what you pick, it'll make your tacos better. They'll be richer, more satisfying, and more complex.
Guacamole
Top it onto your taco or scoop it up with chips. When it comes to guac, you really can't go wrong.
Avocado Sauce
This bright and creamy sauce comes from Julia Turshen's cookbook Simply Julia. It's fantastic on her roasted cauliflower tacos, or any tacos, for that matter.
Cashew Sour Cream
Don't do dairy? This creamy, tangy taco topping is a perfect replacement for sour cream.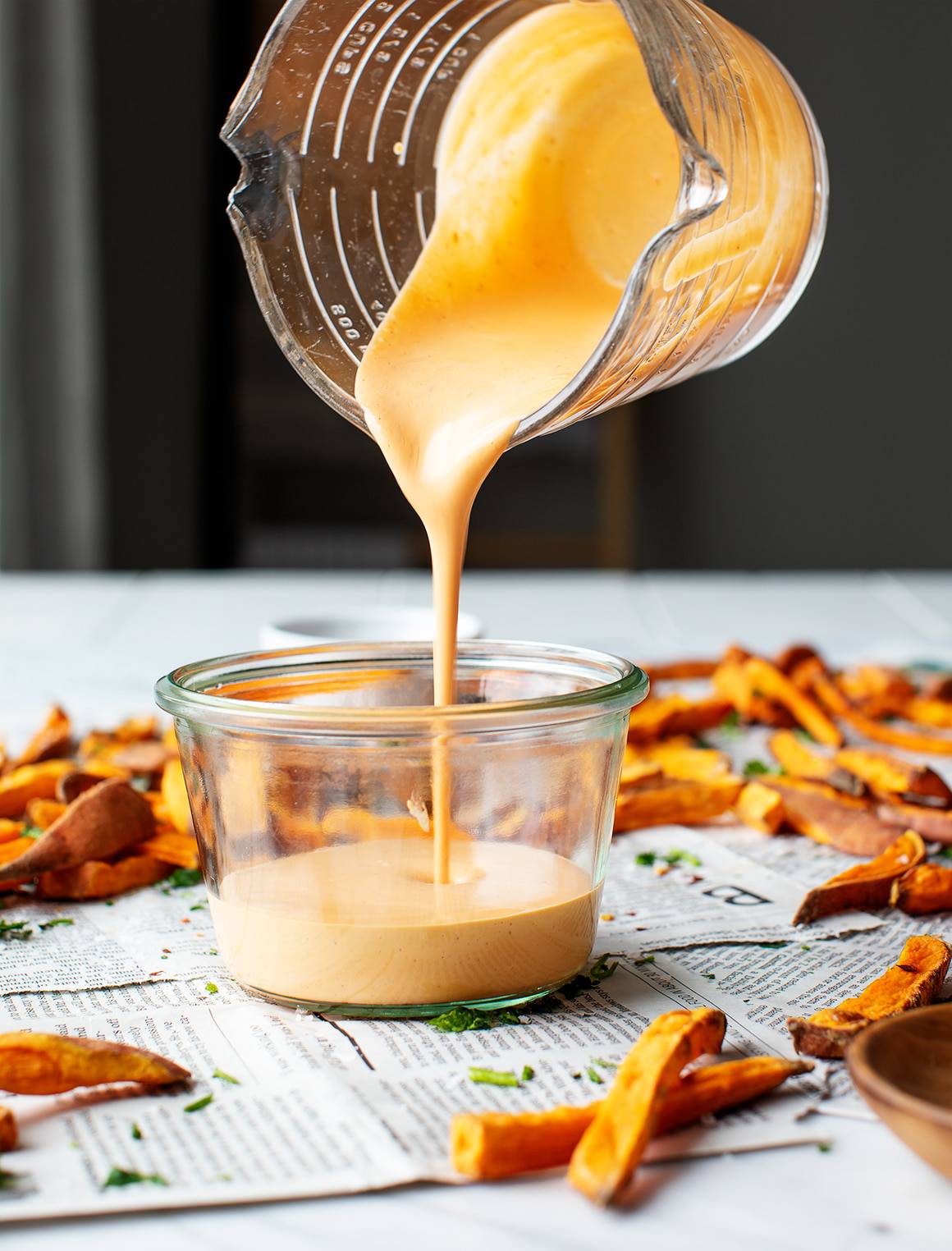 Chipotle Sauce
I doubt you'll have leftovers (this sauce is seriously addictive), but if you do, you're in luck. You can drizzle them over a grain bowl, slather them on a veggie burger, or devour them with sweet potato fries the next day.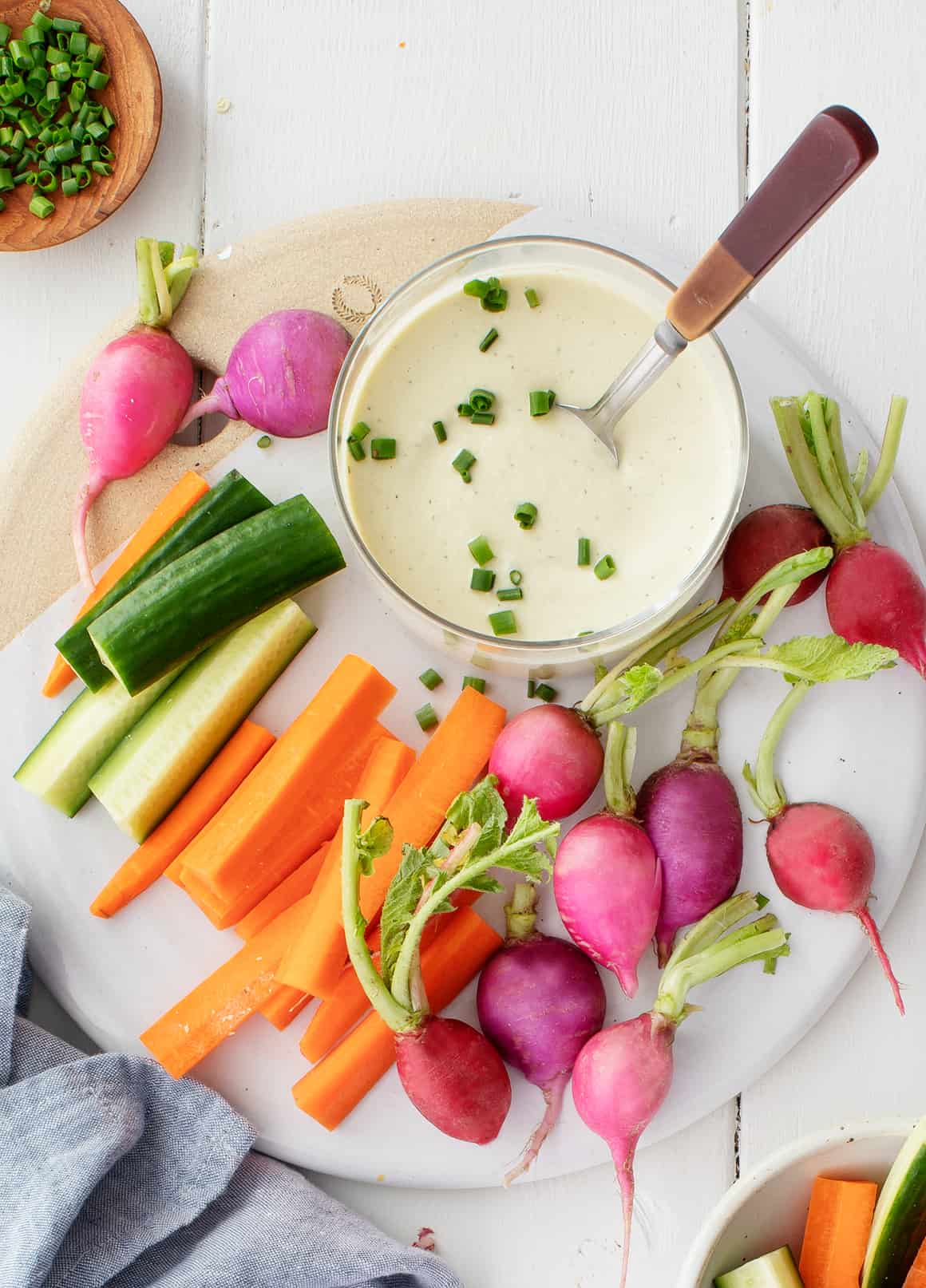 Vegan Ranch Dressing
Totally inauthentic? Yes. Totally delicious? Also yes. I love how its rich, garlicky, tangy flavor plays off fresh fillings like grilled veggies and roasted sweet potatoes.
Cilantro Lime Dressing
3 ways! Make it a refreshing, zesty vinaigrette, or blend in avocado or Greek yogurt for creamy richness.
Pickled Taco Toppings
Hold the dill pickles! Here, we're talking pickled onions, jalapeños, and radishes – taco toppings that'll add delicious crunch and a pop of bright flavor to your next taco bar.
Pickled Red Onions
If you've never made pickled onions, you won't believe how simple they are to make. Try them once, and you'll start keeping them on hand at all times for punching up tacos, avocado toast, and everything in between.
Pickled Jalapeños
I make this recipe whenever I have a surplus of jalapeños in the fridge. The crunchy, spicy pickles are perfect for a taco bar, and I love them on veggie burgers and salads, too.
Pickled Radishes
Crisp, tangy, and electric pink, they'll take any tacos over the top.
25 Taco Toppings for Your Next Taco Bar
These tasty taco toppings will take any taco bar to the next level!
Instructions
Choose a few desired toppings and fillings from the list above.

Serve with tortillas and let everyone customize their tacos!