Cookies for breakfast? Yes, please! These oatmeal breakfast cookies are sweet, nutty, and filled with healthy ingredients like oats, nuts, and fruit.
Here's how much I love these oatmeal breakfast cookies: after I finish typing this post, I'm going to head to the kitchen to make more. They're vegan, gluten-free, and dairy-free, and they have fiber from the oats and protein and healthy fats from almond butter. Thanks to maple syrup, they're naturally sweetened too. But these breakfast cookies aren't just good for you. They're also delicious! The same ingredients that pack them with nutrients give them a sweet, nutty flavor and soft, puffy texture. Who wants to eat a bowl of oatmeal when you can eat a cookie for breakfast!?
Breakfast Cookie Recipe Ingredients
This breakfast cookie recipe is a revamped version of my Carrot Quinoa Oatmeal Cookies. They have been a fan favorite (and family favorite) for years now. This time, I swapped the carrots and dried cranberries for a more summery combination of blueberries and lemon zest. Here's what else is in them:
Ground flaxseed: It acts as a binder and adds fiber and omega-3s.
Oat flour, almond flour, and whole rolled oats: This combination is naturally gluten-free, and it gives the cookies a soft, oat-y texture.
Baking powder and baking soda: To help them puff up in the oven!
Cinnamon: For warm, spiced flavor.
Maple syrup: It sweetens these cookies naturally.
Coconut oil and almond butter: They bind everything together and make the cookies moist and tender.
Walnuts: They add healthy fats and a delicious nutty crunch.
And sea salt: To make the sweet, nutty flavors pop!
Find the complete recipe with measurements below.
These cookies get lightly crisp on the bottom, but as you'll see, they're pretty puffy – more like a muffin top than a flat/crispy oatmeal cookie. They're big and substantial, but not too dense and not at all dry.
Oatmeal Breakfast Cookies Tips
It'll be tempting to underbake them. Don't! When you're working with oat flour, it can be tricky to gauge when baked goods are done. These cookies might look nicely puffed and ready to eat after just 18 or 20 minutes in the oven, but in actuality, they may need a few minutes more. The best indicator here is their coloring. Make sure that they're beginning to brown around the edges before you remove them from the oven. If the breakfast cookies are underdone, they'll end up very soft and crumbly.
Leave them on the baking sheet for a few minutes to cool. Like many vegan cookies, these oatmeal breakfast cookies will be delicate when you take them out of the oven. It's tempting to reach for one right away, but if you let them rest for 5 minutes on the baking sheet, they'll have a more cohesive texture and richer flavor. After 5 minutes, transfer them to a wire rack to cool completely.
Freeze the extras. If you plan to eat all these breakfast cookies within a few days, store them in an airtight container at room temperature. However, they also freeze really well. I love to make a double recipe to keep on hand for a quick healthy breakfast or snack! The freezer is also a great way to hide them from Jack, who would otherwise eat one every time he walks past the kitchen counter. Transfer the frozen cookies to the fridge to thaw overnight, or pop one in the microwave for 30 seconds when you're ready to eat.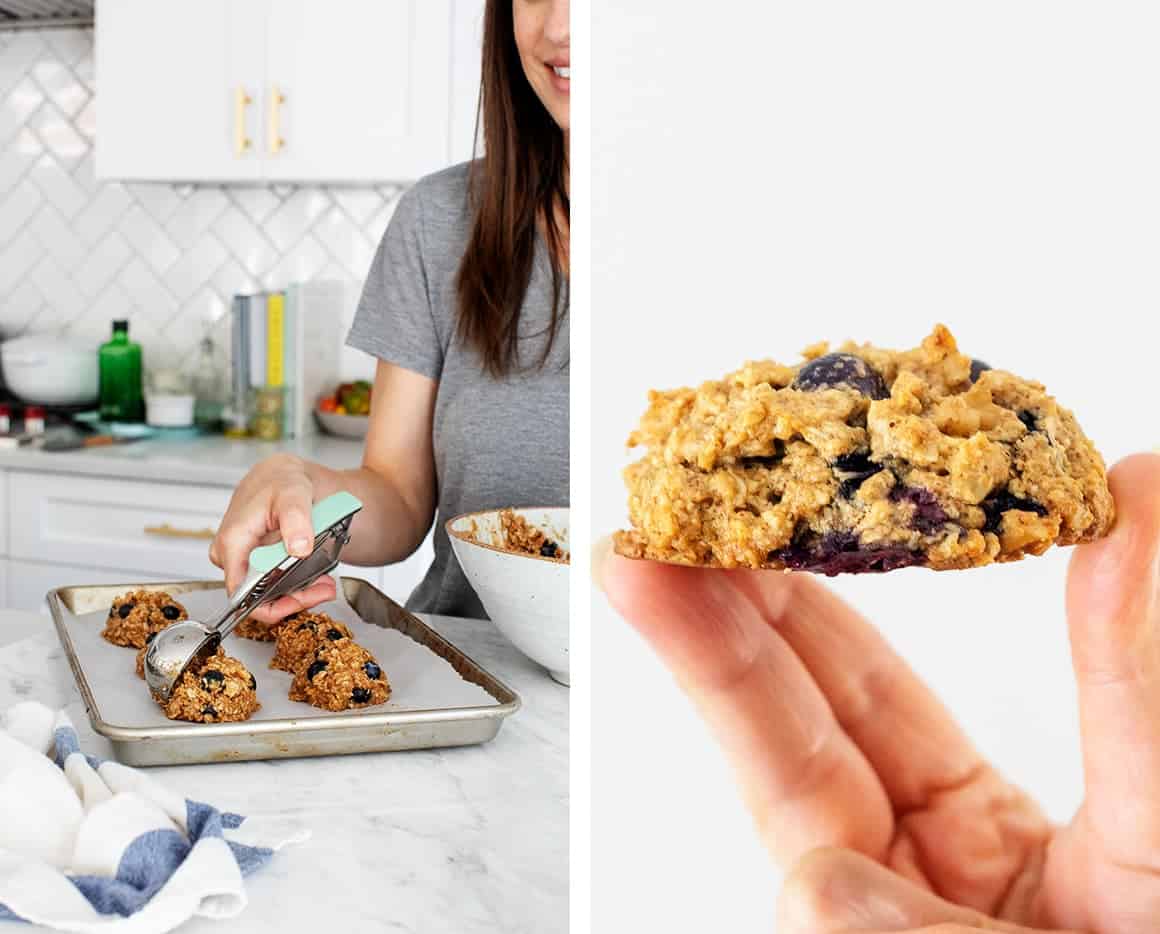 Oatmeal Breakfast Cookies Variations
I love the blueberry and lemon zest combination in this healthy breakfast cookie recipe, but feel free to swap in whatever mix-ins sound good to you. Here are a few ideas to get you started:
Switch the fruit. Replace the blueberries with your favorite dried fruit. Dried tart cherries or cranberries would be great!
Spice it up. Cardamom, nutmeg, and/or ginger are delicious in addition to the cinnamon.
Swap the nuts. Instead of walnuts, use pumpkin seeds, sunflower seeds, chopped almonds, or pecans.
Add chocolate. Nix the lemon zest, and replace the berries with chopped dark chocolate or chocolate chips.
Let me know what variations you try!
More Favorite Breakfasts and Snacks
If you love these oatmeal breakfast cookies, try one of these healthy recipes next:
Then, check out this post for 60+ Healthy Breakfast Ideas and this one for 47 more healthy snacks!
Oatmeal Breakfast Cookies
These healthy oatmeal breakfast cookies are my favorite grab-and-go breakfast! Soft & puffy like muffin tops, they're vegan, gluten-free, dairy-free, and absolutely delicious.
Ingredients
2

tablespoons

ground flaxseed + 5 tablespoons warm water

1

cup

oat flour,

made from 1¼ cups whole rolled oats*

1

cup

additional whole rolled oats

½

cup

almond flour

zest of 1 lemon

,

about ½ tablespoon

½

teaspoon

baking powder

½

teaspoon

baking soda

½

teaspoon

cinnamon

½

teaspoon

sea salt

½

cup

creamy natural almond butter**

¼

cup

coconut oil

,

melted

½

cup

maple syrup

⅓

cup

walnuts

¾

cup

fresh blueberries
Instructions
Preheat the oven to 350°F and line a large baking sheet with parchment paper.

In a small bowl, combine the flaxseed and warm water and set aside to thicken for 5 minutes.

In a large bowl, stir together the oat flour, the additional 1 cup rolled oats, almond flour, lemon zest, baking powder, baking soda, cinnamon, and salt.

In a medium bowl, combine the almond butter, coconut oil, and maple syrup and stir well to incorporate. Stir in the flaxseed mixture.

Add the wet ingredients to the bowl of dry ingredients and fold in just until combined. Fold in the walnuts and blueberries.

Scoop ¼ cup of batter for each cookie onto the baking sheet. Bake 20 to 24 minutes, or until browned around the edges. Cool on the pan for 5 to 10 minutes and then transfer to a wire rack to finish cooling. If you take them off the sheet too soon, the cookies may fall apart.

When cookies are completely cool, they can be stored in an airtight container or frozen.
Notes
*If you are gluten free, be sure to use certified gluten free oats.
**Use natural almond butter that doesn't contain any added oils - this can affect cookie cohesion. I use Whole Foods 365 Almond Butter.