Sweet corn is one of the highlights of summer, and these fresh corn recipes show it off at its best. Find salads, mains, and more to enjoy all season long.
Every summer, something happens that I look forward to all year: I spot a pile of the first sweet corn of the season at the farmers market. Immediately, my mind starts racing, imagining all the fresh corn recipes I'll make when I get home. Should I start with a corn salad? Tacos? Chowder? Plain ol' corn on the cob?
I'll only make one of these corn recipes on that first night, but in the coming weeks, I'll cycle through all of them. In late summer, corn is so fresh, sweet, and juicy that I cook it (and eat it) as often as I can.
So, where are we at this summer? I snagged my first local corn last week! To celebrate, I'm sharing my best corn recipes with you today. I plan to make each and every one of them before the season is through. If you're not quite that devoted to cooking corn recipes, I won't blame you, but I still hope you'll enjoy one, two, or maybe more with your peak-season summer sweet corn.
Essential Corn Recipes
What's summer without corn on the cob? These essential corn recipes will teach you how to cook it perfectly every time.
How to Cook Corn on the Cob
When I was growing up, steamed or boiled corn on the cob was one of the hallmarks of summer. Serve it hot, slathered with butter and seasoned with lots of salt and pepper.
Grilled Corn on the Cob
Cooking corn on the grill infuses it with delicious smoky flavor. Pair it with veggie burgers, BBQ jackfruit sandwiches, or whatever you're grilling!
Corn Recipes for Dinner
When corn is at its best, you might as well make it the main event! In these recipes, you'll find fresh corn in everything from pasta to tacos to pizza.
Stuffed Peppers
Fresh corn kernels add crunch to these zesty stuffed peppers. Top them off with a bubbly, melty layer of cheese, or serve them with guacamole and chipotle sauce for a satisfying vegan variation.
Creamy Sweet Corn Pappardelle, page 167 of Love & Lemons Every Day
This summery pasta is a true sweet corn celebration! In it, blended corn kernels create a rich, creamy sauce for pasta, and more sautéed corn adds crunch to the final dish.
Best Vegan Pizza
Who says you need cheese to make a great pizza? This summer veggie pie is loaded up with crisp corn, savory sun-dried tomatoes, spicy jalapeños, and more. A creamy cashew sauce takes the whole thing over the top.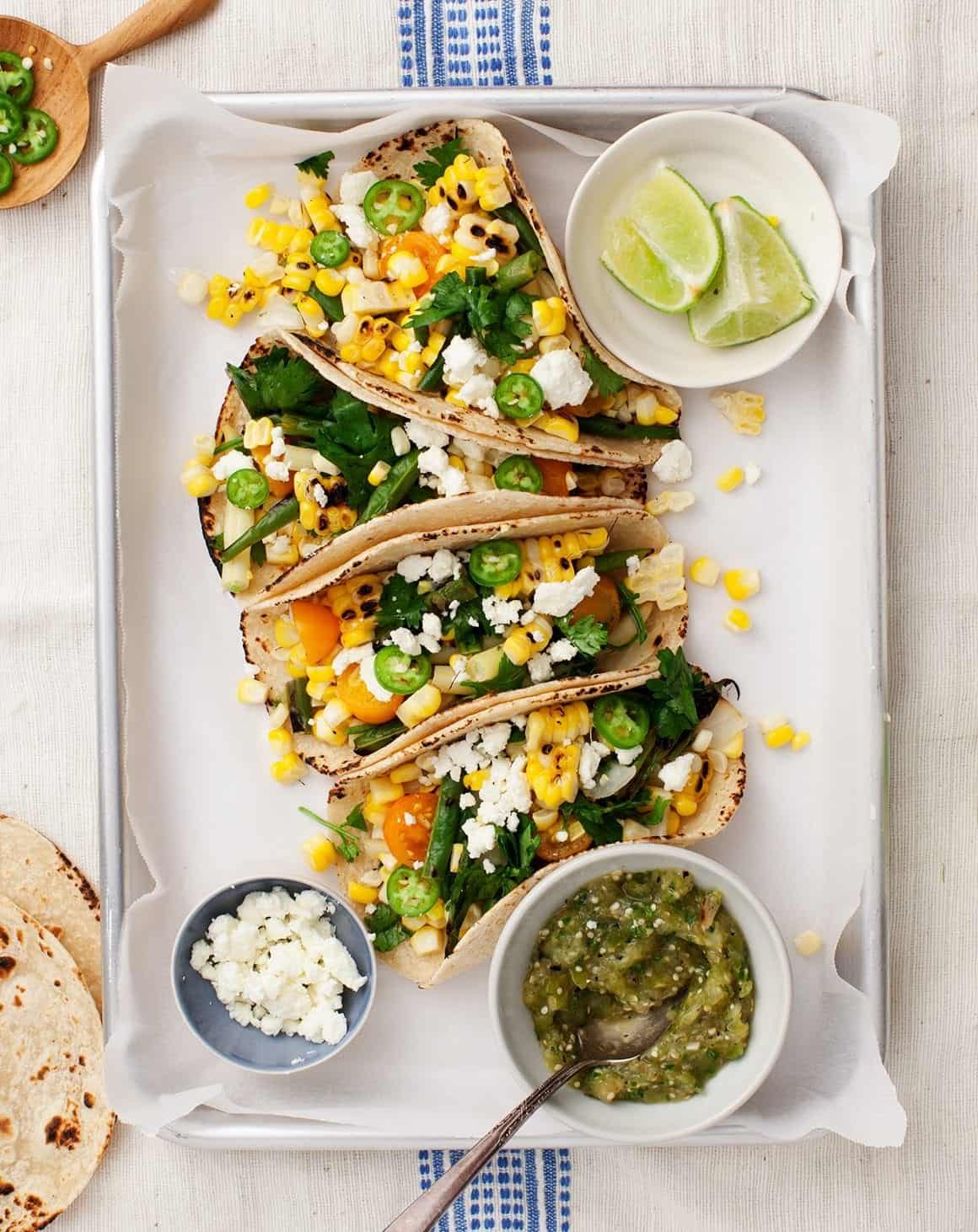 Grilled Corn Tacos
Homemade tomatillo salsa adds bright, bold flavor to these colorful veggie tacos. Serve them with a side of cilantro lime rice or refried beans to make them a meal.
Smoky Sweet Potatoes with Black Beans & Corn
When I'm in the mood for a dinner that's light, fresh, and fun, I make these smoky sweet potatoes. I pile the grilled sweet potato rounds with poppy pickled onions, mango salsa, black beans, crumbled cheese, and of course, sweet corn. It's so simple and delicious!
Salads
These recipes show off sweet corn's versatility. You can cook it or leave it raw, and it pairs well with everything from smoky peppers to bursty berries. When it comes to salads, there's nothing corn can't do.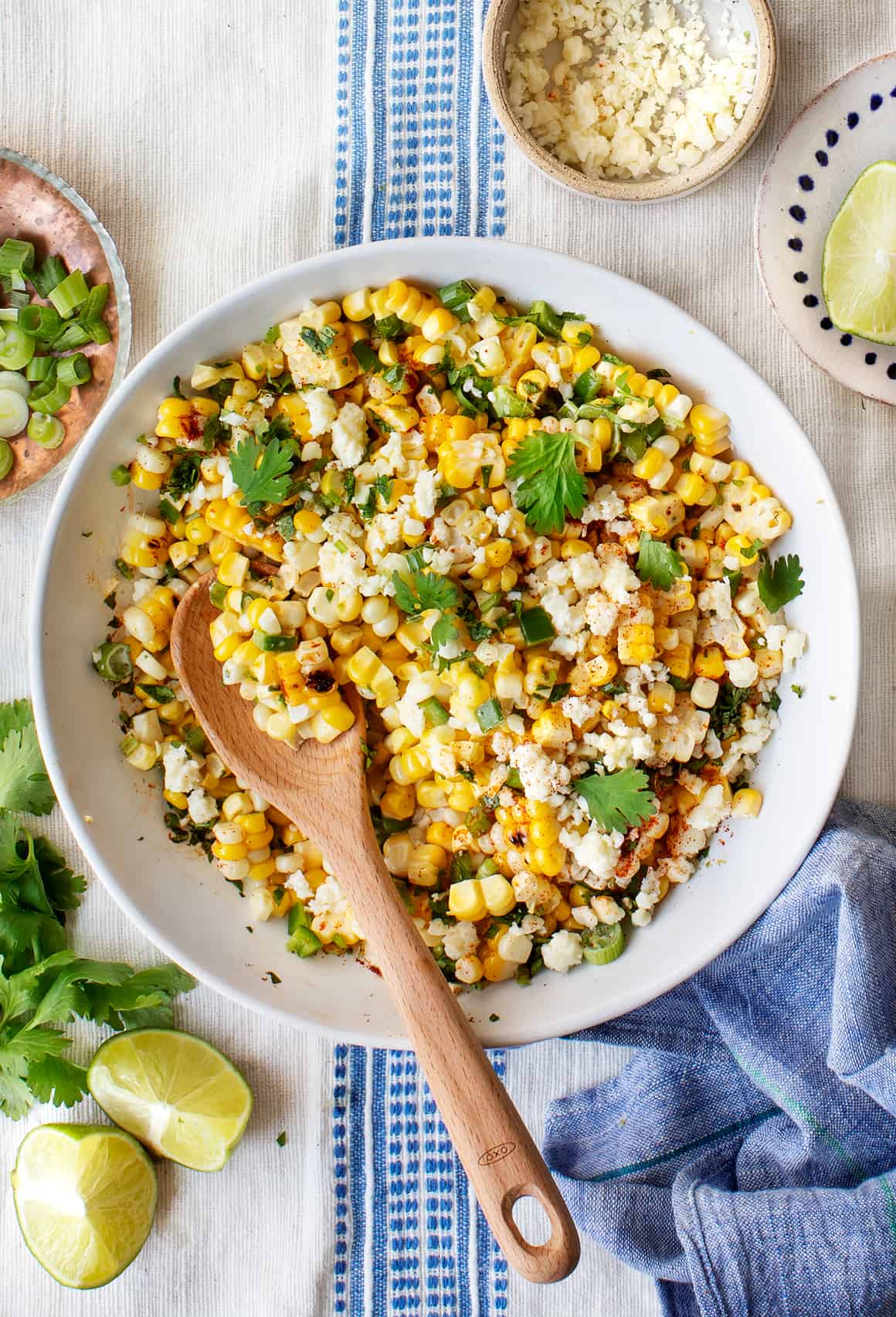 Mexican Street Corn Salad
Inspired by Mexican elotes, this salad is made with grilled corn, Cotija cheese, and a touch of mayo. Lightly creamy, spicy, and bright, it's a crowd-pleasing summer side dish.
Panzanella Salad
This salad combines all my summer favorites: fresh corn, tomatoes, peaches, and basil. Serve it for a light, late-summer dinner with your favorite white wine.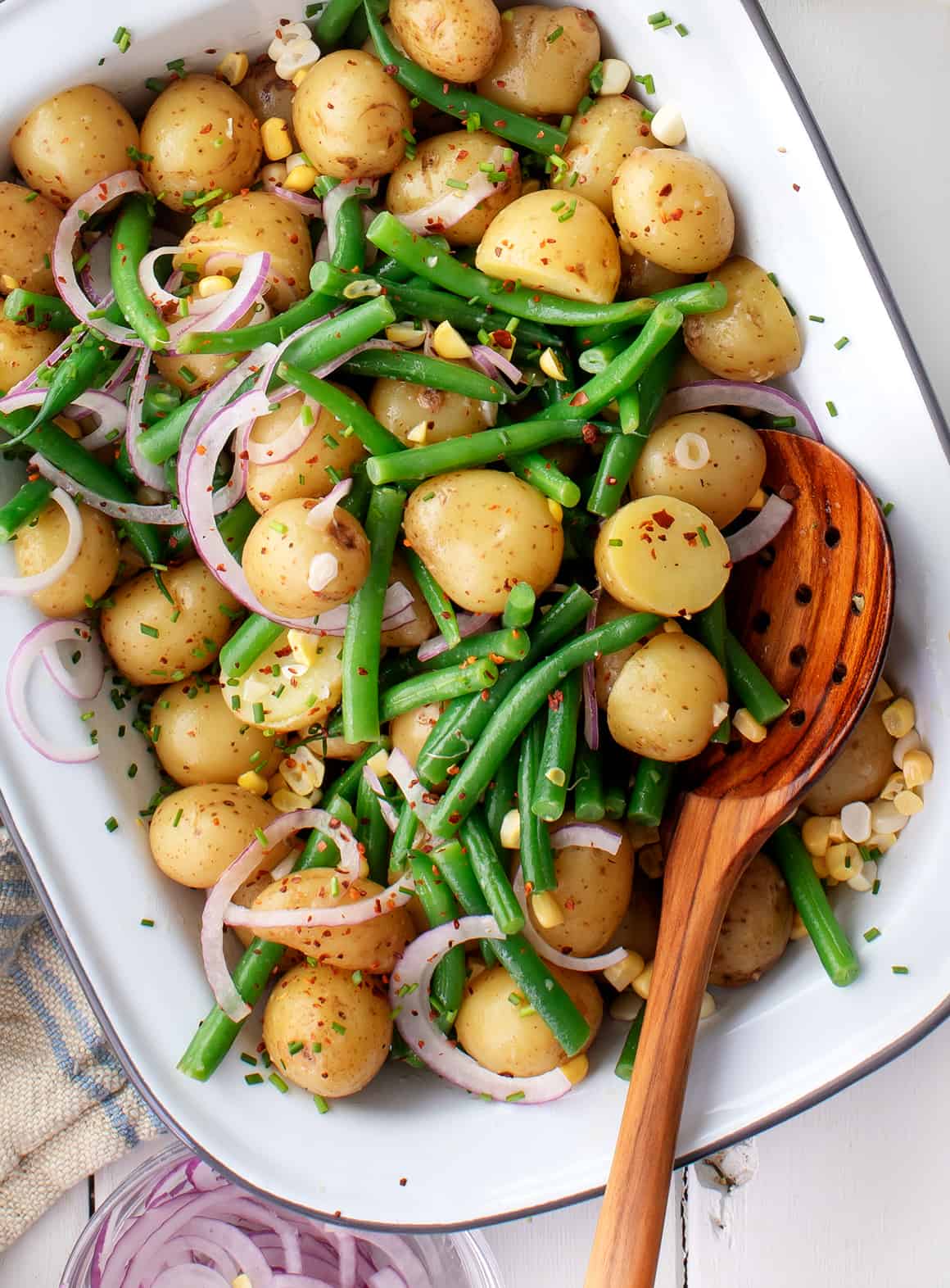 Vegan Potato Salad
I love how the crisp corn kernels play off the tender potatoes in this bright, fresh, and not-so-classic potato salad recipe.
Sweet Corn & Blueberry Arugula Salad, page 123 of Love & Lemons Every Day
In this recipe, the produce does the work for you. Toss together peaches, blueberries, and fresh sweet corn, and you'll have made a show-stopping salad with the tiniest bit of effort.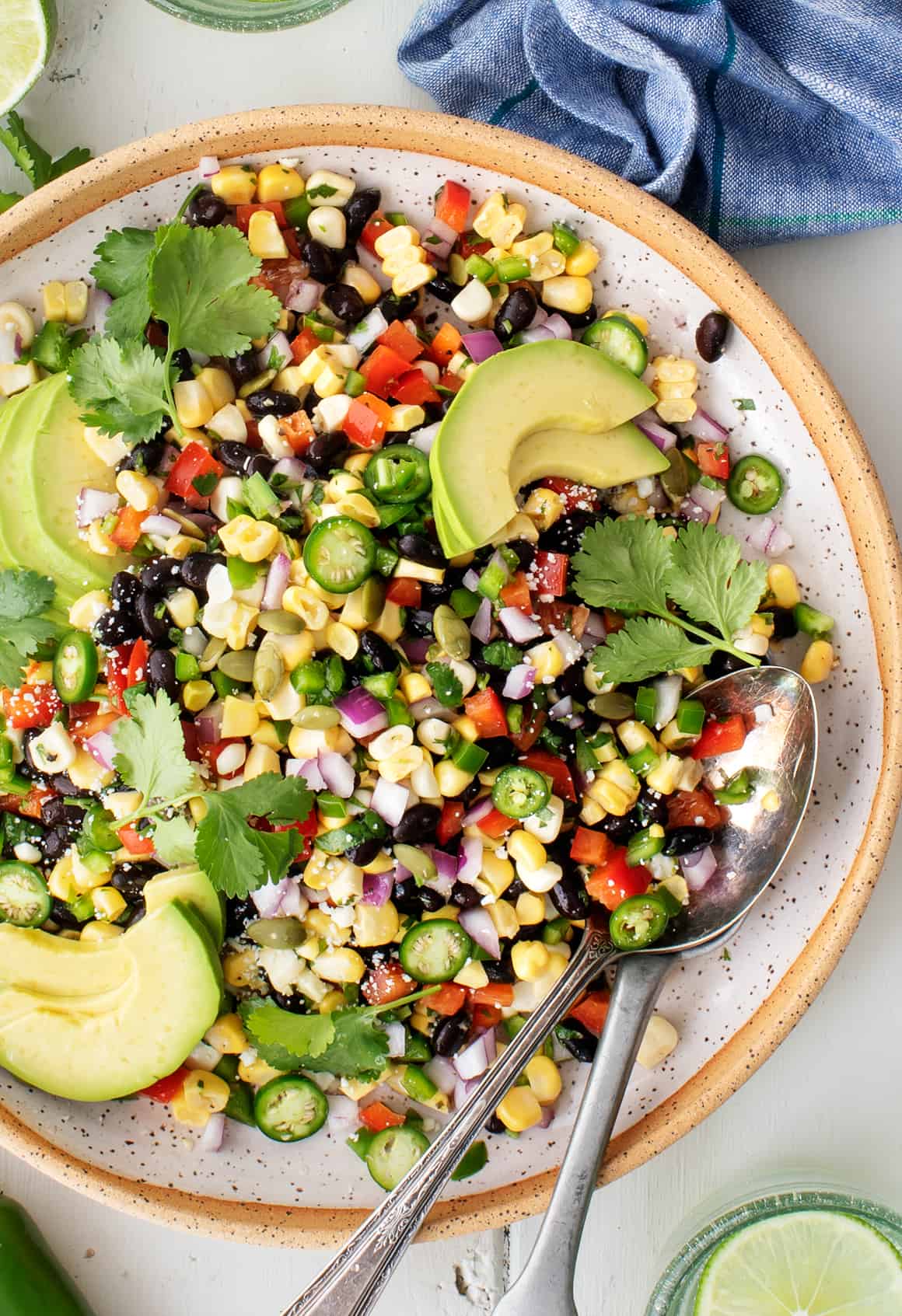 Black Bean and Corn Salad
Make this recipe on a Sunday, and you'll be set for lunches all week! It keeps perfectly in the fridge, and the hearty mix of beans, corn, and red bell pepper makes it a satisfying meal on its own.
Corn, Tomato & Mozzarella Salad, page 119 of The Love & Lemons Cookbook
The only way to make me love a Caprese Salad more? Add sweet corn! If you're vegan, substitute diced avocado for the cheese in this recipe.
Grilled Corn Salad
A creamy chile lime dressing adds savory, spicy, tangy flavor to this refreshing mix of summer produce.
Appetizer and Side Dish Corn Recipes
These fresh corn recipes are the perfect way to round out a summer menu. Serve one as a starter or a side dish whenever you're cooking for a group.
Cowboy Caviar
Bright with lime juice and packed with fresh veggies, this dip is always a hit at parties and cookouts. Pass the tortilla chips!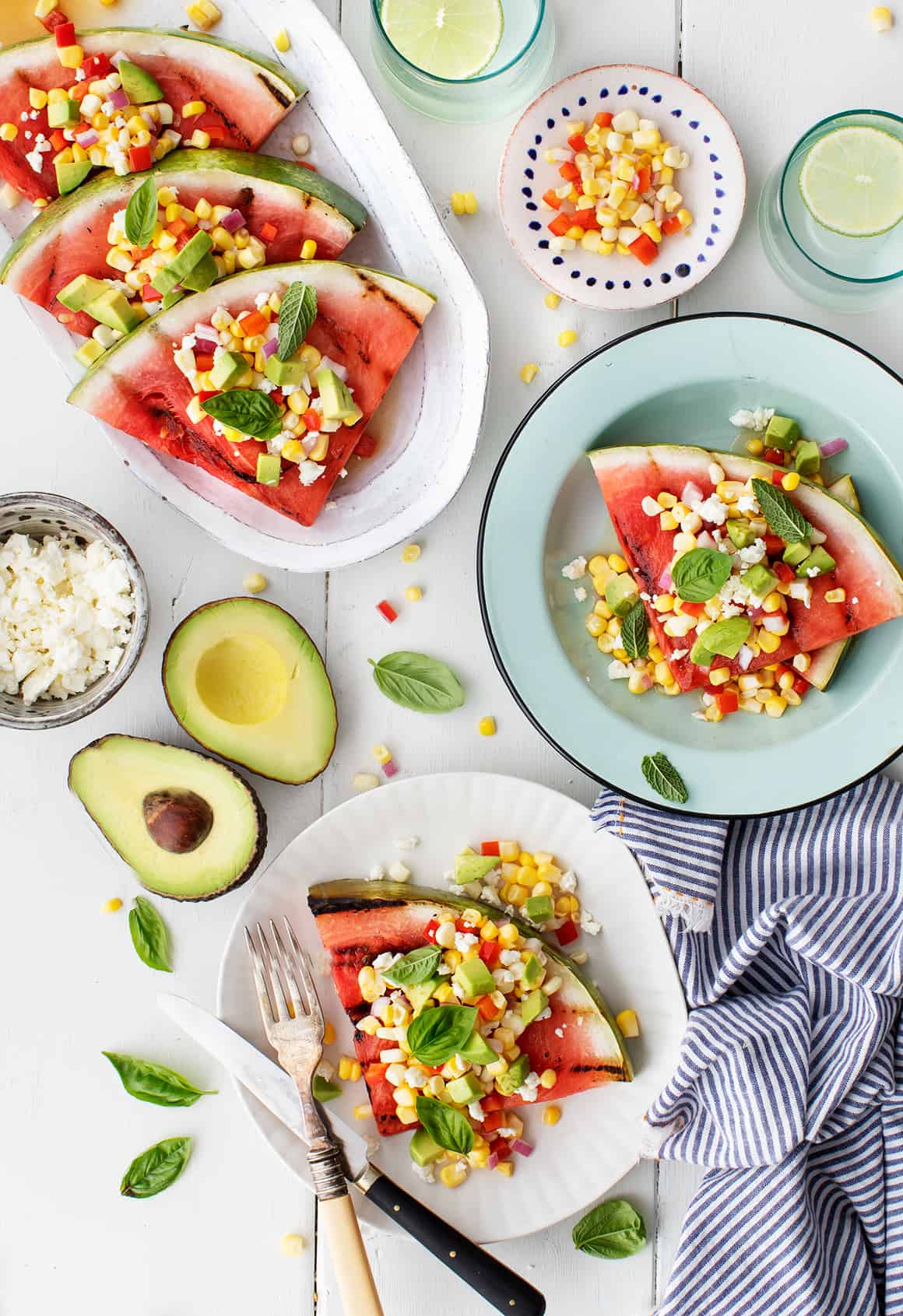 Grilled Watermelon
This unexpected side dish is SO refreshing in the summertime! A crisp corn and avocado topping covers juicy slabs of grilled watermelon.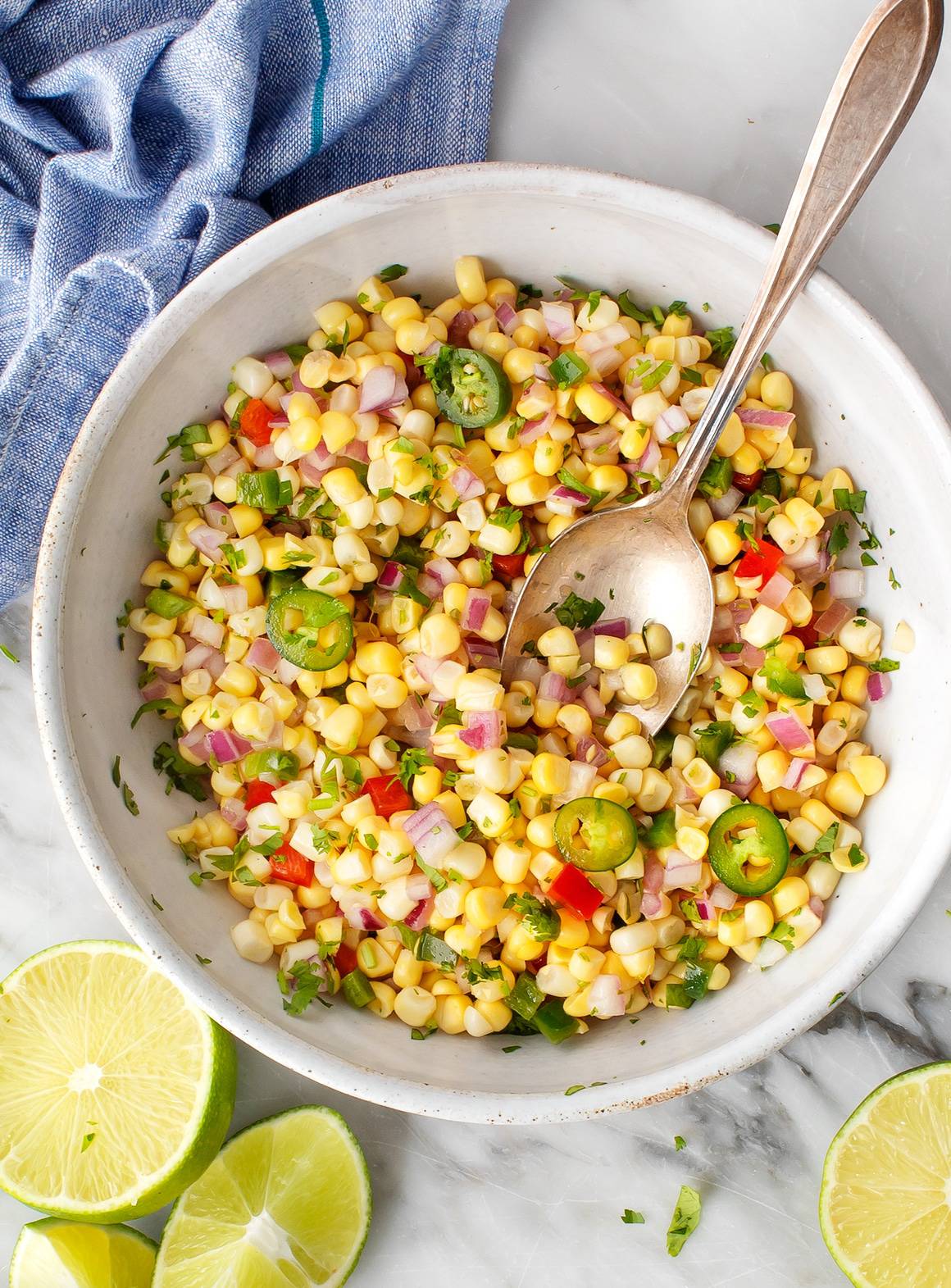 Corn Salsa
Scoop it up with chips, top it onto a burger, or sprinkle it over your next bowl of guac. You'll never run out of uses for this zesty corn salsa recipe!
Spicy Cornbread, page 125 of The Love & Lemons Cookbook
The perfect partner for classic cookout fare or a hot bowl of chili.
Grilled Vegetables
As a side dish, these grilled veggie skewers pair well with almost anything, but they make a pretty great main dish, too. I love to toss them with a light Greek dressing and serve them with fresh pita and dollops of tzatziki.
Summer Squash Succotash, page 273 of The Love & Lemons Cookbook
Though not a traditional succotash, this easy corn sauté is a lovely summer side dish. It features cooked chickpeas instead of the typical lima beans, and a pinch of paprika – not bacon – fills it with smoky depth of flavor.
Soups and Stews
Here, you'll find a mix of cozy corn recipes (think chili and chowder), as well as lighter, fresher ideas that are perfect for the summer months. I like to cook the lighter recipes at the start of corn season and transition to the heartier soups and stews in early fall.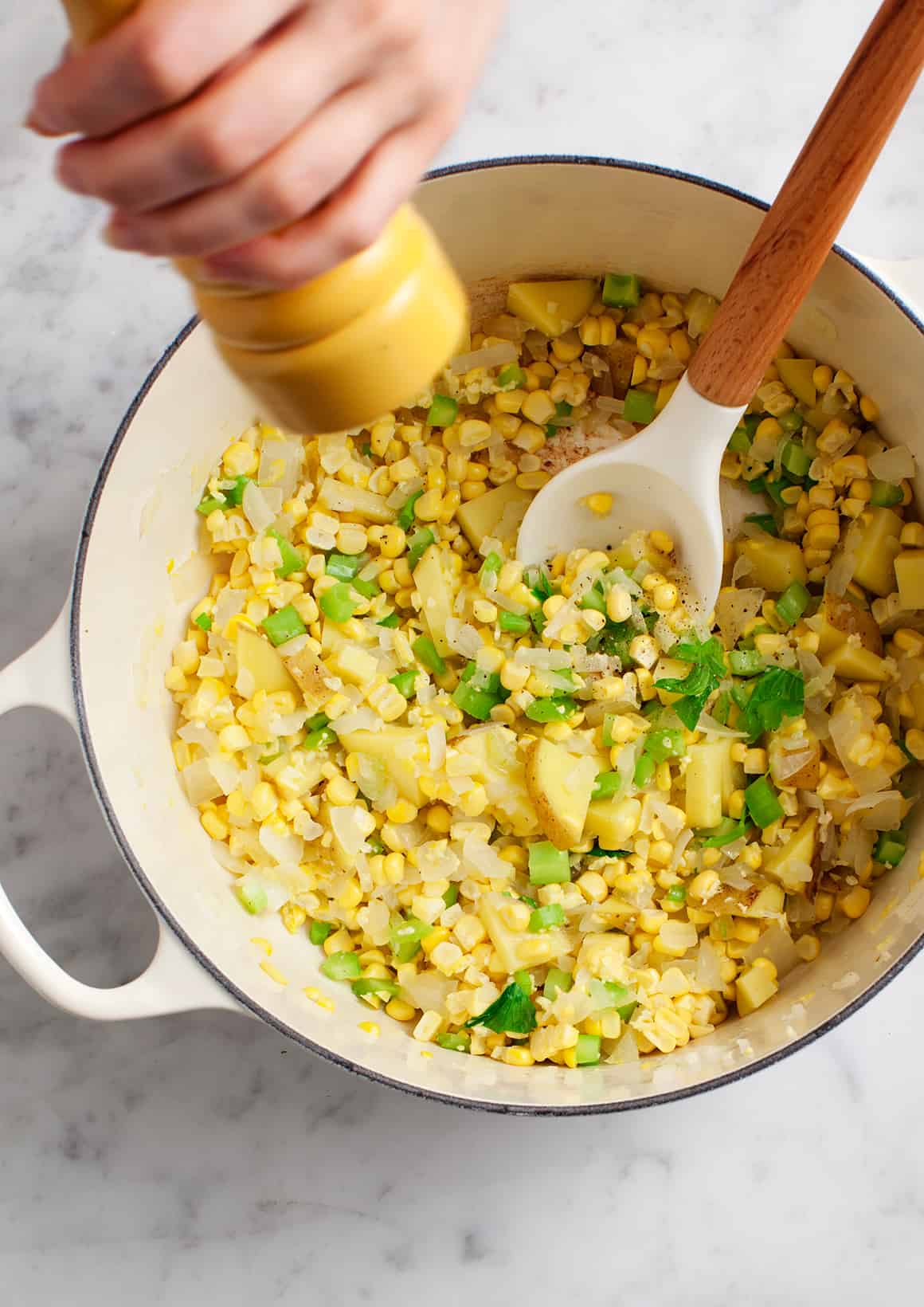 Vegan Corn Chowder
Just like a classic corn chowder, this stew is rich and creamy. However, it's made without any meat or dairy. Its luscious texture comes from blended corn kernels, potatoes, and coconut milk.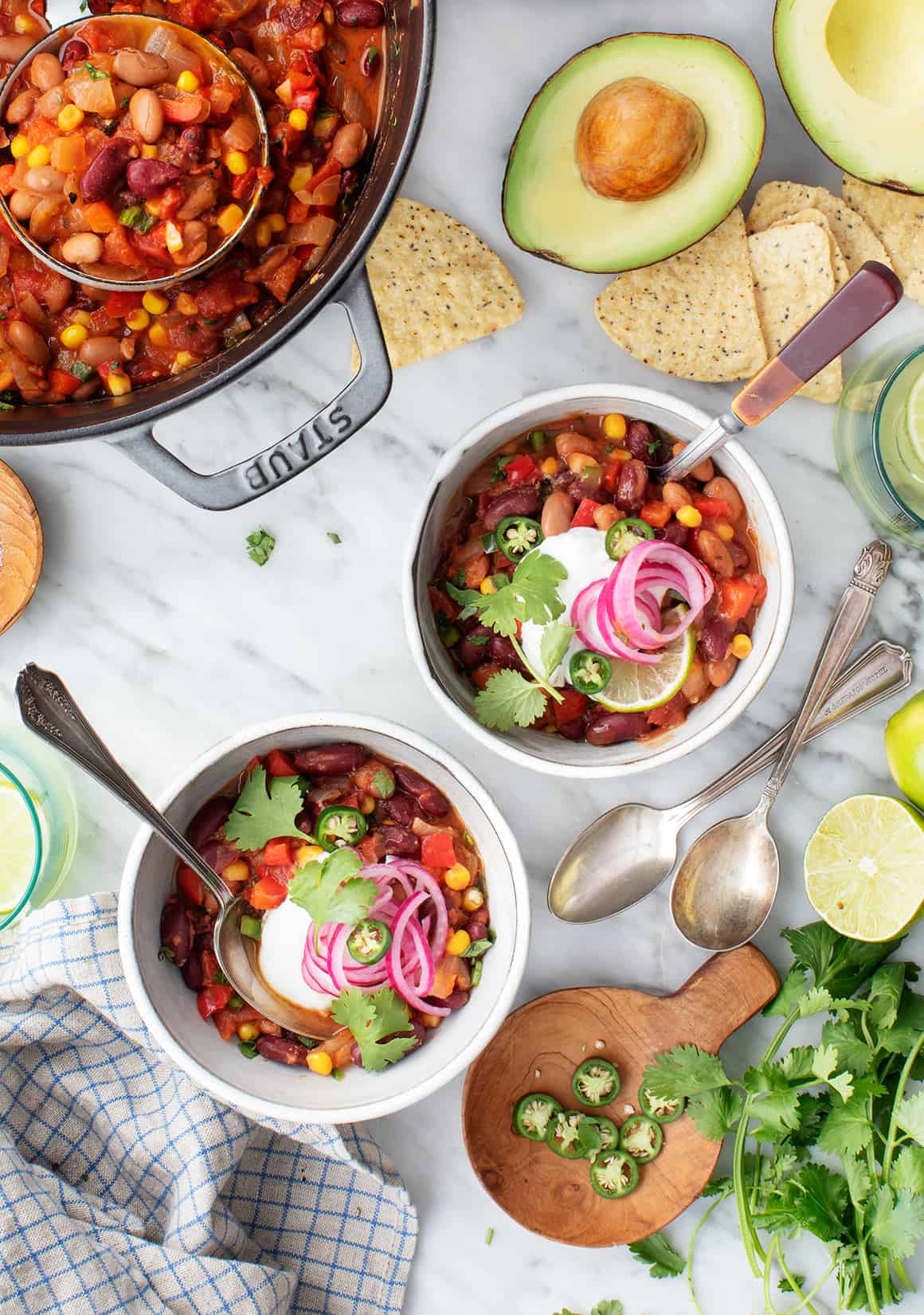 Easy Vegetarian Chili
Comfort food at its best! Top your bowl with pickled red onions and a dollop of Greek yogurt or vegan sour cream, and serve it with freshly baked cornbread.
Sweet Corn Gazpacho
Yellow tomatoes and sweet corn give this cold soup its stunning sunny color. Pair it with avocado toast for a perfect summer lunch.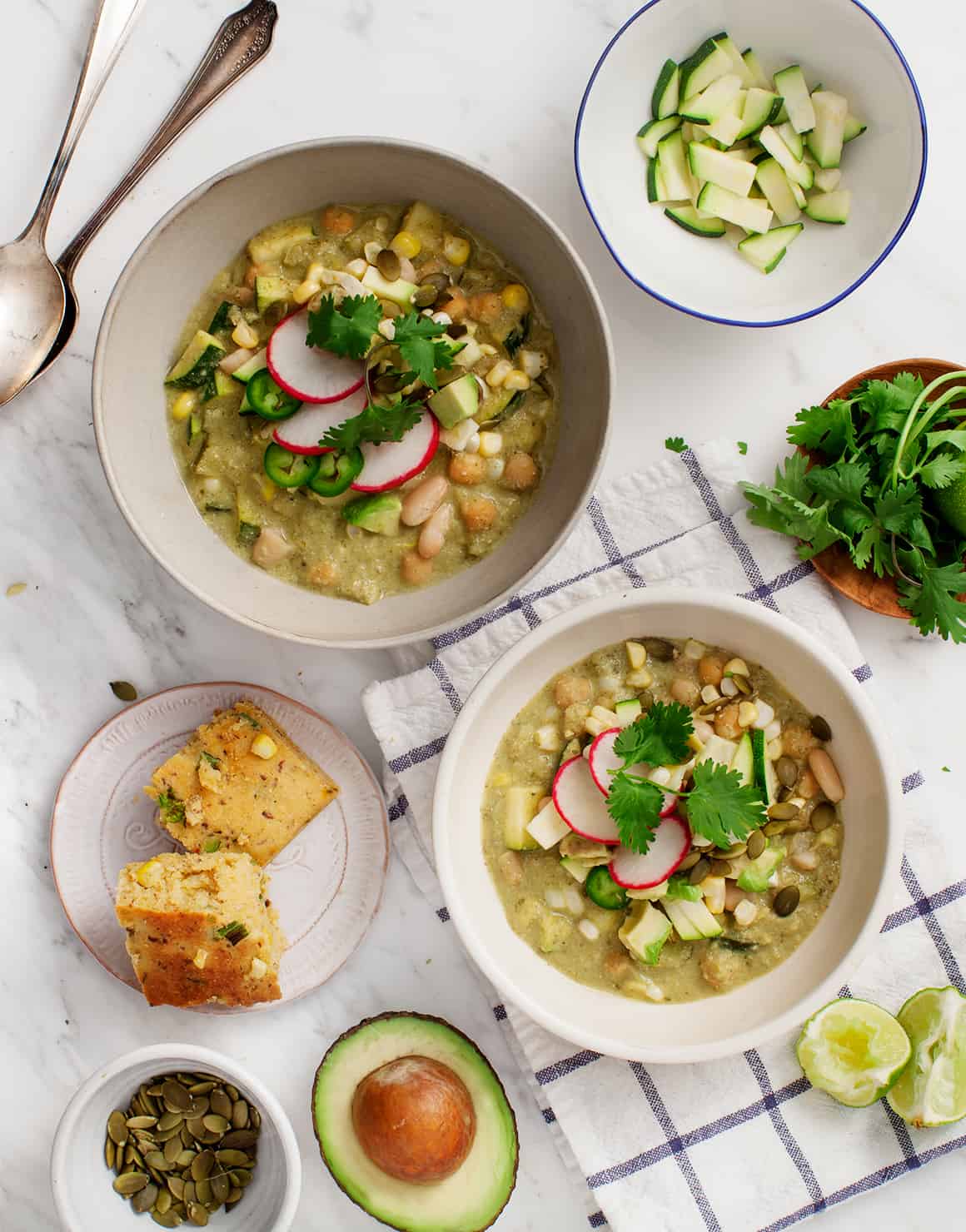 Tomatillo Zucchini White Bean Chili, page 99 of Love & Lemons Every Day
In this recipe, I take all the ingredients in my favorite tomatillo salsa and transform them into a zingy, zesty chili. A secret ingredient – ground pepitas – adds extra richness to this fresh, yet comforting, dish.
Yellow Split Pea Soup
Yellow split peas add plant-based protein to this creamy, smoky vegan soup. Sprinkle your bowl with crisp coconut bacon to kick it up an extra notch.
Corn Recipes: Grilled Corn on the Cob
This grilled corn is one of our go-to corn recipes!
Ingredients
Topping options:
Butter

,

sea salt, lemon or lime wedges, red pepper flakes

Cilantro Lime Butter

,

recipe below
Instructions
Husk-on method
Pull back the husks of the corn leaving them attached at the base. Remove the silks (as much as you can) and close the husks back over the corn cob. Soak the corn in a large pot of cold water for 10 minutes. This will prevent the husks from burning too much on the grill. Drain and pat dry.

Heat a grill to medium-high heat. Place the corn on the grill and cook, turning every 3 to 5 minutes, until all sides of the corn are cooked, about 15 minutes. Remove from the grill, tie back the husks and use them as a handle. Serve with desired toppings.
Husked method
Remove the corn husk and silks and preheat the grill to medium-high heat. Place the corn on the grill and cook, turning every 3 to 5 minutes, until all sides of the corn are cooked and light char marks form, about 15 minutes. Remove from the grill and serve with desired toppings.
Notes
Cilantro Lime Butter: In a small bowl, mix 2 tablespoons finely chopped cilantro with ¼ teaspoon lime zest, and 1/2 teaspoon sea salt. Mash in 1/4 cup softened unsalted butter until well combined. Roll into a log, wrap in parchment paper, and chill until firm.