Make the most of peach season with these fresh peach recipes! They include drinks, desserts, and more to help you celebrate this sweet summer fruit.
It's peach season! For the next few weeks, I'll come home with a bag of peaches after every trip to the farmers market or store. The season is just so short, so while it's here, and fresh peaches are juicy, sweet, and abundant, I make it my goal to eat as many of them as I can. Some I devour plain, their sticky juice dripping down my chin. But I use even more in my favorite peach recipes.
As you might expect, these peach recipes include desserts like crisps and cobblers. But they go way beyond that, too. Have you ever added peaches to a salad or stuffed them into spring rolls? Or served them as an appetizer with creamy burrata and baguette?
If not, I hope you'll experiment with some of the peach recipes below. They're all fresh, delicious, and easy to make – perfect for showcasing summer peaches at their best.
Peachy Appetizers and Drinks
These easy peach recipes are perfect for summer entertaining! You'll find impressive starters and light bites as well as one darn good peach cocktail.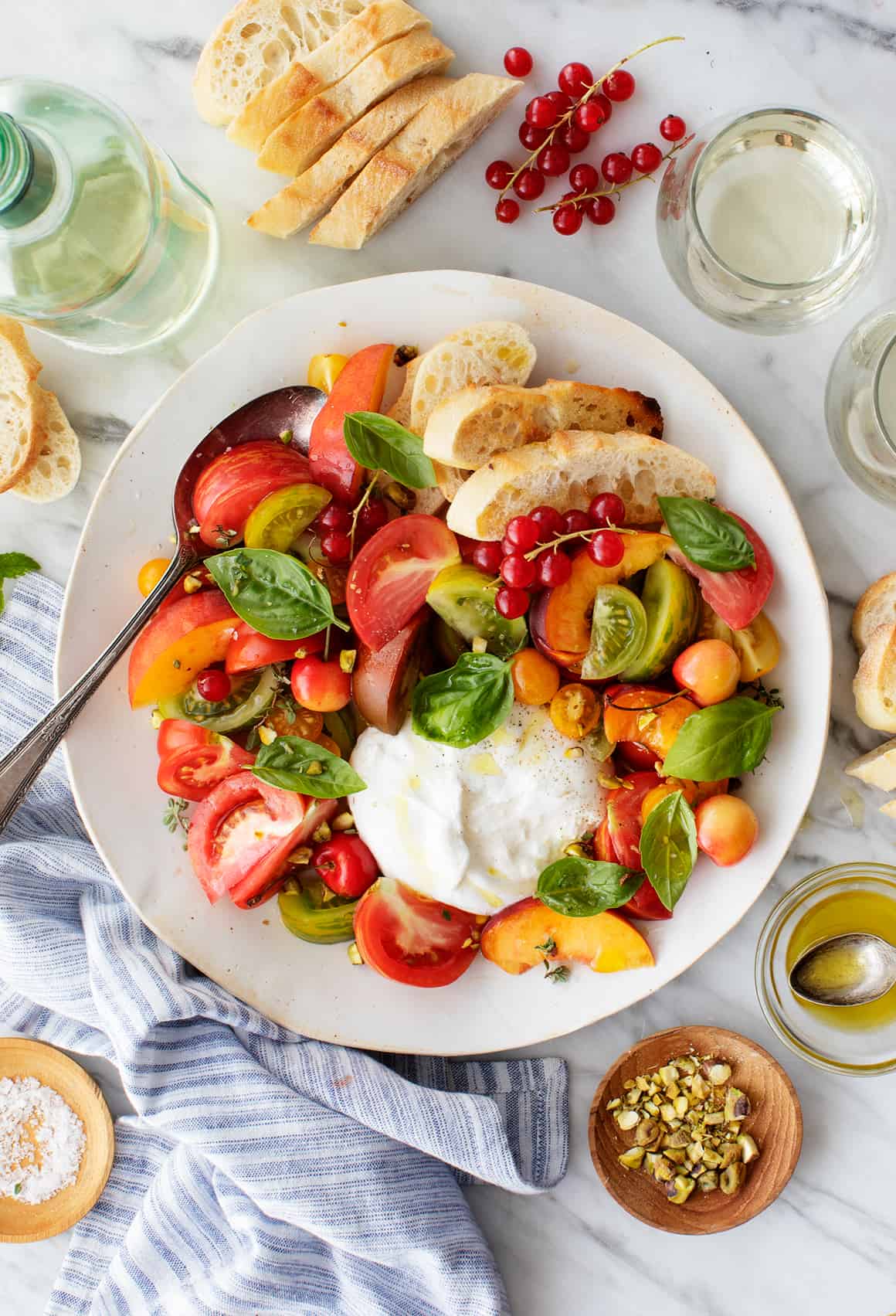 Burrata with Heirloom Tomatoes
Serve this appetizer at your next summer gathering, and your guests will undoubtedly be impressed. Juicy heirloom tomatoes, stone fruit, and herbs surround a creamy ball of burrata cheese. Drizzled in an aromatic lemon-thyme oil, it feels fancy, but it's deceptively easy to make.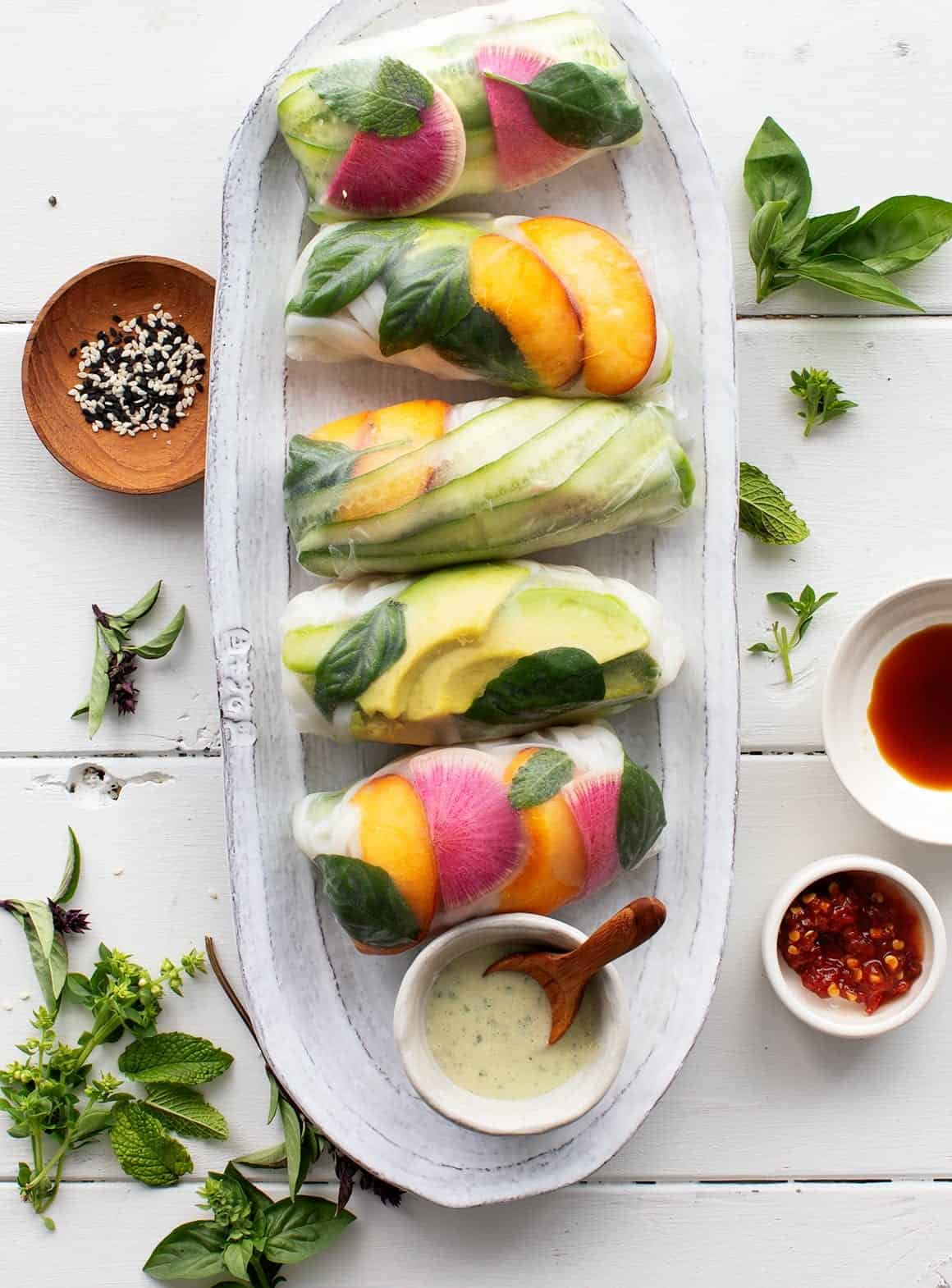 Avocado Summer Rolls
Peach slices add a delightful sweetness to these gorgeous summer rolls. Serve them with coconut-basil dipping sauce to take them over the top.
Peach Tostadas
If you love all things sweet and spicy like I do, you'll FLIP for these easy peach tostadas! They're loaded up with refried beans, juicy peaches, and a creamy, spicy hatch green chile sauce.
Farm Stand Peach Pizzas, page 239 of The Love & Lemons Cookbook
These mini pizzas are such a fun appetizer or light dinner! I often sprinkle them with crumbled feta cheese, but if you're vegan, you can easily replace it with dollops of vegan pesto.
Peach Sangria
When peach season rolls around, I swap out my usual red sangria for this white one. Made with ripe peaches, ginger, and summer herbs, it's SO refreshing on a hot day.
Salad Peach Recipes
In late summer, I make a salad almost every day, and I can rarely resist tossing in a ripe peach or two. I love how their sweet flavor pairs with other peak-season produce like summer herbs, tomatoes, and corn.
Panzanella Salad
This hearty bread salad is a celebration of summer produce! It features fresh sweet corn, heirloom tomatoes, tons of basil, and, of course, peaches. Serve it as a side dish, or enjoy it as a light meal on its own.
Sweet Corn & Blueberry Arugula Salad, page 123 of Love & Lemons Every Day
I could eat this simple salad every day in summer. I love how the bitter arugula and tangy pickled onions contrast with the sweet peaches, blueberries, and corn.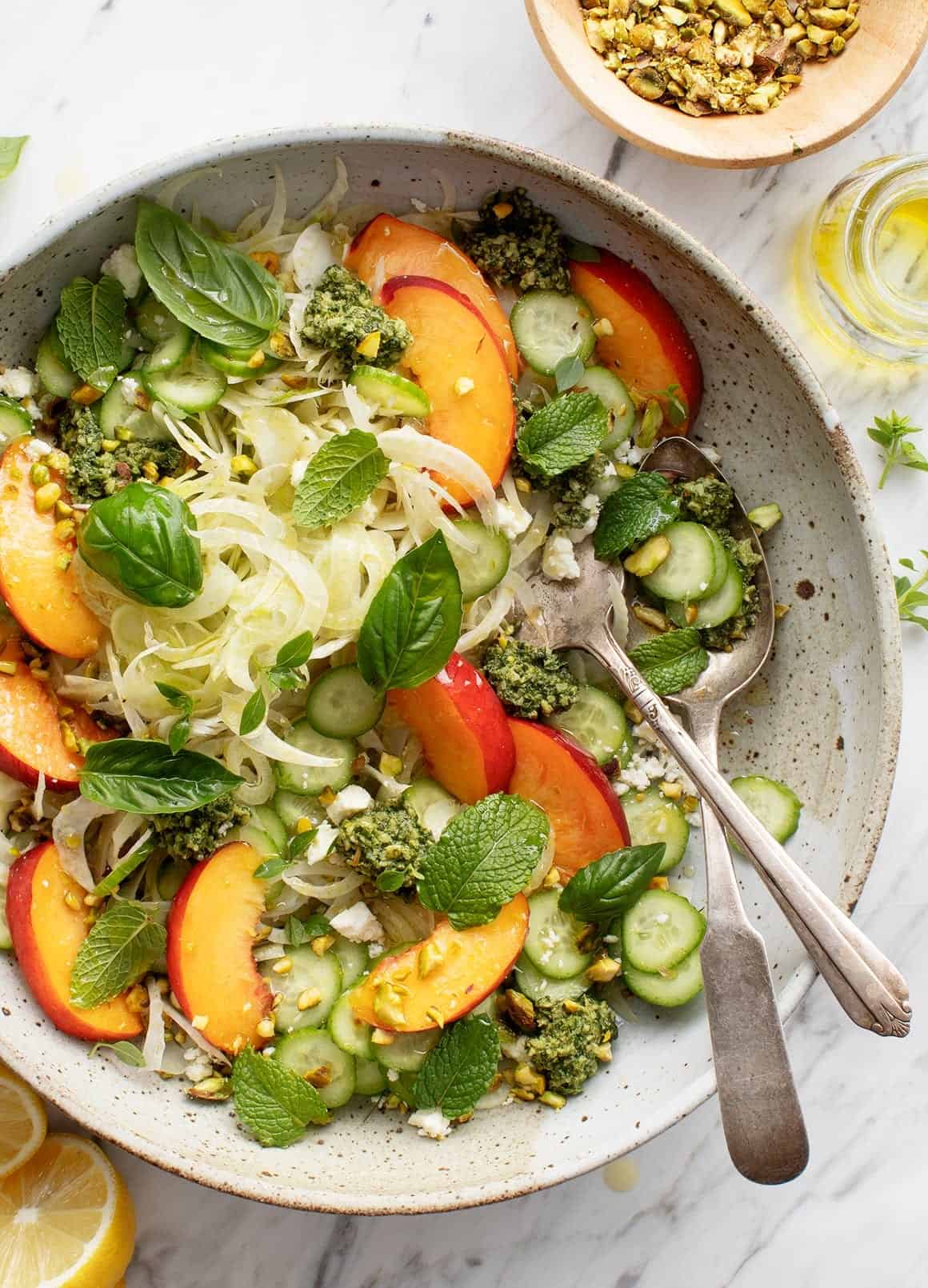 Shaved Fennel Salad
Love fresh herbs? Then you'll love this salad. I shower it in basil and mint and top it off with dollops of pesto.
Summer Fruit Salad
No picnic is complete without one.
Peach & Pole Bean Salad with Dill, page 115 of Love & Lemons Every Day
Made with chickpeas and toasted almonds, this sturdy salad is a great one to pack for lunch.
Grilled Corn Salad
I often add raw corn to salads in the summer, but here, I use grilled corn instead. Its charred flavor adds depth to this mix of crunchy veggies, avocado, peaches, and chile lime dressing.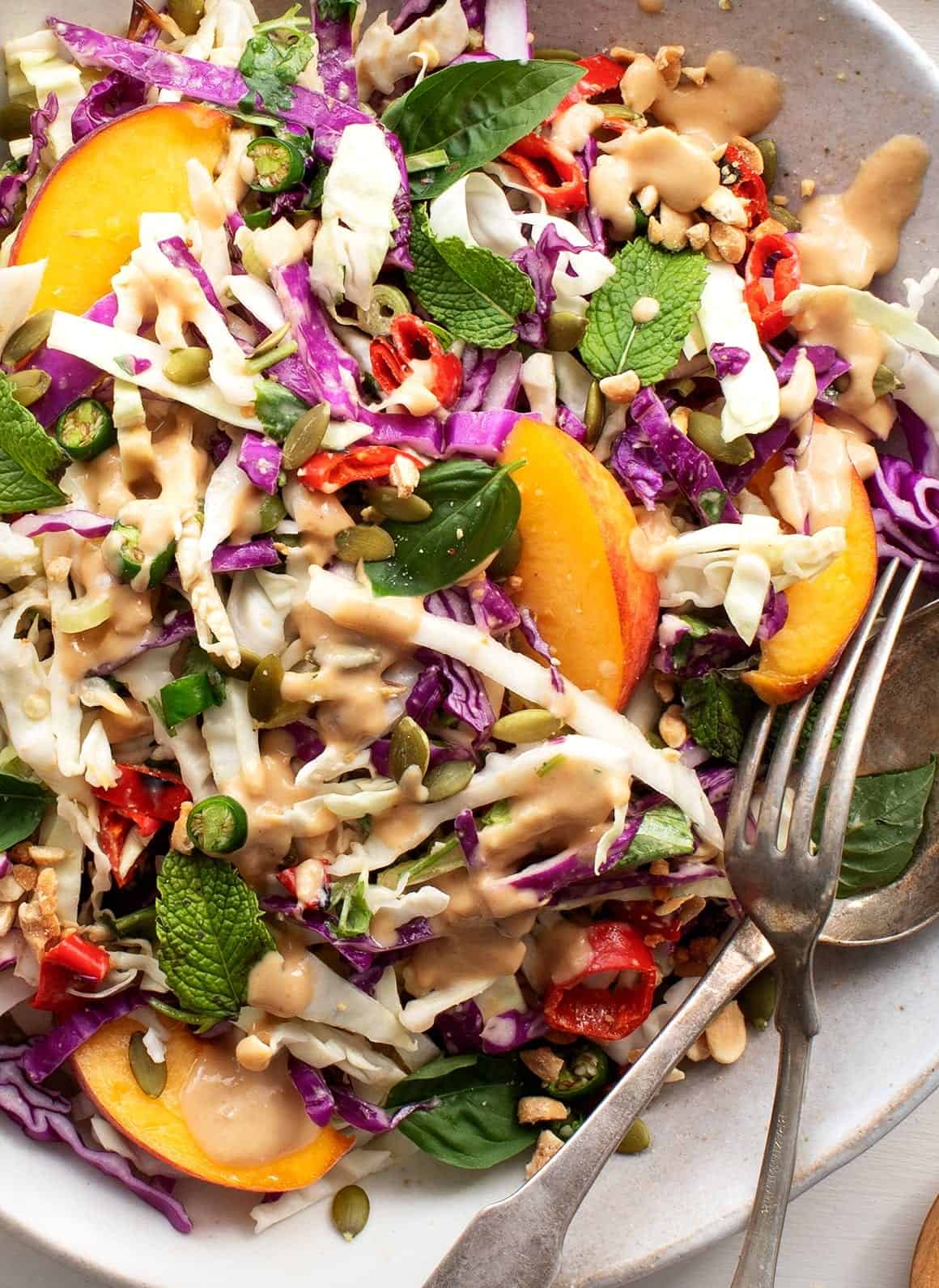 Ginger Miso Slaw
A savory, nutty miso ginger dressing coats this crunchy summer slaw. It would be a fun alternative to classic coleslaw at a summer cookout or a delicious make-ahead lunch.
Peach & Plum Caprese Salad
I sub stone fruit for tomatoes in this sweet riff on a classic Caprese salad. Top it off with good-quality olive oil and flaky sea salt and serve with crusty bread.
Fresh Peach Recipes for Breakfast
If I make one of these healthy peach recipes for breakfast, I know it's going to be a good day. What better way to start the morning than with a sweet, juicy peach?

Peachy Overnight Oats, page 59 of Love & Lemons Every Day
Looking for new healthy breakfast ideas? You're going to love this recipe. Sweet, juicy peaches and homemade granola top a creamy jar of overnight oats. It's vegan, gluten-free, and perfect for making ahead.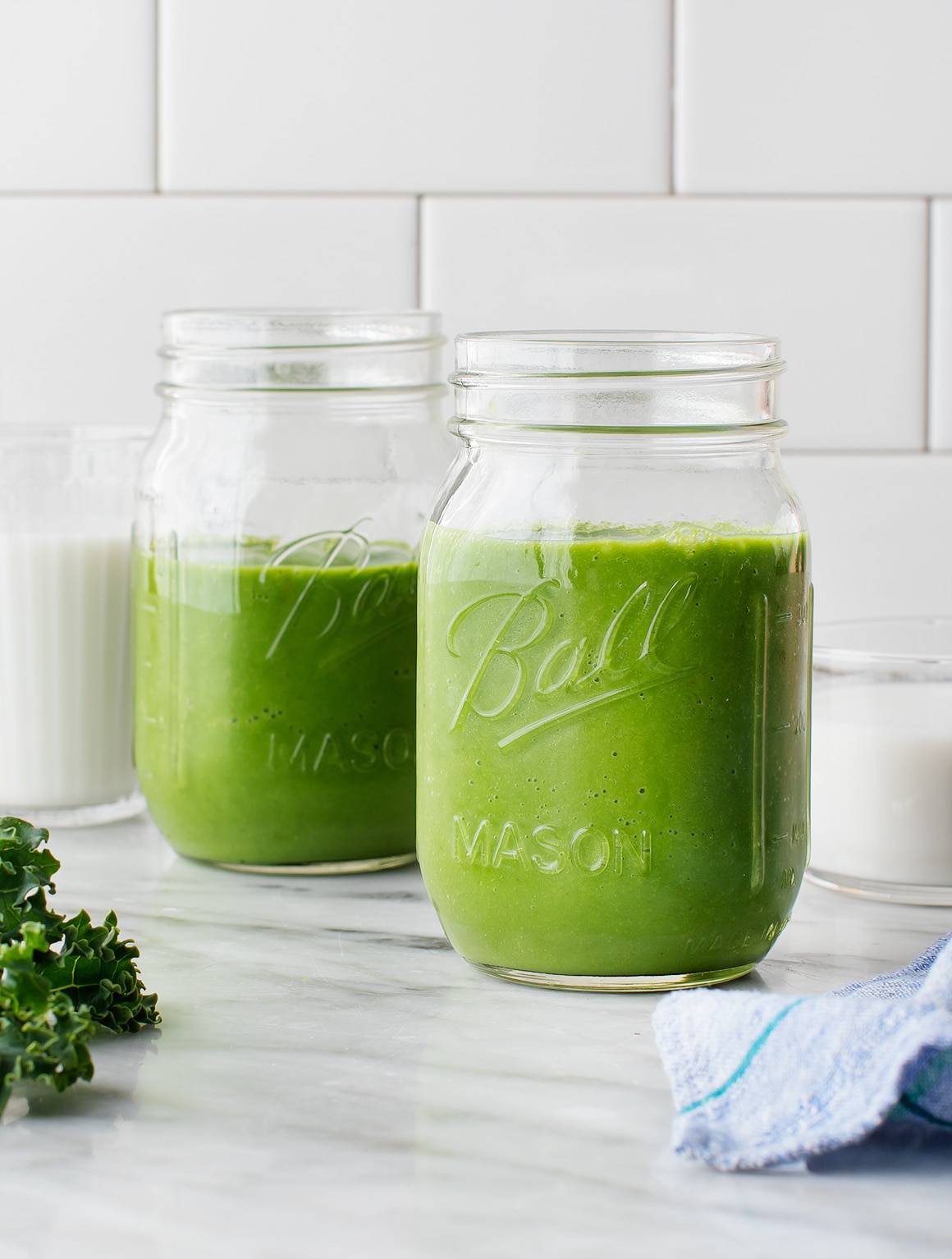 Kale Smoothie
Green smoothies don't get better than this! Frozen peaches and ginger add a refreshing kick to this nourishing blend.
Cinnamon Quinoa Breakfast Bowl
Tired of regular oatmeal? Cook quinoa for breakfast instead! I serve it with a generous splash of almond milk, plenty of cinnamon, and lots of fresh fruit.
Healthy Breakfast Smoothies
All of these breakfast smoothies are delicious, but the peach one (of course) is my favorite. A spoonful of almond butter makes it rich and satisfying.
Easy Peach Recipes for Dessert
The peach recipes you've been waiting for! Vanilla ice cream for serving is optional, but highly recommended.
Peach Crisp
This recipe is both vegan and gluten-free, but you'd never guess it from the taste. A crisp oat and nut topping covers a sweet, jammy layer of peaches. Seconds – ok, more like thirds – for me, please!
Grilled Peaches
Top them with a scoop of vanilla ice cream and crushed walnuts for a relatively healthy and completely delectable dessert.
Easy Peach Cobbler
This cobbler is easier than most, but it's no less delicious. I love getting a bite of sweet peach with a big clump of buttery topping. Yum!
Peach Recipes: Easy Peach Cobbler
This peach cobbler is one of our favorite peach recipes!
Ingredients
6

large or 7 medium peaches

,

thinly sliced

1 1/2

teaspoons

fresh lemon juice

3/4

cup

all purpose flour

¼

cup

cane sugar

1/4

teaspoon

cinnamon

¼

teaspoon

baking soda

¼

teaspoon

salt

¼

cup

melted coconut oil or unsalted butter

1

teaspoon

vanilla extract

Vanilla ice cream

,

for serving
Instructions
Preheat the oven to 400°F and grease a 9x13-inch baking dish with coconut oil.

Layer the peaches into the bottom of the baking dish and drizzle the lemon juice over the peaches.

In a medium bowl, mix the flour, sugar, cinnamon, baking soda, and salt. Add the coconut oil and vanilla and combine until the mixture forms a crumbly dough. Sprinkle over the peaches and bake for 30 minutes, or until the mixture is just lightly browned on top and the peaches are juicy.

Serve warm with vanilla ice cream.