These herb compound butter recipes will add bold flavor to the simplest dishes. They're delicious on corn on the cob, toast, potatoes, and more!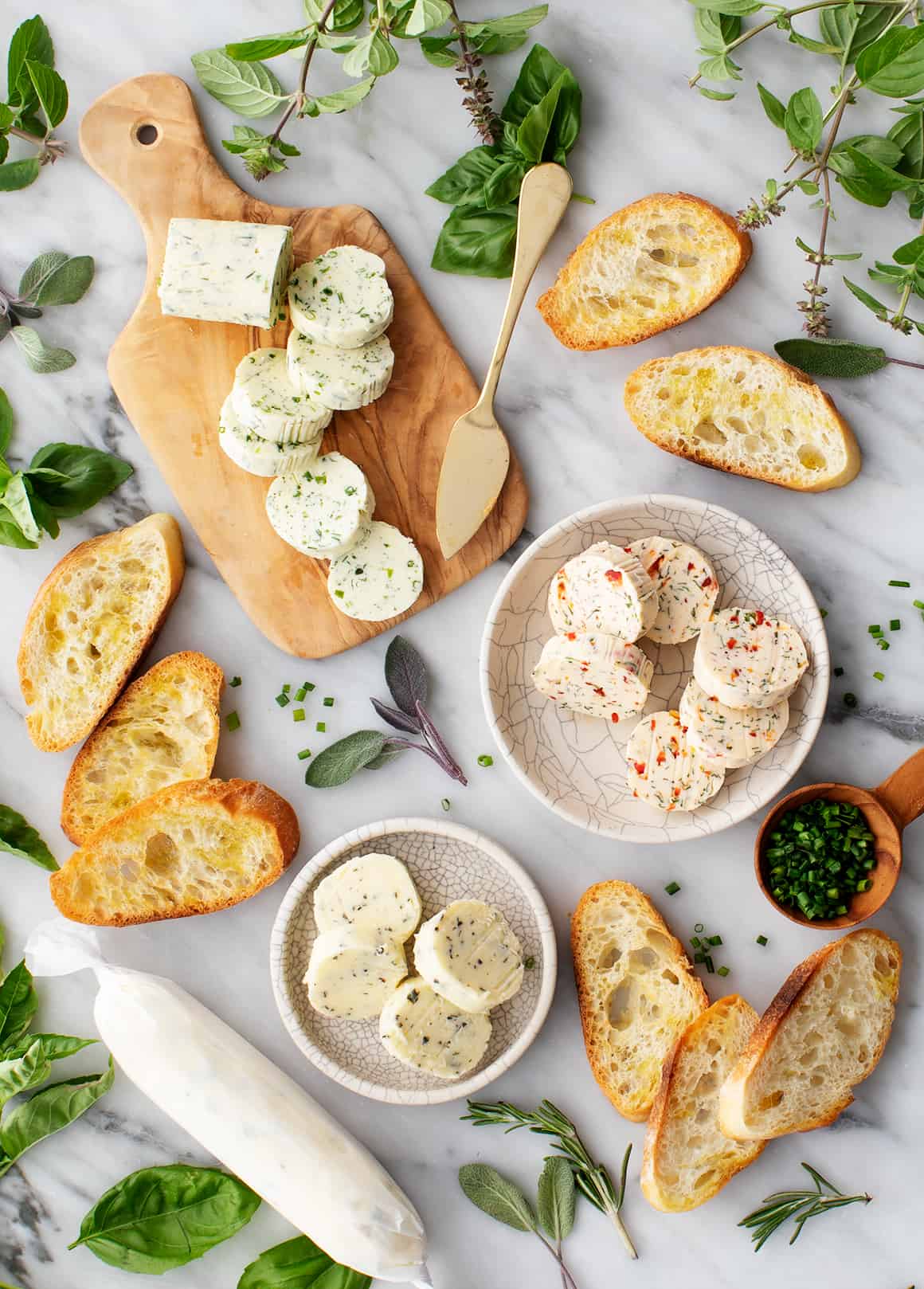 I have a new favorite cooking project: making compound butter! In the summer, I'm always hunting for different ways to use the herbs we grow on our back deck. When I've blended up a million batches of pesto and tossed together fifteen pasta salads, I start to wonder, "What next?"
I thought to make these compound butter recipes when I was dreaming up ways to serve corn on the cob. I imagined slathering it with butter and sprinkling it with herbs, but then I thought, "Why not put the herbs in the butter?" First, I experimented with chives and dill. The resulting herb butter was so rich and flavorful that I wanted to make compound butter with every herb I could. Basil? Sage? Thyme? Yes, and!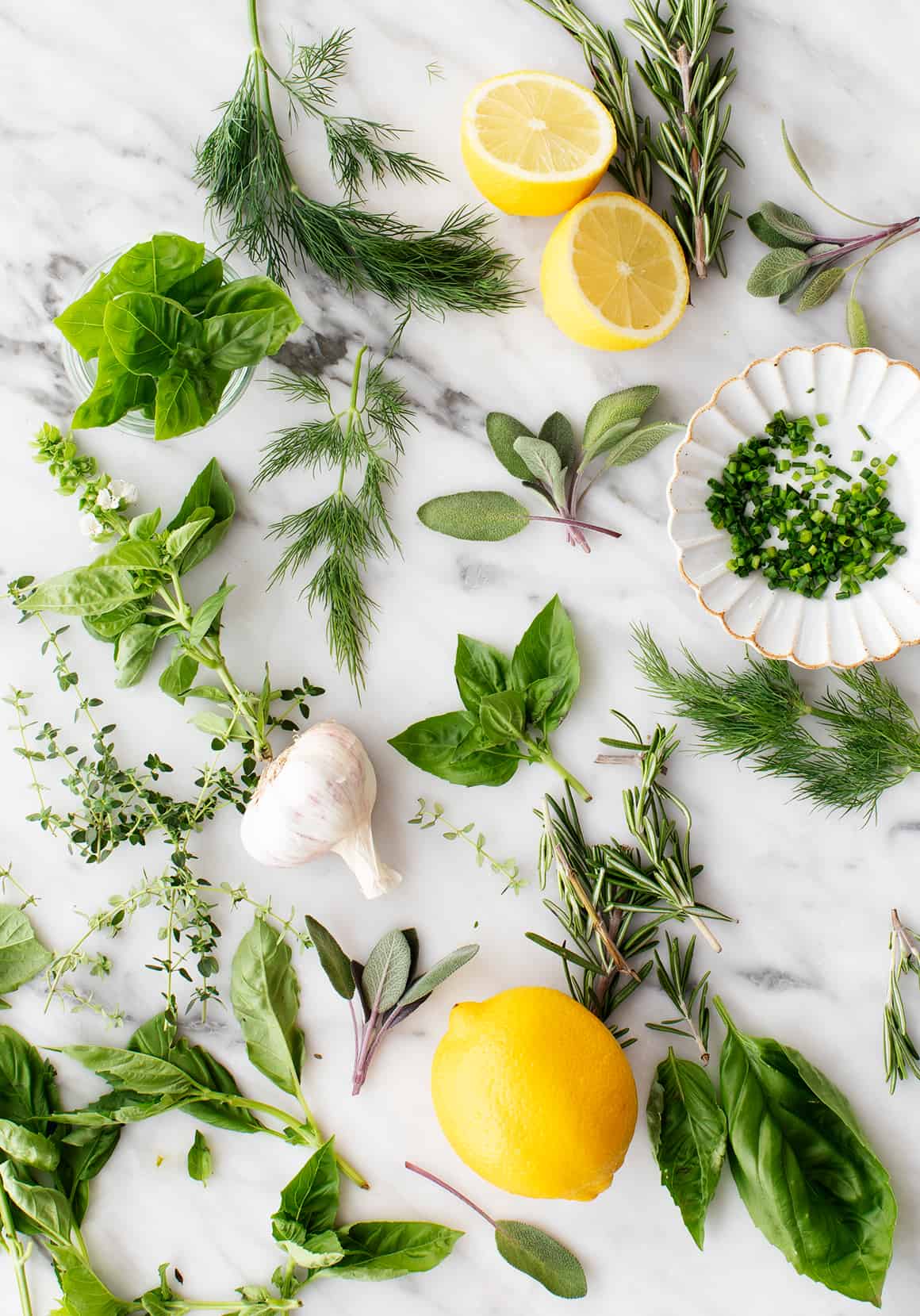 It all sounds fancy, I know, but in reality, compound butter is easy to make. It's just butter mixed with herbs and seasonings, after all!
If you have an abundance of summer herbs to use up, or if you're looking for an easy way to add bold flavor to your cooking, I highly encourage you to try it. You can use any number of herbs (find my favorite combinations below!) and use the butter in all sorts of ways. Dot it onto sweet corn, top it onto a baked potato, stir it into polenta… You really can't go wrong.
My Favorite Herb Compound Butter Recipes
I've experimented with 4 different compound butter recipes this summer, and I'm completely obsessed with each of them. It's really fun to make all four at once and taste them side-by-side (you can store the extras in the freezer!), but if you start with one and try the others later on, that's great too.
Garlic, Chive & Dill – This versatile compound butter is deeply savory, with a nice kick from the garlic and chives.
Lemon Thyme – My favorite! The lemon zest makes this herb butter nice and bright.
Honey Rosemary Sage – This cozy compound butter would be perfect for fall. I can't wait to eat it on a baked sweet potato on a crisp night.
And Sun-Dried Tomato Basil – If you make just one of these compound butter recipes now, it should be this one. Its tomato-basil flavor is so fresh and summery!
How to Make Compound Butter
Ready to try these herb compound butter recipes? Here's what you need to do:
First, let the butter soften to room temperature. If you're anything like me, it'll be so tempting to try to use butter that's cold from the fridge or to speed up the warming process in the microwave. Don't do it! If you microwave the butter, it will likely start to melt, and if your butter is cold, you won't be able to stir in the herbs.
Instead, put a stick of butter on the counter, walk away, and let it soften for an hour or so. Before long, it'll be smooth and spreadable – exactly how it should be when you're making compound butter.
Next, fold in the herbs. When the butter is soft, place it in a small bowl with your desired mix-ins. The ingredients to my garlic, chive, and dill herb butter are pictured here.
Fold until the softened butter and herbs are throughly combined.
The butter should be evenly flecked with the herbs and other seasonings.
Then, form the butter into a log. Dollop the herb butter onto a piece of parchment paper or plastic wrap. You want it to be in one line, about 4 inches long and 1 inch across. Wrap and roll the parchment or plastic wrap around the butter, forming it into a log.
Chill overnight, or until the butter is firm and sliceable. That's it!
How to Use Herb Butter
Honestly, these herb butter recipes are so flavorful that you could serve them as an appetizer. Set out the butter with good baguette or crostini, and your guests won't be able to get enough of it.
But there are a host of other ways to use compound butter, too! Here are a few of my favorites:
Rub it onto corn on the cob. Grilled or boiled sweet corn is fantastic with any of these compound butter recipes.
Slather it on cornbread, dinner rolls, or homemade focaccia. You'll keep coming back for more.
Stir it into polenta. My recipe calls for olive oil – use the compound butter instead! 
Dot it onto a baked potato or sweet potato. I'd pick the chive and garlic herb butter for a regular potato and the rosemary and sage butter for a sweet potato.
Or let it melt into mashed potatoes or mashed sweet potatoes. It'd be excellent on this Garlic Mashed Cauliflower, too.
Make the best-ever butter noodles. Toss your favorite pasta with the butter and Parmesan cheese.
Spread it on a bagel or plain old toast. Jack's new favorite breakfast. 🙂
How do you like to use herb compound butter? Let me know in the comments!
More Favorite Herb Recipes
Love cooking with fresh herbs? Try using them in one of these dressings or sauces next: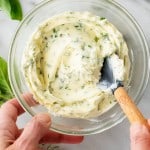 Herb Compound Butter
Herb compound butter is an easy way to add bold flavor to a simple meal. Spread it onto bread, slather it onto corn on the cob, or top it onto a baked potato! Find more serving suggestions in the post above.
Ingredients
Instructions
In a small bowl, stir together the softened butter and the ingredients from one of the herb combinations above.

Scoop the herb butter onto a piece of parchment paper or plastic wrap, roll into a log and twist the ends to close. Chill overnight, or until firm.
Notes
If subbing vegan butter, omit the salt in each recipe.