On a fall day, this applesauce cake really hits this spot. It's moist, tender, and warmly spiced. Add cream cheese frosting to take it over the top!
Want to know how much I love this applesauce cake recipe? I made it four, that's right, four times in two weeks. That's a lot of applesauce cake!
Well, it's a lot of applesauce cake in theory, but in practice, it seems like a whole lot less. You snag a slice for breakfast, circle back later for an afternoon snack, and maybe reach for one or two more for dessert. By the end of the day, that first cake is almost gone, and by the end of the next, it's completely vanished. What can I say? At this time of year, this applesauce cake simply hits the spot.
It's light and fluffy, moist and tender, and filled with warm, cozy autumn flavor. You can enjoy it plain with a cup of coffee or tea or dress it up with cream cheese frosting for a more decadent treat. Either way, it's delicious.
Applesauce Cake Recipe Ingredients
To make this applesauce cake recipe, you'll need these basic ingredients:
Applesauce, of course! I love using homemade applesauce in this recipe, but in a pinch, the store-bought kind works too.
All-purpose flour, whole wheat flour, and almond flour – They make this cake wholesome, but incredibly tender and moist.
Eggs, apple cider vinegar, baking powder, and baking soda – They help the cake puff up as it bakes.
Cane sugar – It adds just enough sweetness to make this cake sweet, but not too sweet.
Avocado oil – For richness. Another neutral oil, such as grapeseed or vegetable oil, would work here too.
Almond milk – It adds moisture. If you don't keep almond milk on hand, oat milk, soy milk, or cow's milk would be a fine substitute.
Apple pie spice – For cozy fall flavor.
Vanilla extract – It adds warm depth of flavor.
Walnuts – For crunch.
And sea salt – To make all the flavors pop!
Find the complete recipe with measurements below.
How to Make Applesauce Cake
This applesauce cake recipe is super simple to make. Here's how it goes:
First, whisk together the wet ingredients in one bowl and the dry ingredients in another.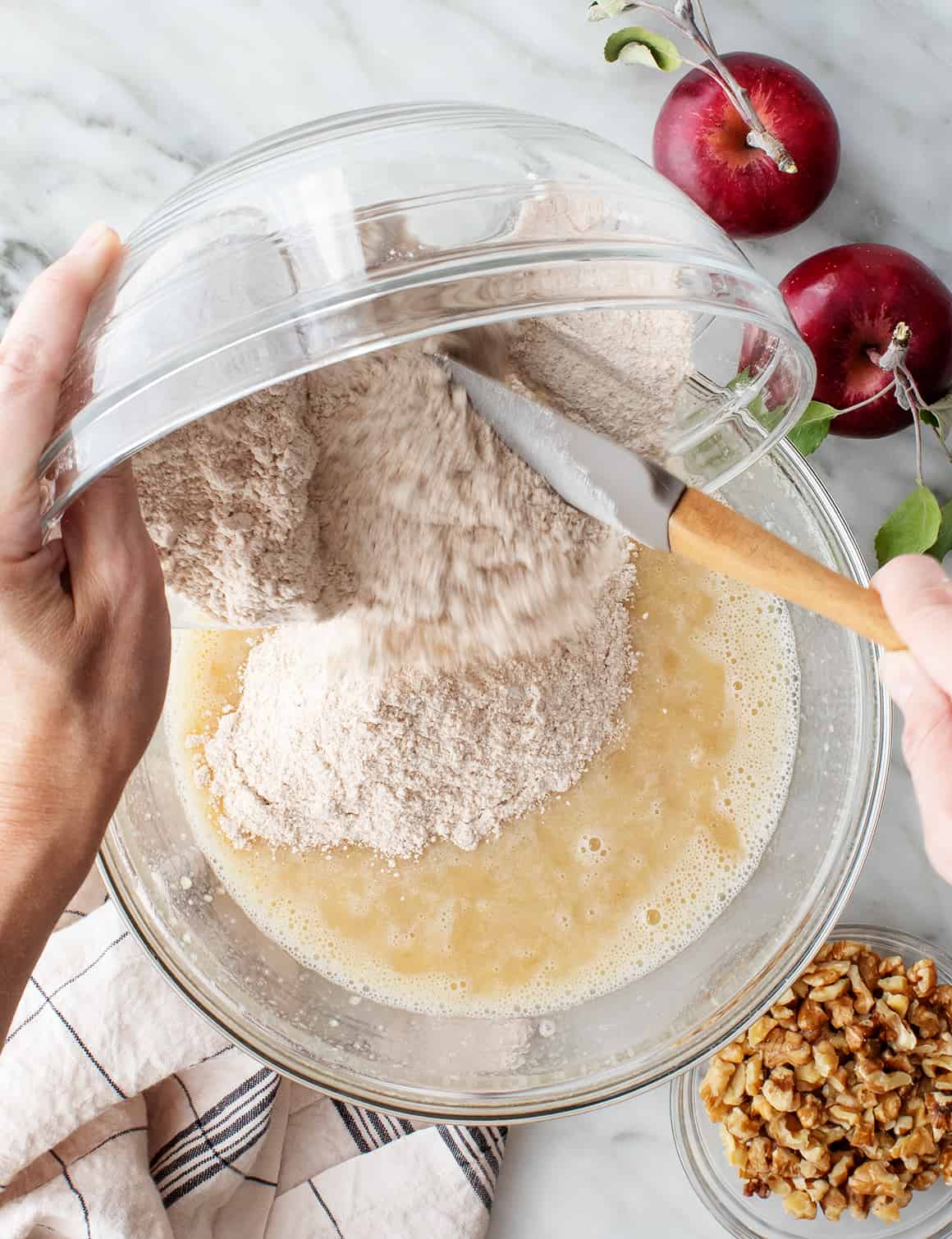 Then, pour the dry ingredients into the wet ingredients…
…and fold to combine.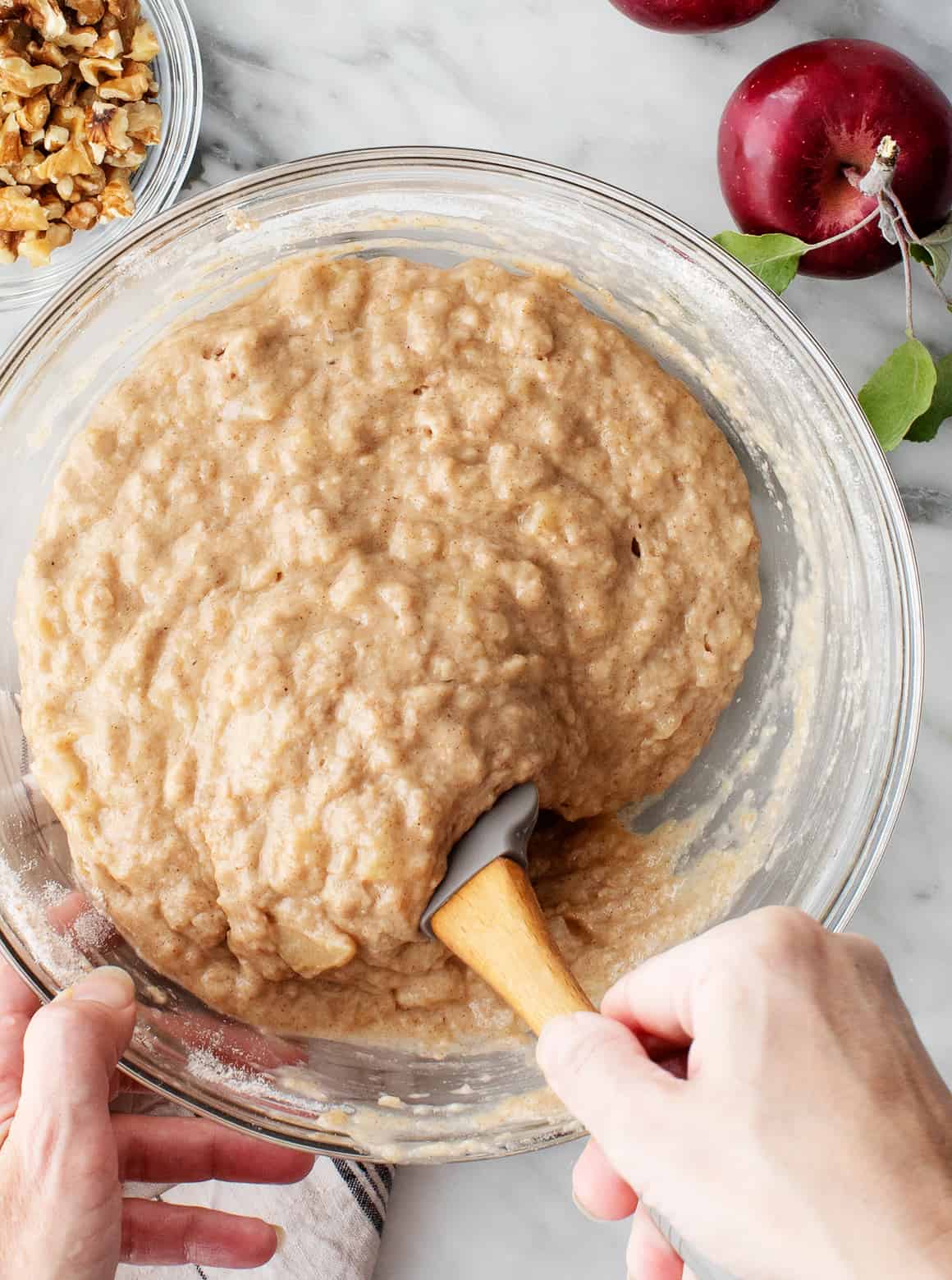 Careful not to overmix! If you do, the cake will be dense.
Next, fold in the walnuts.
And then, bake! Pour the batter into a greased 8×8-inch baking pan lined with parchment paper, and use a spatula to smooth it into an even layer. Bake at 350°F for about 35 minutes, or until a toothpick inserted comes out clean and the top springs back to the touch.
Allow the cake to cool in the pan for 10 minutes before using the parchment paper to carefully lift it out. Transfer it to a wire rack to cool completely.
Finally, enjoy! Slather the cake with cream cheese frosting, or slice and serve it plain. So easy!
Applesauce Cake Recipe Tips
Make your own applesauce. This applesauce cake recipe works with store-bought applesauce, but using homemade applesauce really takes it to the next level. Because my homemade applesauce is slightly chunky, it flecks the cake with little pieces of soft, spiced apple. What could be more delicious?
Spoon and level your flour. Say you're making banana bread. You imagine it's going to be super moist and tender, but when it comes out of the oven, it's dry. SO disappointing, right? Well, there's a chance you accidentally used too much flour. Flour inside a canister or bag is often tightly packed. If you scoop it up directly, you can inadvertently measure more than you intended. For a more accurate measurement, spoon the flour into your measuring cup and gently level it off with a knife. Want more info? Find it here.
Freeze some for later. If you can resist devouring this applesauce spice cake within a day or two, pop the extras in the freezer! They'll keep well for up to three months. Thaw them overnight in the fridge, or warm them in the microwave for about 30 seconds.
More Favorite Fall Treats
If you love this applesauce cake recipe, try making one of these fall baked goods next:
Applesauce Cake
This easy applesauce cake recipe is a delicious fall treat! Enjoy it plain, or dress it up with cream cheese frosting or a scoop of vanilla ice cream.
Instructions
Preheat the oven to 350°F and grease an 8x8-inch baking pan. I also line mine with a sheet of parchment paper.

In a large bowl, combine the applesauce, sugar, oil, almond milk, eggs, vanilla, and vinegar and whisk until combined.

In a medium bowl, whisk together the all-purpose, whole wheat, and almond flours, apple pie spice, baking powder, salt, and baking soda.

Add the dry ingredients to the bowl with the wet ingredients and stir until just combined, then fold in the walnuts. Pour into the prepared pan.

Bake for 32 to 39 minutes or until a toothpick inserted in the middle comes out clean. Allow the cake to cool in the pan for 10 minutes before transferring it to a wire rack to cool completely. When the cake is completely cool, top it with cream cheese frosting, if desired.