A bright, nutty topping and creamy arugula pesto amp up the flavor in this roasted cauliflower steak recipe. It's a simple, satisfying, and delicious meal!
Jack and I made this cauliflower steak recipe for Valentine's Day last week. We loved it so much that I knew I had to share it with all of you!
As a cook, one of my favorite things to do is to turn a vegetable into a main dish. This cauliflower steak recipe is a fantastic way to do just that. I start by searing thick slices of cauliflower in a hot cast-iron skillet until they're deeply golden brown. Then, I transfer them to the oven and roast until they're nutty and tender. To make them a meal, I serve them over a swoosh of arugula pesto and top them off with a quick garnish of herbs, capers, golden raisins, and nuts.
All together, the combination is simple, elevated, and absolutely delicious. The topping and the sauce contrast beautifully, and the meaty cauliflower steak is so satisfying. If you're looking to shake up your regular dinner rotation, look no further. This cauliflower steak recipe is just the thing for you.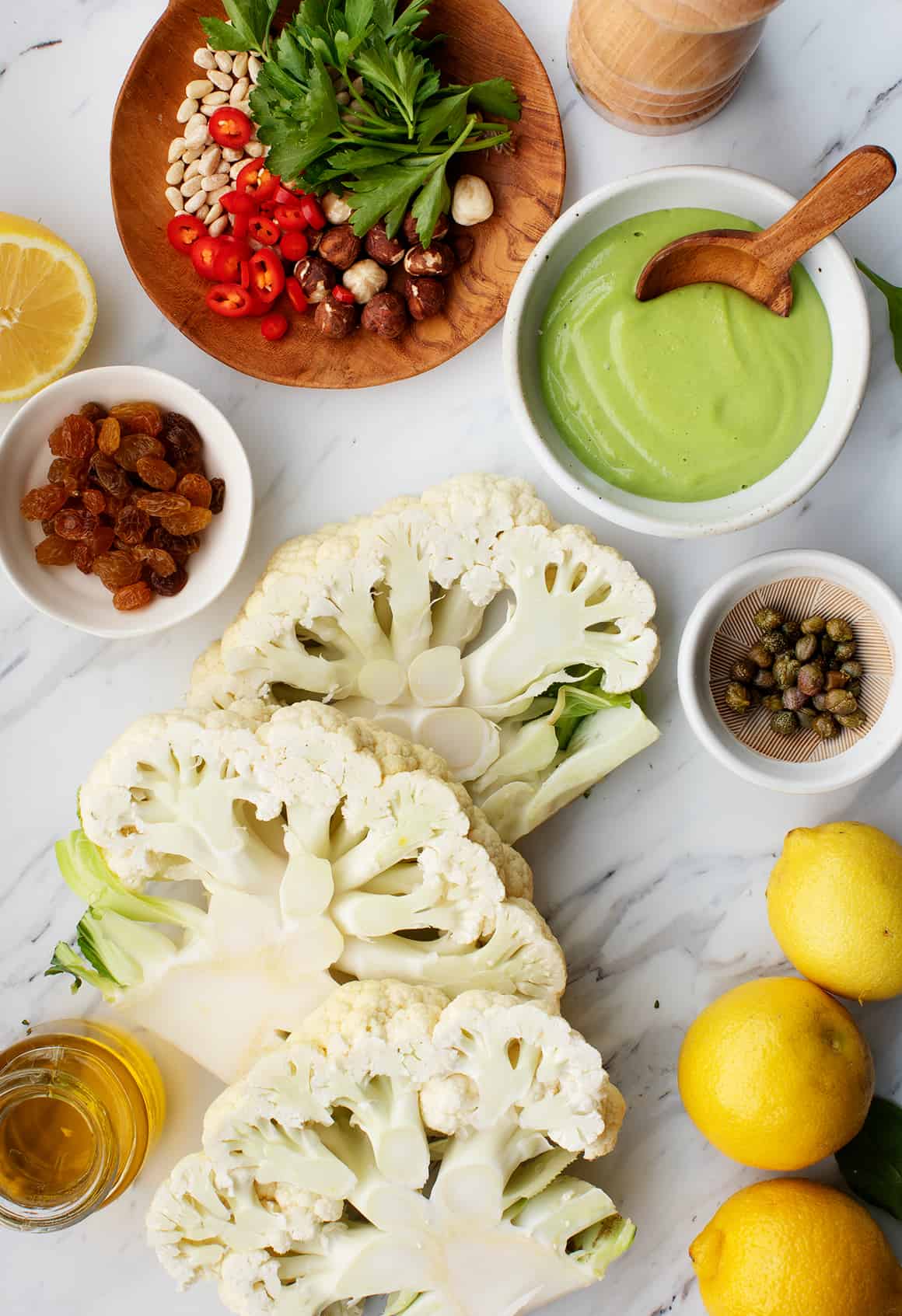 Cauliflower Steak Recipe Ingredients
Here's what you'll need to make this cauliflower steak recipe:
Cauliflower, of course! In order to slice 4 cohesive steaks, I recommend starting with two heads of cauliflower. You'll definitely have extra cauliflower florets leftover. Roast them alongside the steaks, or try one of the cauliflower recipes at the bottom of this post!
Extra-virgin olive oil – You'll use some for cooking the cauliflower and more for the pesto and the topping.
Arugula pesto – This bright, peppery sauce is quick and easy to make in the blender. It uses basic ingredients like arugula, cashews, olive oil, and lemon juice.
Pine nuts and hazelnuts – They add nutty flavor and plenty of crunch to the simple topping.
Parsley – For fresh flavor.
Golden raisins – Their sweet flavor balances the bite of the arugula pesto, and their chewy texture contrasts nicely with the crunchy nuts.
Capers – For salty, briny flavor.
Sliced red chiles or red pepper flakes – For heat.
Lemon zest – It brightens the whole dish up.
And salt and pepper – To make all the flavors pop!
Find the complete recipe with measurements below.
How to Make Roasted Cauliflower Steaks
When you make this cauliflower steak recipe, the first step is cutting the cauliflower. Remove the outer leaves from the first head of cauliflower. Stand the cauliflower upright on its bottom stem, and cut the cauliflower in half from top to bottom. Then, slice a 1 1/2-inch-thick steak from each half of the cauliflower, keeping the core intact. Repeat with the second head of cauliflower. You'll just use the cauliflower steaks in this recipe. Save the remaining florets for another use!
Next, sear the cauliflower steaks. Coat the bottom of a skillet with oil and place it over medium heat. Sear each cauliflower steak until it's golden brown on both sides, work in batches as necessary.
Then, bake. Place the seared cauliflower steaks on a parchment-lined baking sheet, and season them with salt, pepper, and a bit more olive oil. Roast at 425°F until the cores are fork-tender, about 25 minutes.
Meanwhile, prepare the topping and sauce. Whizz together the arugula pesto, and mix together the topping ingredients.
When the cauliflower steaks are ready, plate them over the sauce and sprinkle them with the herb and nut topping. Add a final drizzle of olive oil, if you like. Then, dig in!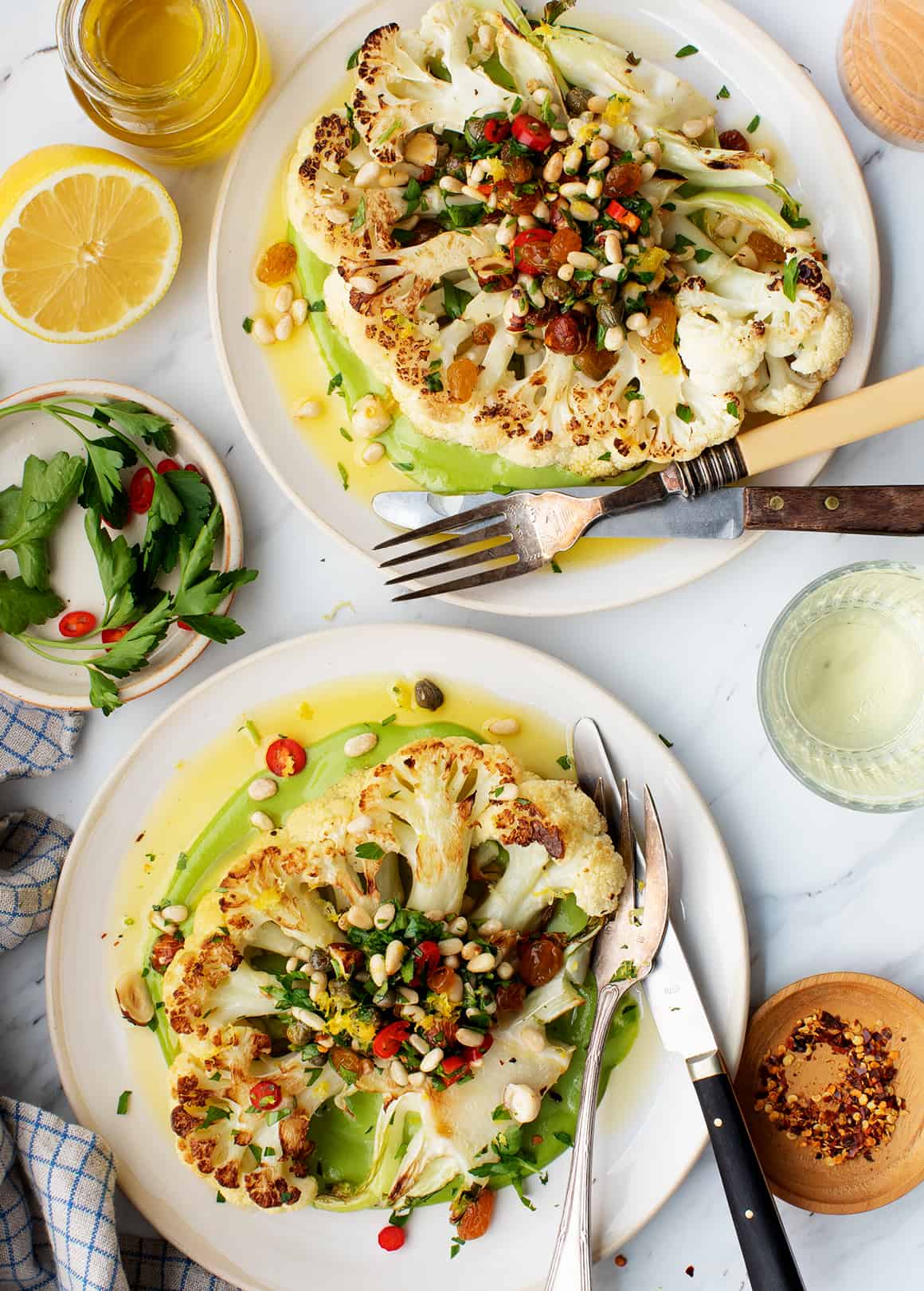 Cauliflower Steak Serving Suggestions
Served with the topping and sauce, these roasted cauliflower steaks are a light, yet satisfying meal on their own. If you're in the mood for something heartier, add a bed of cooked grains under the cauliflower steak. Wheat berries, farro, quinoa, or couscous would all work well here. A few roasted chickpeas would be a nice garnish too!
Round out the meal with crusty bread or focaccia for sopping up the flavorful sauce. Enjoy!
More Favorite Cauliflower Recipes
Leftover cauliflower? Use it in one of these recipes:
Roasted Cauliflower Steaks
This cauliflower steak recipe is a delicious, satisfying plant-based meal! I call for two cauliflowers here so that you can cut 4 really sturdy, cohesive steaks. You'll have quite a bit of cauliflower leftover. Simply roast the florets, or save them to use in one of the cauliflower recipes linked above.
Ingredients
Topping
¼

cup

pine nuts

¼

cup

hazelnuts

,

chopped

¼

cup

chopped fresh parsley

¼

cup

golden raisins

1

teaspoon

lemon zest

2

teaspoons

capers

1

small fresno chili

,

chopped or ¼ teaspoon red pepper flakes

2

teaspoons

extra-virgin olive oil
Instructions
Preheat the oven to 425°F and line a baking sheet with parchment paper.

Remove the coarse outer leaves of each cauliflower, then slice 2 (1½ -inch-thick) "steaks" from the center of each cauliflower, keeping the core intact. Cutting the steaks from the center is the best way to get slabs that will stay intact through the cooking process. You'll have quite a bit of cauliflower leftover. Save it to make our Cauliflower Pasta or any of these cauliflower recipes another day!

Heat a skillet over medium heat and brush with oil. Place one or two cauliflower steaks in the pan and sear for 2 to 3 minutes per side, or until golden brown. Repeat with the remaining cauliflower steaks. Transfer each steak to the baking sheet, sprinkle both sides with salt and pepper, drizzle with a little bit more olive oil, and roast in the oven for 22 to 28 minutes, or until the core is fork-tender.

Make the topping: In a small bowl, stir together the pine nuts, hazelnuts, parsley, raisins, lemon zest, capers, chili, and olive oil.

Assemble plates with a slather of the pesto, a cauliflower steak, spoonfuls of the topping, and another drizzle of olive oil, if desired, and serve.