Whether roasted, pickled, or raw, watermelon radish will add color and crunch to almost any dish. Learn how to prepare it with this simple guide!
I love the moment when I first slice into a watermelon radish. From the outside, this root veggie looks so humble, its skin grubby and pale green. But when I cut into it, I reveal a radiant pink interior. On a gray day in late winter or early spring, nothing makes me happier than bold, bright color like that.
So at this time of year, watermelon radishes are a staple in my kitchen. But apparently, not everyone cooks with them as often as I do. In fact, each time I share a new watermelon radish recipe, I hear from readers asking what a watermelon radish is and where to find one. Because I'm such a big watermelon radish fan (and I want you to be one, too!), I thought I'd dedicate today's post to answering those questions. Keep reading to learn what a watermelon radish is, where to find one, and how to prepare it. If you're not already cooking with this vibrant root vegetable, I hope you will be soon!
What are watermelon radishes?
Watermelon radishes are an heirloom variety of Chinese daikon radish. They get their name from their bright pink interior and green skin, not their taste. Members of the mustard family, they're firm and crunchy, with a mild, peppery flavor. In most parts of the US, you can find them in farmers markets and grocery stores from early fall though spring, as they grow best in mild weather and store remarkably well. When you're shopping, you can recognize them from their size (they're usually somewhere between the size of a golfball and the size of a tennis ball) and their pale green and white skin.
How to Prepare a Watermelon Radish
Like other types of radishes, watermelon radishes are delicious raw, pickled, or cooked. Here are a few of my favorite ways to use them:
No matter how you plan to use a watermelon radish, start by washing it well. There's no need to peel it. In fact, you'll want to keep the skin on for that pink-and-green watermelon look!
How you cut the watermelon radish will depend on how you plan to use it. If you want to pickle it or add it to a salad or bowl, thinly slice it on a mandoline or cut it into fine matchsticks. If you want to roast it, chop it into cubes.
Want more ideas for how to use a watermelon radish? Check out the recipes below!
Favorite Watermelon Radish Recipes
Best Buddha Bowl
I can never resist garnishing a Buddha bowl with sliced watermelon radish. Its vivid color makes the dish feel inviting and exciting to eat.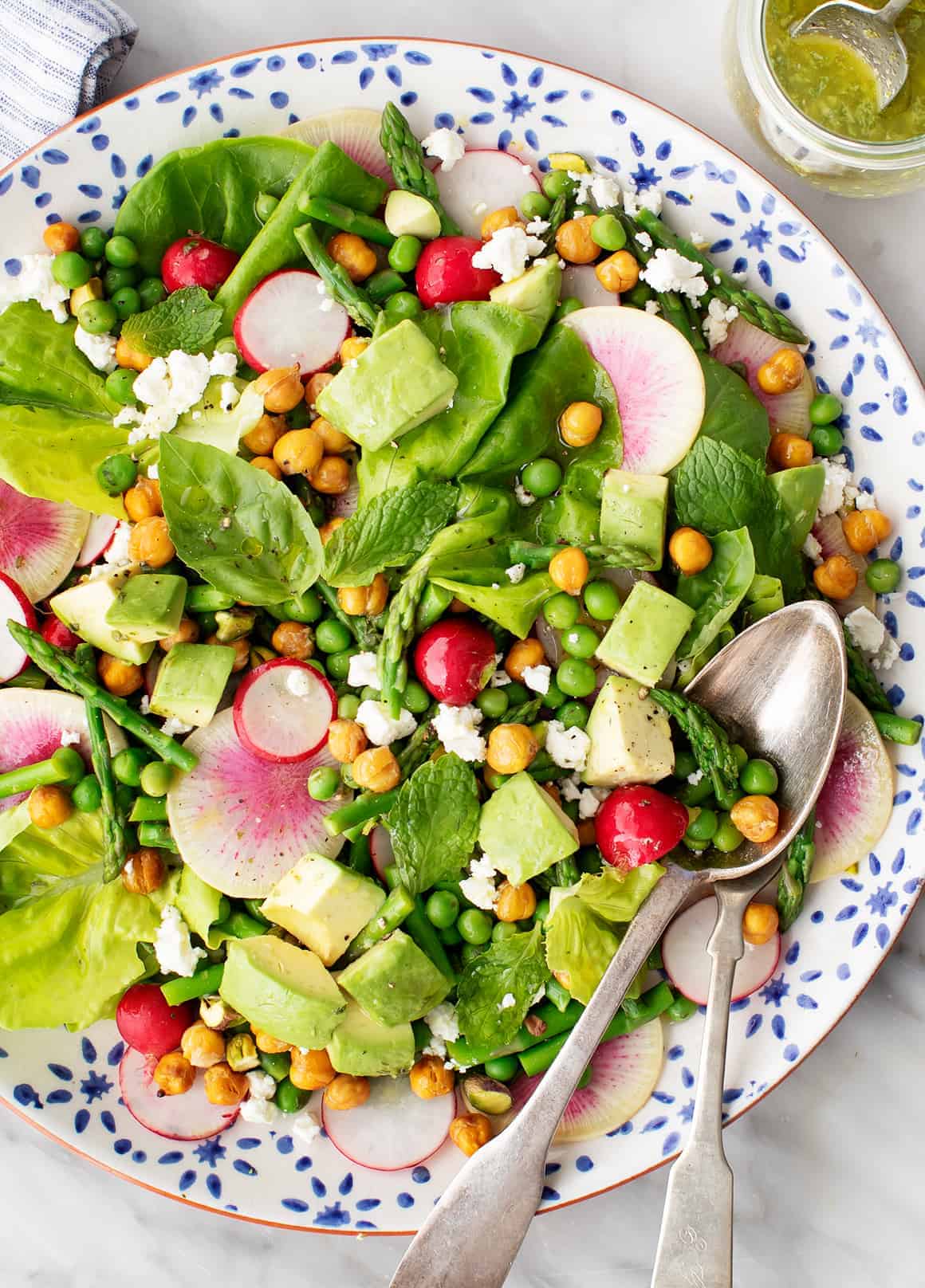 Bright Spring Salad
My favorite way to welcome spring! Sliced red and watermelon radishes add a pretty pop of pink to this delicate salad.
Quick Pickled Radishes
This recipe calls for red radishes, but thinly sliced watermelon radish would work just as well! The sweet, tangy pickles are fantastic on sandwiches, tacos, veggie burgers, and bowls.
Roasted Vegetables
Cubed watermelon radishes would be a perfect substitute for the daikon in this recipe!
Avocado Summer Rolls
I like to assemble these summer rolls with the radish facing out. That way, you can see its gorgeous color!
Kale Salad with Carrot Ginger Dressing
Filled with a rainbow of root vegetables, this colorful salad is a satisfying healthy lunch.
Sesame Soba Noodles
I love how the crunchy radishes contrast with the gooey noodles and creamy avocado in this recipe.
Sweet Potato Appetizer Bites
These adorable appetizers are always a hit at parties and gatherings! The crisp radishes play off a bright, creamy avocado "tartare."
More Favorite Produce Guides
If you loved learning about watermelon radishes, check out one of these handy produce guides next:
Buddha Bowl with Watermelon Radish
Sliced watermelon radish adds bold color and crunch to this healthy Buddha bowl recipe.
Instructions
Preheat the oven to 400°F and line a large baking sheet with parchment paper.

Toss the sweet potatoes with olive oil, salt, and pepper, and spread onto the baking sheet. Roast for 20 minutes, or until golden brown.

Thinly slice the radish into rounds (this is best done on a mandoline), and use a vegetable peeler to peel the carrots into ribbons.

Toss the radish slices, carrots, and shredded cabbage with a squeeze of lemon. Set aside.

Place the kale leaves into a large bowl and toss with a squeeze of lemon and a few pinches of salt. Use your hands to massage the leaves until they become soft and wilted and reduce in the bowl by about half.

Assemble individual bowls with the brown rice, chickpeas, kale, carrots, radishes, cabbage, sweet potatoes, sauerkraut, sesame seeds, and microgreens, if using. Season with salt and pepper and serve with the Turmeric Tahini Sauce.
Sources: Johnny's Selected Seeds and Harmony Valley Farm