Vibrant, flavorful, and nutritious, carrots deserve a spot in everyone's kitchen. Find new ways to cook them with these fresh carrot recipes!
When I spot a lush bunch of carrots at the farmers market or grocery store, I can hardly wait to bring them home and cook them. Out of all the veggie recipes out there, carrot recipes are some of my favorites. I love carrots' sweet and earthy flavor, their vibrant colors, and the fact that you can eat their leafy tops as well as their crunchy roots.
I know, I know. You might not share my enthusiasm. And to be honest, I get it. When carrots are prepared the wrong way – or worse, not prepared at all (looking at you, baby carrots and dip) – they aren't something worth writing home about. But try adding them to a salad with an aromatic, cumin-scented dressing or roasting them until they're caramelized and browned, and you'll start to see why carrot recipes make me so excited. This humble root veggie can be really darn delicious!
You'll find my best carrot recipes in the post below. They include everything from fresh salads and side dishes to cozy comfort foods like noodles and soup. The next time you have a bunch of carrots on hand, look through and try one. You might be surprised how much you love it!
Carrot Recipes for Breakfast
Trust me on this one.
Vegan Carrot Waffles
Wish you could eat carrot cake for breakfast? Well, now you can! These crisp, fluffy waffles are flecked with grated carrots and warmly spiced with cinnamon. I love to make them on lazy weekend mornings, but leftovers freeze perfectly. Thaw them in the toaster for a quick breakfast during the week!
Vegan Carrot Lox
Break out the bagels! These roasted and marinated carrot ribbons taste surprisingly similar to regular lox, but they're 100% plant-based. Serve them with fixings like cucumbers, capers, fresh herbs, and (vegan) cream cheese for an unforgettable brunch.
Quinoa Breakfast Cookies
Quinoa adds fiber and plant-based protein to these hearty vegan and gluten-free breakfast cookies. Eat one as they come out of the oven, and freeze the rest for later. They thaw perfectly for an easy breakfast or snack!
Farmers Market Breakfast Bowl
I love to make this savory breakfast bowl the morning after a trip to the farmers market. I top a medley of fresh summer veggies with an herbed yogurt sauce and a jammy soft-boiled egg to give it enough staying power to keep me full till lunch.
Almost-Raw Carrot Cake Bliss Balls
Another carrot cake-inspired breakfast treat! Made with coconut, dates, and sunflower seeds, these sweet, chewy little balls are gluten-free, nut-free, and vegan!
Salad and Side Dish Carrot Recipes
Got a gorgeous bunch of rainbow carrots from the farmers market? These fresh carrot recipes will help you show them off!
Roasted Carrots with Carrot Top Tzatziki, page 229 of Love & Lemons Every Day
Don't toss those carrot tops! Here, I stir them into a carrot top "tzatziki" that offers a creamy, tangy contrast to the earthy roasted carrots. Vibrant and delicious, yet simple to prepare, this side dish would be a great addition to an Easter dinner, Mother's Day brunch, or any special occasion meal.
Carrot Salad
You only need 5 ingredients + a simple homemade dressing to whip up this refreshing (and surprisingly addictive!) shredded carrot salad.
Moroccan-Spiced Carrot Salad with Lentils, page 121 of Love & Lemons Every Day
One of my favorite make-ahead lunches! A tangy, aromatic dressing coats raw and roasted carrots, earthy lentils, mint, and fresh greens. A pop of pickled onions takes it all over the top.
Avocado Salad
This pretty spring salad features crisp watercress, creamy avocado, and a colorful medley of roasted roots. I like to roast the veggies the day before so that I can quickly assemble the salad right before serving.
Creamy Coleslaw
Tossed in a creamy homemade dressing, this sweet and tangy slaw is a big hit at cookouts and picnics.
Beet & Carrot Salad with Sweet Citrus Vinaigrette, page 115 of The Love & Lemons Cookbook
I love all the shapes and colors in this raw and roasted root veggie salad! Replace the farro with quinoa to make it gluten-free.
Kale Salad with Carrot-Ginger Dressing
My favorite part of this rainbow kale salad? The carrot ginger dressing! Made with just 6 ingredients, it's zingy and refreshing. If you have any leftover, use it as a dipping sauce or drizzle it over a grain bowl.
Grain Bowls
Carrots are perfect for using in grain bowls like these! Left raw, they add a bright shock of color and crunch. Roasted or sautéed, they're softer and sweeter. Either way, they add variety and complexity to a simple combination of fresh ingredients.
Carrot Ginger Grain Bowl, page 93 of The Love & Lemons Cookbook
This carrot lovers' grain bowl uses carrots 4 ways. #1: I mince the tops and toss them with cooked millet to make the bowl's base. #2 and #3: I top the bowl with salad greens, baked tofu, avocado, and raw and roasted carrots to give it plenty of texture. And #4: I douse it all in a creamy carrot-ginger sauce. The combination is SO delicious!
Bibimbap
Spicy gochujang sauce amps up the flavor in this vegetarian riff on Korean bibimbap.
Best Buddha Bowl
Think of this recipe more as a template than as a strict set of rules. Replace the brown rice with forbidden rice or wheat berries, swap pickled onions or radishes for the sauerkraut, or sub in a roasted veggie like butternut squash or cauliflower for the sweet potatoes. It'll work well with a huge variety of grains, proteins, and veggies. Use what you have on hand or what sounds best to you!
Adzuki Bean Bowls
Adzuki beans add a unique sweet, nutty flavor to this hearty, wholesome grain bowl, but if you can't find them, don't worry! Cooked black beans or chickpeas work great here too.
Carrot-y Soups and Stews
When I'm cooking a soup or stew, I almost always add a carrot or two (and often more!). They add wonderful depth of flavor, and, in the case of blended soups, they create a lovely creamy texture without any cream.
Carrot Ginger Soup
Fresh ginger and apple cider vinegar add a tangy, refreshing kick to this creamy carrot soup.
Carrot Coconut Soup
This soup only improves as its flavors mix and mingle in the fridge, so it's a great recipe to make ahead. Serve it cold, like gazpacho, for a soothing summer meal, or warm it up if you're craving something cozier.
Root Vegetable Tagine with Lemon Couscous, page 207 of Love & Lemons Every Day
A bright lemon- and herb-flecked couscous balances the rich, sweet flavors in this comforting tagine.
Minestrone Soup
Serve it with crusty bread for sopping up the flavorful tomato broth.
Roasted Red Pepper Soup
Blended carrots and white beans enhance the creamy texture of this tangy vegan soup.
Sandwiches, Tacos, and Buns
Who says carrots can't be fun? These handheld carrot recipes will prove them wrong!
Banh Mi Sandwich
A vegan riff on the classic Vietnamese sandwich! Pickled carrot and daikon give it a pop of sweet and tangy flavor.
Carrot Ribbon Tacos, page 91 of The Love & Lemons Cookbook
These veggie tacos are my kind of weeknight dinner. They're fresh, healthy, and SO easy to make, packed with crispy chickpeas, juicy mango, carrot ribbons, sriracha, and a tart cilantro yogurt sauce.
Steamed Bao Buns
Hoisin-glazed tempeh, avocado, and crisp veggies make a satisfying filling for these pillowy bao buns.
Noodle and Pasta Carrot Recipes
Want to turn a bunch of carrots into a quick and easy meal? These noodle and pasta carrot recipes are a great way to do it.
Cashew Broccoli Soba Noodles
I'm never not in the mood for these gooey, nutty cashew soba noodles. Filled with steamed carrots, broccoli, and baked tofu, they're a yummy weeknight dinner or make-ahead lunch.
Roasted Vegetable Pasta
This easy, toss-together pasta is such a simple, delicious summer meal. Feel free to swap in whatever veggies you have on hand!
Bok Choy Stir Fry
No noodles? No problem! Skip them, and serve this tasty stir fry over a bed of cooked rice.
Tagliatelle with Tomatoes and Greens
If you love a good low effort, high reward recipe (who doesn't?!), then this carrot-y pasta is for you. The flavorful sauce cooks up in right around 15 minutes, which gives you just enough time to boil water and cook the pasta.
Carrot Recipes for Dessert
Just add cream cheese frosting to take these carrot recipes over the top!
Carrot Cake
We make this recipe every year for Jack's birthday. Moist, tender, and warmly spiced, it's perfect for any celebration.
Carrot Cake Cookies
Carrot cake, but in cookie form! Made with oat flour, almond flour, and pure maple syrup, these cookies are fairly wholesome. Skip the frosting and enjoy them as a snack (or even breakfast!), or layer it on for a more decadent treat.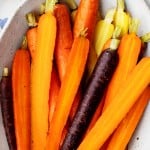 Carrot Recipes: Honey Roasted Carrots
These honey roasted carrots one of our favorite carrot recipes!
Ingredients
1

bunch carrots

,

about 1 pound

Extra-virgin olive oil,

for drizzling

1

teaspoon

honey or maple syrup

¼

teaspoon

ground coriander

¼

teaspoon

ground cumin

Sea salt and freshly ground black pepper
Instructions
Preheat the oven to 425°F and line a baking sheet with parchment paper.

Place the whole carrots on the baking sheet. Toss the carrots with a drizzle of olive oil, the honey, coriander, cumin, and pinches of salt and pepper. Roll the carrots with your hands to coat and arrange them on the sheet with space between the carrots. Roast for 15 to 25 minutes, or until the carrots are fork-tender and lightly browned but not mushy. The timing will depend on the size of your carrots.

Remove from the oven and slice in half lengthwise. Season with salt and pepper and serve.