Who says eggs are just for breakfast? These tasty egg recipes include ideas for every meal of the day. Find frittatas, salads, bowls, and more!
Jack and I always have a carton of eggs in our fridge. And if you eat eggs, there's a good chance you do too. I mean, why not? They're quick to prepare, satisfying, and rich in protein, and they're at home at almost any meal. Whip up a simple scramble for breakfast or shakshuka for dinner, or soft-boil an egg for a boost of protein at lunch. If you happen to be cooking for a special occasion (maybe Easter or Mother's Day brunch?), egg recipes can come in handy then too. A frittata or breakfast casserole would make a great main dish, and when it comes to appetizers, creamy, tangy deviled eggs are always a hit.
You'll find these and more egg recipes in the post below. They include speedy breakfasts, healthy lunches, elegant main dishes, and more. The next time you don't know what to make for [insert meal here], take a look through them. If you have eggs on hand, you're already well on your way to making something delicious.
Essential Egg Recipes
Every home cook should master these basic egg recipes! Enjoy them on their own for an easy breakfast, or use them as building blocks to make the other egg recipes in this post.
Scrambled Eggs
Eggs, water, and a little oil or butter are all you need to make a creamy, dreamy breakfast scramble. Season to taste with salt, pepper, and fresh herbs like dill or chives.
Sunny-Side-Up Eggs
With runny yolks and just-set whites, these easy eggs are a delicious healthy breakfast.
Poached Eggs
Don't let poached eggs intimidate you! They're surprisingly easy to make, and they're a perfect way to add extra protein to just about anything. Top one onto a salad, a grain bowl, or a thick slice of avocado toast.
Soft-Boiled Eggs
Choose the timing based on how you like your yolks. Simmer an egg for 6 minutes for a runny yolk, 6 and a half for a jammier one, and 7 minutes for a molten yolk that's beginning to set.
Hard-Boiled Eggs
Great for salads, snacking, or making deviled eggs.
Brunch-Worthy Egg Recipes
Elevate your morning meal with these inviting egg recipes! Perfect for entertaining, they're a touch more complicated than the basic egg recipes above, but they're all still accessible and easy to make.
How to Make Frittata
I always serve a frittata when I'm hosting family or friends for brunch. It comes together in minutes, and you can easily adapt it to use whatever veggies are in season or what you have on hand. Leftovers keep well for breakfast the next day!
Shakshuka
Shakshuka is a traditional Middle Eastern and North African breakfast, but it's one of those egg recipes that you can make at any time of day. Serve it for brunch, lunch, or dinner with warm pita for scooping up the flavorful tomato and red pepper sauce.
Caprese Eggs Benedict with Healthier Hollandaise, page 41 of Love & Lemons Every Day
This lightened-up riff on eggs Benedict is a lovely addition to a spring or summer brunch. Made with juicy tomatoes and fresh basil, it's an ode to a classic Caprese salad.
Healthy Breakfast Casserole
My mom's go-to recipe for serving a crowd! Filled with roasted spring veggies, feta cheese, and a secret layer of sweet potatoes, it's always a hit.
Baked Eggs with Kale, Sage, and Sweet Potatoes, page 215 of The Love & Lemons Cookbook
These little mini skillets are an adorable brunch for two! Smoked paprika, fresh sage, and feta cheese fill them with rich depth of flavor.
Southwest Breakfast Egg Recipes
If you crave something savory or spicy first thing in the morning, these breakfast egg recipes are the ones for you. Pass the hot sauce, please!
Breakfast Burrito
Kickstart your morning with this very-veggie breakfast burrito! It's packed with crispy potatoes, avocado, pico de gallo, peppers, and soft, creamy scrambled eggs. Serve it with a squeeze of lime or with cilantro lime dressing for dipping.
Healthy Breakfast Tacos
Soft scrambled eggs add plenty of protein to these fresh veggie breakfast tacos.
Austin-Style Migas
Crushed tortilla chips add crunch and rich corn flavor to this cheesy breakfast scramble. Serve it with warm tortillas, and assemble tacos as you eat.
Brussels Sprout Breakfast Tostadas, page 67 of The Love & Lemons Cookbook
We all love breakfast tacos and burritos…why not breakfast tostadas, too?! Try this recipe, and you'll be hooked.
Unconventional Omelettes
I usually make these out-of-the-box egg recipes for breakfast, but they'd be equally good for lunch or dinner.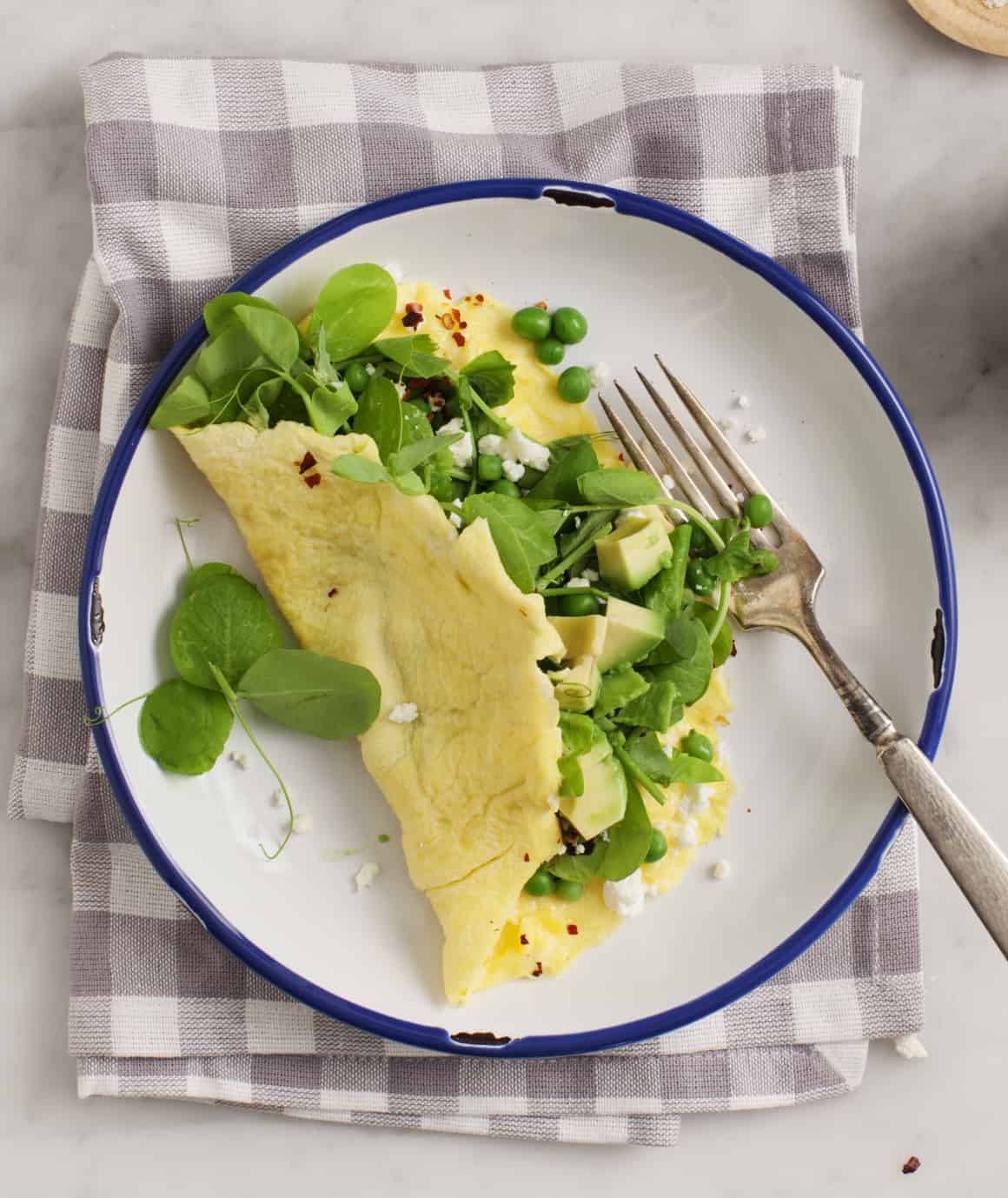 Feta & Pea Tendril Omelette, page 193 of The Love & Lemons Cookbook
This simple omelette is one of my favorite egg recipes to make in the spring, after an early visit to the farmers market. I fill it with delicate pea tendrils, peas, creamy avocado, and feta cheese.
Breakfast Banh Mi Sandwiches, page 53 of Love & Lemons Every Day
A not-at-all-traditional spin on the classic Vietnamese sandwich! I stuff it with a soft omelette, sweet and tangy pickles, and meaty, savory sautéed mushrooms. I'd take it over a regular breakfast sandwich any day.
Hearty Breakfast Bowls
Calling all veggie lovers! If you love waking up to a meal that's super-vibrant and fresh, you have to add these healthy egg recipes to your breakfast rotation.
Farmers Market Breakfast Bowl
Showcase your summer farmers market haul in this refreshing breakfast bowl! A jammy soft-boiled egg and an herby yogurt sauce give it enough staying power to keep you full till lunch.
Miso Quinoa Bowls with Kale and Eggs, page 45 of Love & Lemons Every Day
When I have a little leftover quinoa in the fridge, I often make this savory breakfast bowl to use it up. With the quinoa already cooked, it's super quick to throw together, and the combination of whole grains, protein-rich eggs, and fresh veggies is so energizing first thing in the morning.
Snack and Appetizer Egg Recipes
These bite-sized egg recipes are perfect finger foods! Set one out as a starter at a party or gathering, or keep it on hand for grab-and-go snacking.
Best Deviled Eggs
Garnish them with celery seed, smoked paprika, or a sprinkle of fresh chives for a cute (and delicious!) finishing touch.
Pickled Eggs
My grown-up version of dyeing Easter eggs! Naturally colored with red and yellow beets, they're tangy, salty, and a little bit sweet. Serve them as an appetizer at a spring celebration, or devour them for a protein-packed snack.
Mini Frittata Muffins
These egg muffins keep well for a few days in the fridge, so I love to make a batch on the weekend for on-the-go breakfasts and snacks throughout the week. They're also a fun addition to a special occasion brunch.
Egg Recipes for Lunch
Both of these egg recipes are great for meal prep! Make them ahead of time and pack them up for a healthy, satisfying weekday lunch.
Best Egg Salad
I used to turn my nose up at egg salad, but when I tried this recipe, I completely fell in love. Made with fresh herbs, capers, and lemon juice, it's extra-briny and bright. Layer it between soft slices of bread with crisp greens and tangy pickled onions for an unbeatable spring lunch.
Veggie Power Bowl
I love how the rich, jammy egg plays off the nutty black rice and crisp veggies in this recipe. Tie it all together with a big drizzle of sesame ginger dressing.
Egg Recipes for Dinner
Of course, these egg recipes aren't the only ones in this post that you could make for dinner. But out of all the recipes here, I think that they are especially dinner-worthy. Full of contrasting colors, textures, and flavors, they're a feast for the eyes as well as the tastebuds.
Leek & Radish Green Tart, page 181 of Love & Lemons Every Day
The next time you spot a bunch of radishes with lush green tops, bring them home to make this recipe. A cool, crisp herb and radish salad beautifully accents the rich egg tart.
Niçoise Salad
In the summer, I'd be happy eating this bountiful salad for dinner every night. It's a vegetarian spin on the French classic, with creamy white beans and briny artichoke hearts stepping in for the traditional fish.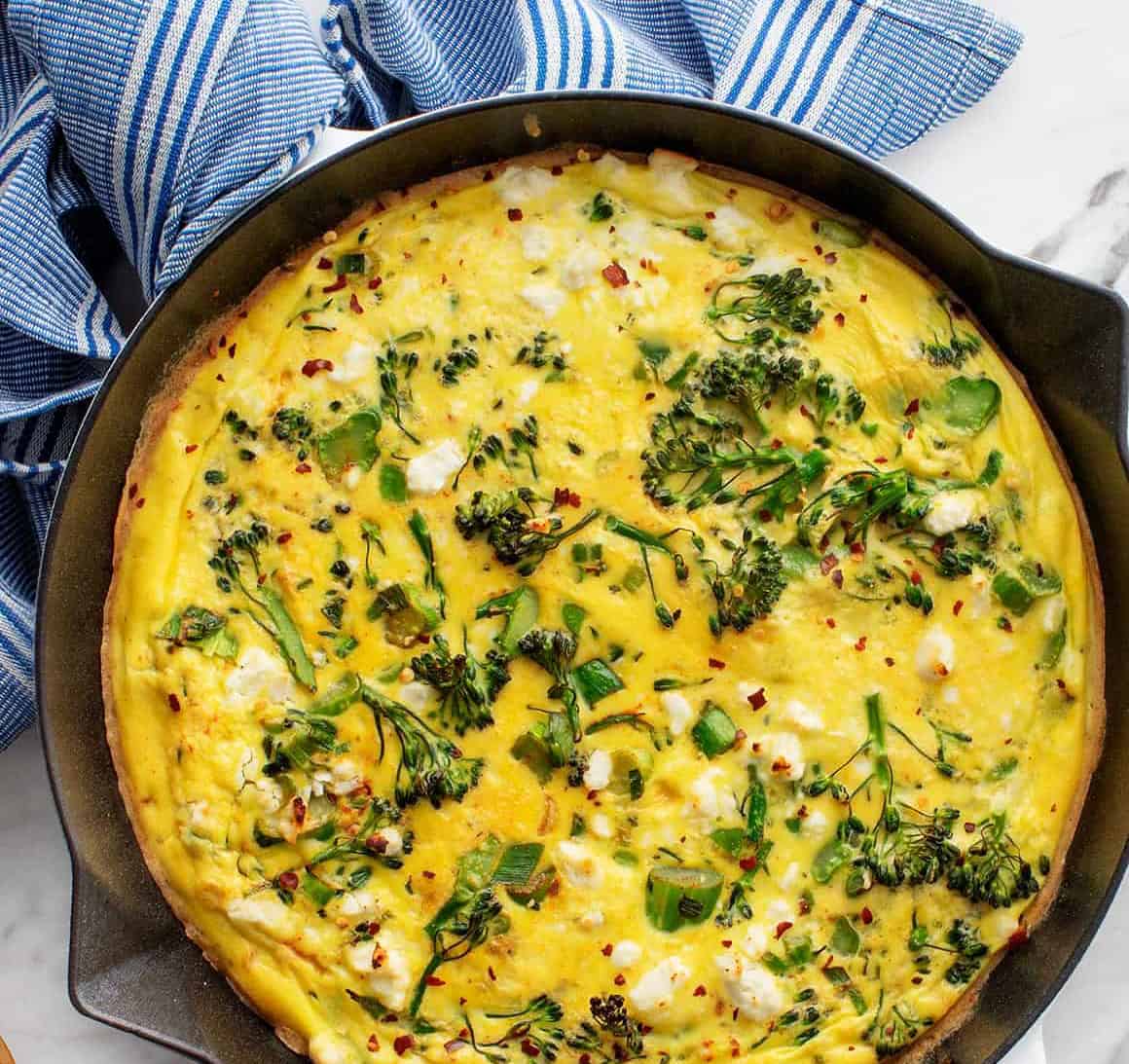 Egg Recipes: Favorite Frittata
Instructions
Preheat the oven to 400°F.

Whisk the eggs, almond milk, garlic, and salt until well combined. Set aside.

Heat 1 tablespoon olive oil in a 10 or 12-inch cast-iron skillet over medium heat. Add the scallions, broccoli, and a pinch of salt and pepper and cook, stirring occasionally, until the broccoli is tender but still bright green, 5 to 8 minutes. Stir in the smoked paprika, then add the egg mixture and gently shake the pan to distribute. Sprinkle with the feta and bake 15 to 20 minutes or until the eggs are set. Season to taste and serve.