Learn how to make the BEST deviled eggs! Sweet pickle relish, Dijon mustard, and Greek yogurt make their filling creamy, rich, and tangy.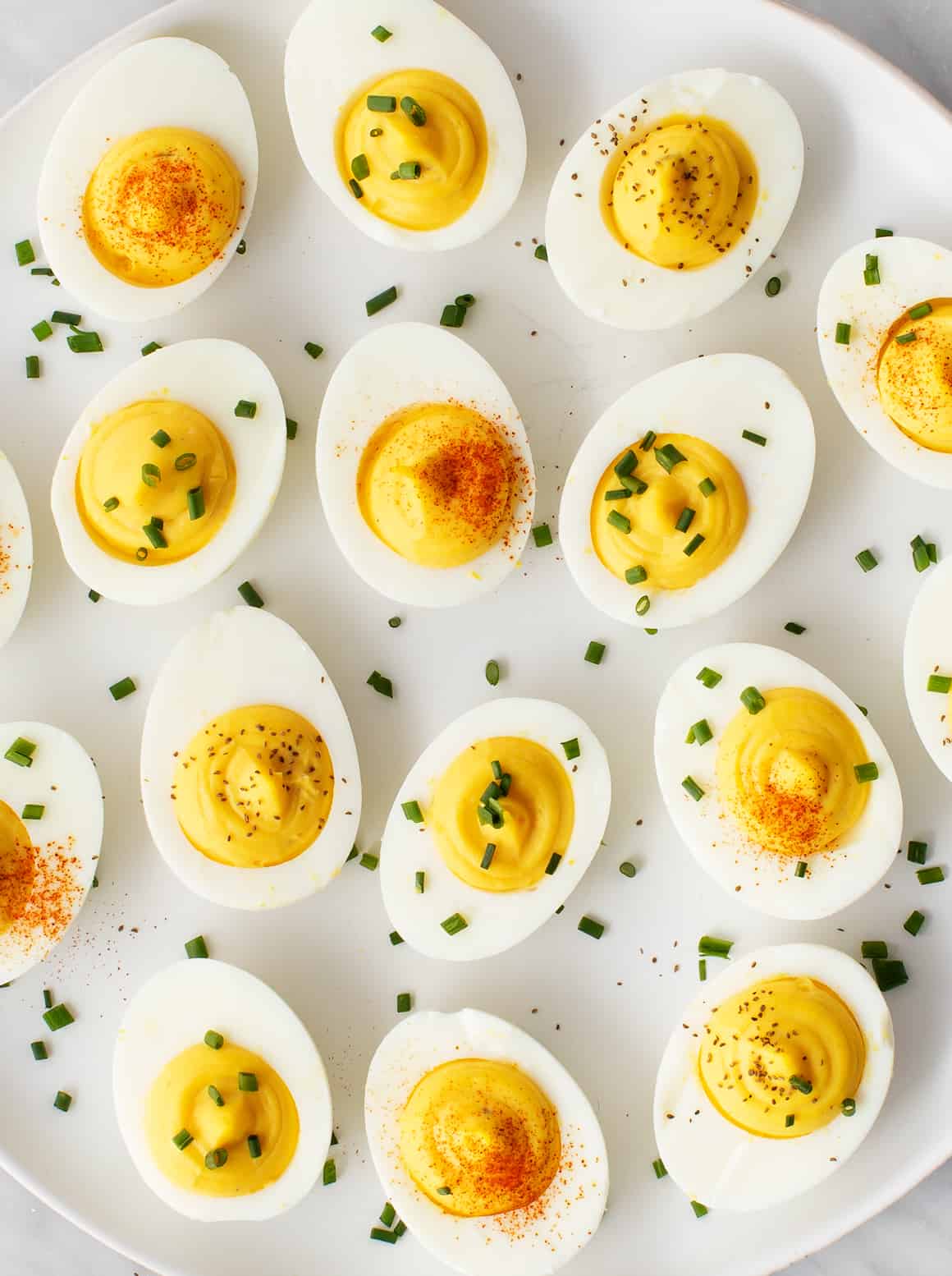 Fun fact about Jack: he doesn't like deviled eggs. To me, this is crazy, because his mom happens to make some of the best deviled eggs on the planet. They have a smooth, creamy filling that's tangy, savory, and a tiny bit sweet. If I see them at a party or a family gathering, I immediately pile a few onto my plate. Jack won't be having any, so I get to eat enough for both of us, right?
This deviled eggs recipe is my riff on hers. It relies on the same classic ingredients – mustard, mayo, etc. – but it has one small twist. Instead of just using mayo to make the filling smooth and creamy, I blend in some Greek yogurt as well. It gives the filling an extra-rich and tangy flavor that I absolutely love. Give it a try – I think you'll love it too!
Deviled Egg Recipe Ingredients
Great deviled eggs start with great hard boiled eggs. I make mine using this method, where I add the eggs to a pot of cold water, bring it to a boil, turn off the heat, and let the eggs sit in the covered pot for 10-12 minutes. Then, I transfer them to an ice water bath for 14 minutes. They're always easy to peel, and they have perfect yellow yolks every time. Find my tips and tricks for making them here!
Slice the hard boiled eggs in half lengthwise and use a small spoon to scoop out the yolks. Set the egg white halves aside, and blend the yolks into a creamy filling with these key ingredients:
Mayonnaise: It adds richness to the egg yolk mixture.
Greek yogurt: Greek yogurt isn't a conventional ingredient in deviled eggs, but I love it in this recipe. It makes the filling extra thick, creamy, and tangy. Different brands of Greek yogurt vary in consistency. I recommend using a thicker one, such as Fage or Chobani, here.
Sweet pickle relish: The star ingredient in Jack's mom's classic deviled eggs! It adds a hint of sweetness and more tangy flavor.
Dijon mustard: The perfect peppery finishing touch!
This mixture is delicious as is, but if you're a fan of spicy food, try blending in a few pickled jalapeño slices. They add a super-fun kick!
Find the complete recipe with measurements below!
How to Make the Best Deviled Eggs
Get the filling super smooth. In the past, I've used a fork to mash the yolks with the other filling ingredients. The results were still tasty, but blending the filling in a food processor really takes it to the next level. It fully incorporates the relish into the filling, yielding a super creamy texture and tangy flavor.
Load up the egg whites. You can use a spoon or a piping bag to add the yolk mixture to the egg whites, but either way, don't skimp on it! The filling is what gives the deviled eggs their flavor. Try to fill the egg yolk cavity completely, with a little filling mounded on top.
Garnish them up! These deviled eggs are delicious plain, but a simple garnish makes them even better. I top mine with celery seeds (the secret ingredient in my healthy egg salad), smoked paprika, and fresh chives. They're also tasty with everything bagel seasoning or za'atar. Choose just one, or try them all!
Deviled Eggs Serving Suggestions
These deviled eggs are such a fun appetizer or side dish! They're a lovely addition to an Easter brunch, and I often serve them at summer gatherings and holiday parties, too. No matter the occasion, they're always a hit.
For the best results, make these deviled eggs on the day you plan to serve them. If you want to get ahead, boil the eggs up to 3 days in advance. Store them in the fridge, still in their shells, until you're ready to cook. If you have leftover deviled eggs, store them in an airtight container in the fridge for up to two days. Enjoy!
More Favorite Egg Recipes
If you love these deviled eggs, try one of these yummy egg recipes next:
And if you're looking for more appetizer recipes, check out this post!
Best Deviled Eggs
Learn how to make the BEST deviled eggs! Greek yogurt, sweet pickle relish, and Dijon mustard give this filling a delicious creamy texture and tangy flavor.
Ingredients
¼

cup

mayo

⅓

cup

thick Greek yogurt

,

(Fage or Chobani recommended)

1½

teaspoons

sweet pickle relish

½

teaspoon

Dijon mustard

Sea salt
toppings:
Chopped chives

Celery seed

Smoked paprika
Instructions
Slice the eggs in half lengthwise and remove the yolks.

In a small food processor, combine the egg yolks, mayo, yogurt, relish, and mustard and pulse until smooth. Season to taste with salt.

Scoop the mixture into the egg white halves (or use a piping bag, if you prefer). Sprinkle with desired toppings.
Notes
A fun spicy option: this filling is delicious with a few jalapeño or pickled jalapeño slices blended into the mixture.