Stuck in a radish rut? These radish recipes are here to help! They include sides, mains, and more that'll make you fall in love with this crunchy veggie.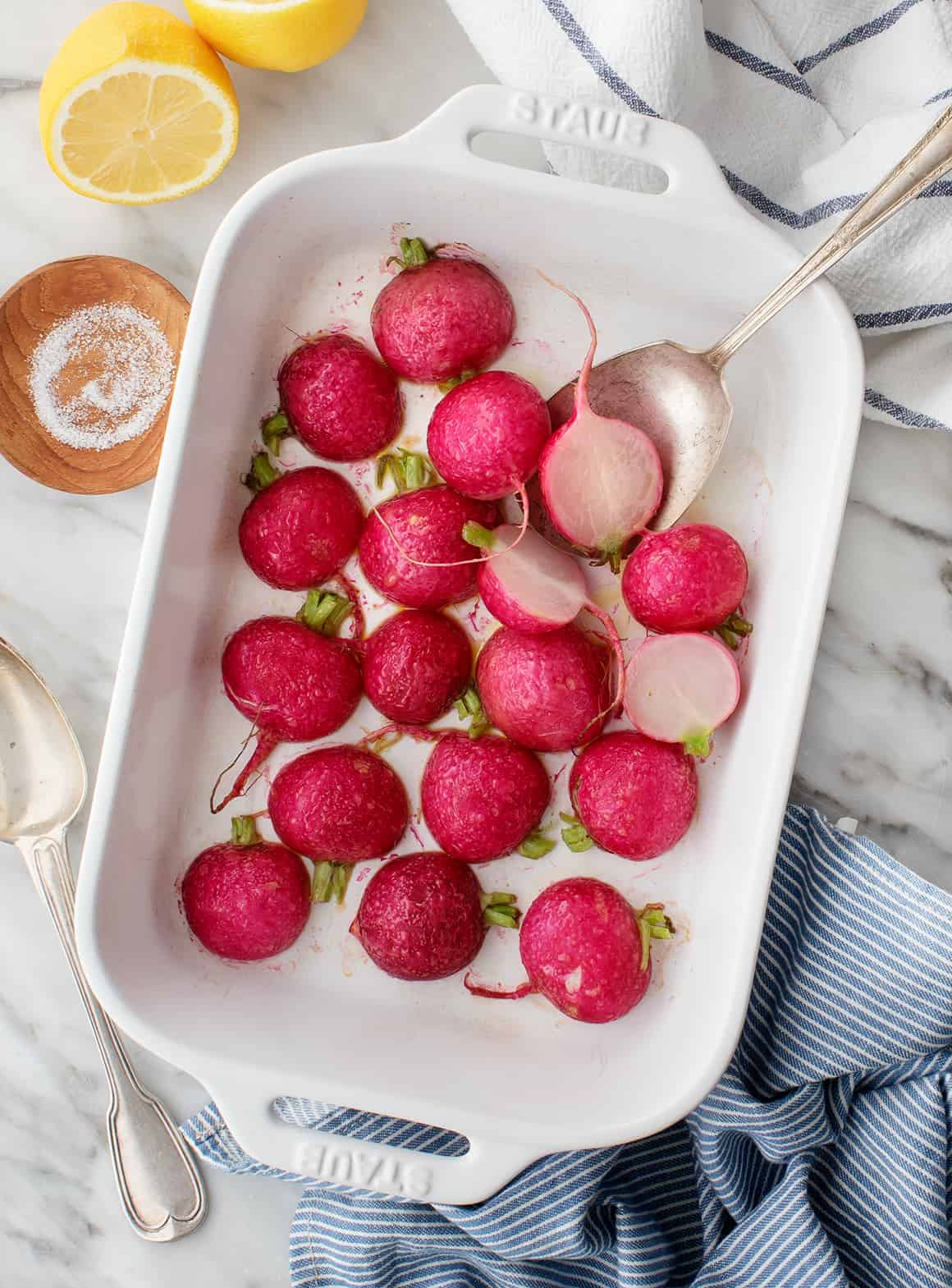 It's spring, which means I'm cooking radish recipes on repeat! Here in Chicago, radishes are some of the first vegetables to pop up at the farmers markets. Every year, I eagerly wait for them to appear. And when they finally do, I fill my bag with as many bunches of them as I can carry. What can I say? I just can't resist their peppery pink roots and lush greens.
Luckily, when I bring them home, I have no shortage of ways to use them. Of course, I can munch on them raw, but I can also roast them, pickle them, toss them into pastas, or stuff them into sandwiches. Their spicy flavor, bold color, and crunch enhance just about anything.
You'll find my favorite radish recipes below. If you're already a radish lover, I hope one inspires you to try cooking radishes in a new way. And if you're a radish skeptic, I hope they'll encourage you to give these root veggies another shot. Radishes are colorful, flavorful, and oh-so-versatile. Find the right radish recipe, and I promise, you'll be hooked.
Basic Radish Recipes
We've all tossed raw radishes into salads or eaten them with dip. But radishes aren't just good raw, and these basic radish recipes are here to prove it. They're simple ways to change up how you use radishes (and their tops!) in your kitchen.
Roasted Radishes
Roasting radishes mellows their peppery bite and brings out their natural sweetness. Add the roasted radishes to salads or grain bowls, or serve them on their own for a quick and easy veggie side dish.
Quick Pickled Radishes
Love pickled onions? Then you'll go crazy for pickled radishes, too! Crisp, sweet, and tangy, they're a fantastic addition to sandwiches, tacos, and grain bowls. I even like them on their own as a snack!
Radish Greens Pesto
Don't toss those radish tops! They're just as delicious (and nutritious!) as the radishes themselves. Here, I blend them into a nutty pesto that's wonderful on scrambled eggs, toast, pasta, or polenta. Waste not, want not, right?
Sautéed Radish Greens
Just like sautéed chard or kale, sautéed radish greens are a quick, healthy side dish. Season them with a squeeze of lemon juice for a bright finishing touch.
Radish-y Starters and Snacks
These bite-sized radish recipes are just as pretty as they are delicious! They're a great way to showcase colorful, eye-catching radishes like watermelon radishes and green and purple daikon.
Avocado Summer Rolls
Served with a rich, fragrant coconut-basil dipping sauce, these veggie summer rolls are a light, refreshing appetizer or snack. I like to wrap them up with the radishes on the outside so that their vibrant color is visible through the rice paper.
Zucchini & Radish Carpaccio Crostini, page 67 of Love & Lemons Every Day
To make these cute crostini, I toss paper-thin radish and zucchini slices with a bright lemon-ginger dressing. Then, I layer them onto baguette with a slather of soft goat cheese or homemade labneh. Make them for your next party, and your guests won't be able to get enough!
Sweet Potato Appetizer Bites
Instead of bread, toasty roasted sweet potato rounds act as the base of these all-veggie appetizer bites. I top them with a creamy, nutty avocado "tartare" and thinly sliced watermelon radishes for crunch.
Radish Recipes for Dinner
So often, radishes play a supporting role in the kitchen, adding crunch and peppery flavor to salads, tacos, and more. But in these main dish radish recipes, the vibrant root veggies take center stage. If you love radishes, you have to try them!
Leek & Radish Green Tart, page 181 of Love & Lemons Every Day
This recipe uses radishes 2 ways! I sauté the greens and add them to the tart filling. While it bakes, I use the roots to make a crisp, lemony slaw to serve on top. Satisfying and fresh, it's a lovely main course for a spring dinner or brunch.
Spring Polenta with Radishes & Garlic Scapes, page 231 of The Love & Lemons Cookbook
This recipe looks elegant, but it's oh-so-simple to make. I top creamy polenta with a quick sauté of radishes, broccolini, and punchy garlic scapes. It's exactly what I crave on a cool spring night.
Asparagus, Snap Pea & Chive Blossom Pasta, page 135 of Love & Lemons Every Day
Radishes in pasta?! Yes, please! They add a pop of color and yummy crunch to this veggie-packed spring dish.
Hearty Salads and Grain Bowls
In these substantial salads and grain bowls, radishes bring balance. Their fresh flavor and snappy texture accent richer, heartier ingredients like beans, potatoes, whole grains, and cheese.
Radish Salad
Welcome to my radish party! This pink and green salad features roasted radishes, raw radishes, and a nutty radish green pesto on top. The peppery flavors marry perfectly with briny capers, creamy white beans, and a shower of fresh mint.
Niçoise Salad
Radishes add delightful crunch to this vegetarian riff on a classic Niçoise salad.
Caesar Salad
I pep up the traditional Caesar with crunchy radishes, crispy chickpeas, and a crave-worthy homemade dressing. A perfect dinner side dish or healthy lunch!
Kale Salad with Carrot-Ginger Dressing
At lunchtime, there's nothing I love more than sitting down to a big green salad like this one. It's at once filling and fresh, packed with roasted chickpeas, creamy avocado, toasted seeds, and a rainbow of root veggies. My zingy carrot ginger dressing ties it all together.
Healthy Taco Salad
I love adding radishes to tacos and nachos, so, to me, they're an obvious pick for a taco salad recipe. Here, they mingle with taco salad staples like tomatoes, lettuce, and tortilla strips as well as a savory shiitake taco "meat" and a bold cilantro lime dressing. A great recipe for meal prep!
Best Buddha Bowl
My go-to grain bowl! I fill it with brown rice, chickpeas, roasted sweet potatoes, and colorful fresh veggies. A sunny turmeric tahini sauce takes it over the top.
Veggie Power Bowl
This energizing bowl has a permanent spot in my lunchtime rotation. I love the combination of the nutty black rice and the luscious soft-boiled egg with the fresh, crisp veggies and sesame ginger dressing. For a spicy twist, add a squirt of sriracha before you dig in.
Noodle and "Noodle" Radish Recipes
Are you a noodle lover? Same! But – full disclosure – only half of these recipes call for actual noodles, like soba or glass. In the other half, the radishes are the noodles! Who says zucchini is the only veggie that can pass for pasta?
Sesame Soba Noodles
Spring veggies like radishes and snap peas add crunch to this savory, nutty sesame noodle bowl. The whole thing comes together in 20 minutes, so it's a super simple weeknight dinner or meal prep lunch.
Radish "Noodles" with Cashew-Coconut Sauce, page 161 of Love & Lemons Every Day
Spiralized daikon, carrots, and cucumber act as the "noodles" in this refreshing plant-based bowl. To turn these crunchy veggies into a satisfying meal, I top them with savory baked tofu and a rich, creamy cashew-coconut sauce.
Mango & Daikon Glass Noodle Salad, page 237 of The Love & Lemons Cookbook
Mango and sriracha create a delightful sweet and spicy contrast in this super-fresh noodle salad.
Spiralized Daikon "Rice Noodle" Bowl
You'll find two types of radishes in this very-veggie bowl. Spiralized daikon acts as the "noodles," while thinly sliced red radishes add extra color and crunch.
Sandwich Radish Recipes
The key to making a good sandwich? Something for crunch…like radishes!
Banh Mi Sandwich
The best part of this veggie banh mi is hands down the pickles. Made from julienned carrots, cucumber, and daikon, they're sweet, tangy, crunchy, and fresh. I like to make a double batch so that I have extras to add to avocado toast, noodle bowls, or more banh mis down the road!
Chickpea Salad Sandwich
This picnic-perfect sandwich is my vegan riff on a pan bagnat. I replace the traditional tuna and hard-boiled egg with a creamy, briny chickpea salad. Then, I round it out with olives, basil, and crunchy veggies like radishes, cucumbers, and blanched green beans.
Egg Salad Sandwich
In this sandwich, I accent my creamy, briny egg salad with crisp watercress, thinly sliced radishes, and pickled onions for pop. Don't do eggs? Try this vegan version instead!
Radish Recipes on the Side
Looking for a fresh veggie side dish to round out a meal? These radish recipes are the ones for you.
Bright Spring Salad
This bright salad is one of the first radish recipes I make each spring. I love it because it combines all of my favorite spring ingredients in one dish – tender lettuces, delicate asparagus, sweet peas, herbs, and pretty pink radishes. I top it off with roasted chickpeas, creamy avocado, and tangy feta cheese.
Grilled Radishes with Chickpeas & Radish Green Goddess, page 221 of Love & Lemons Every Day
When you come home from the farmers market with a gorgeous bunch of radishes, make this recipe to show it off! It starts with a lemony medley of chickpeas, cucumbers, and thinly sliced raw radishes. Then, I pile on smoky grilled radishes and cool, creamy dollops of a radish-green goddess sauce. A radish lover's dream!
Best Potato Salad
Can we all agree that classic potato salad could use a little more crunch? Here, celery and thinly sliced radishes do the trick.
Apple Radish Slaw, page 11 of The Love & Lemons Cookbook
Serve this 6-ingredient slaw as a side dish at your next backyard cookout, or use it as a crunchy topping for a taco or grain bowl.
Asparagus Salad
A creamy avocado dressing coats fresh spring veggies like asparagus, radishes, and peas. This simple salad is a flavorful side dish for any spring dinner or brunch.
Radish Recipes: Roasted Radishes
These roasted radishes are one of our favorite radish recipes!
Ingredients
9 to 12

medium red radishes

,

halved

Extra-virgin olive oil,

for drizzling

Sea salt and freshly ground black pepper

Lemon juice

,

optional
Instructions
Preheat the oven to 450°F. Slice the radishes in half and place them in a roasting dish (or on a baking sheet with parchment paper). Toss with drizzles of olive oil and pinches of salt and pepper and place cut-side down.

Roast 10 to 15 minutes or until they reach your desired doneness. I like my radishes to have a bit of a crunchy bite. If you prefer softer radishes, roast them longer.

Serve with squeezes of lemon and season to taste. These are also wonderful with dollops of radish green pesto or tossed into this radish salad.