Looking for a dish to pass at a cookout or picnic? This tortellini salad would be perfect! It's filled with fresh basil, juicy tomatoes, and a zingy dressing.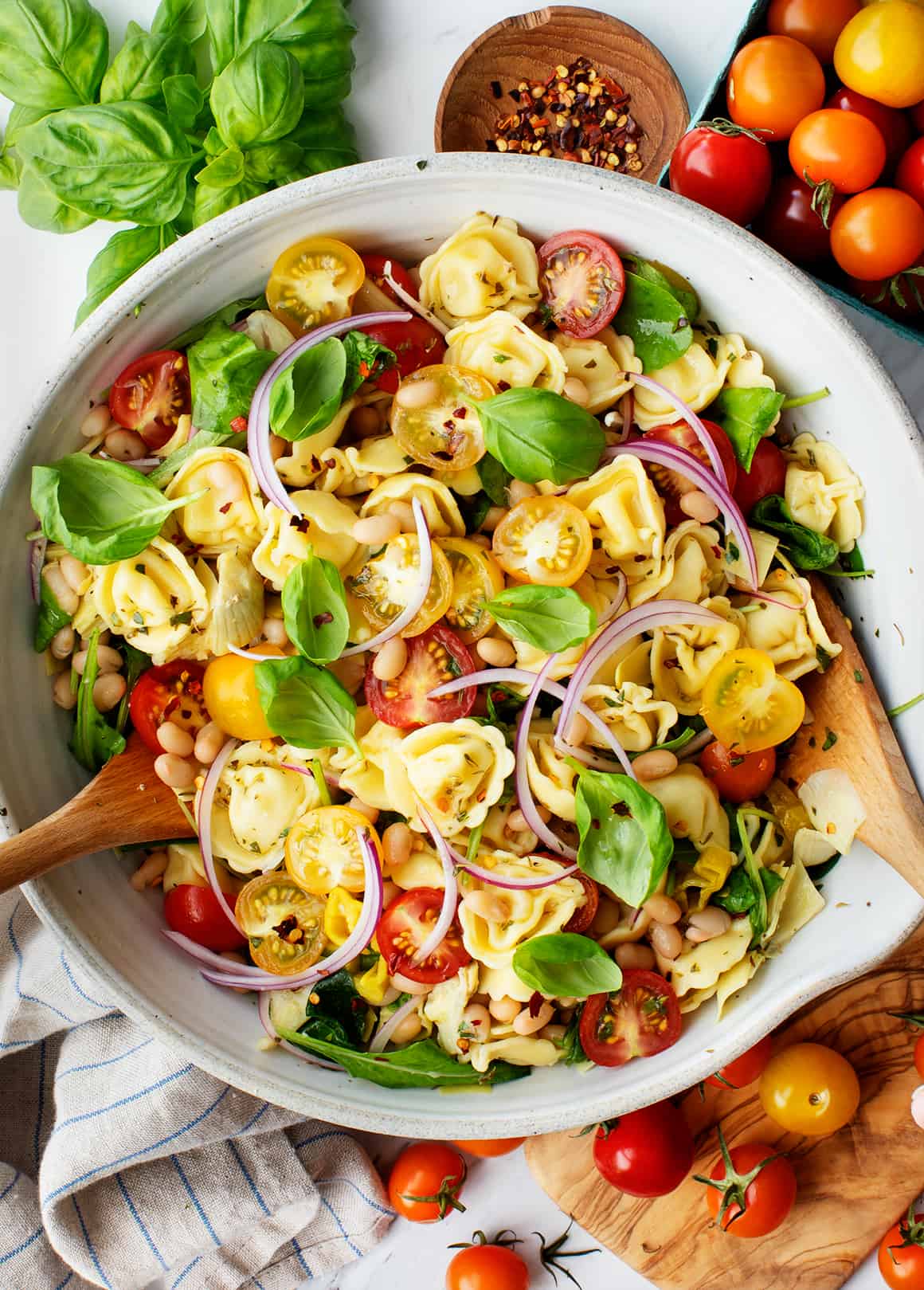 What's more fun than regular pasta salad? Tortellini pasta salad! The tortellini are chewy and cheesy, not to mention adorable, and they make this summer salad such a blast to eat. Their nooks and crannies catch the zingy Italian dressing, and their pillowy texture contrasts beautifully with the juicy cherry tomatoes and creamy white beans. If you're looking for a fresh dish to pass at a cookout this weekend (or a yummy idea for lunch next week), this tortellini salad recipe would be perfect.
Oh, and if you're vegan or dairy-free, you can still make this recipe! We've tried making it with regular cheese tortellini (pictured here) and with Kite Hill vegan tortellini. Both ways are delicious! Just make sure you use fresh pasta – not dried. Look for it in the refrigerated section of your grocery store.
Tortellini Salad Recipe Ingredients
Tortellini aside, here's what you'll need to make this recipe:
Cherry tomatoes – I love how their juicy texture contrasts with the chewy pasta.
White beans – They add creamy texture and plant-based protein. I recommend using small white beans, such as navy beans, here. I like how they tuck themselves into the crevices of the tortellini.
Thinly sliced red onion – For sharp, savory flavor and crunch.
Artichoke hearts and pepperoncini – They pack the salad with tangy, briny flavor.
Arugula – For gorgeous green color and peppery flavor.
Fresh basil – A pasta salad essential! It adds fresh, sweet, and citrusy flavor.
Grated cheese – Totally optional, but (of course) delicious. If you want to make this tortellini salad recipe extra-cheesy, fold in some grated pecorino or Parmesan cheese just before serving.
Red pepper flakes – For heat.
And homemade Italian dressing – This zingy, herbaceous dressing ties the salad together. It's easy to make with basic ingredients like olive oil, dried herbs, and fresh lemon juice.
Find the complete recipe with measurements below.
How to Make Tortellini Pasta Salad
This tortellini salad recipe is super simple to make! Here's how it goes:
First, cook the tortellini. Bring a large pot of salted water to a boil and prepare the pasta according to the package instructions, cooking until al dente. Drain and toss with a drizzle of olive oil to prevent sticking. Allow the tortellini to cool before assembling the salad. I like to spread it out on a large plate or baking sheet to help it cool quickly.
Meanwhile, make the dressing. Find the recipe here!
When the tortellini is cool, assemble the salad. Place the pasta, artichokes, pepperoncini, tomatoes, onion, and beans in a large bowl.
Pour in the dressing, and toss to combine. Add the arugula and basil, and toss again. If you like, sprinkle in some Parmesan and red pepper flakes. Toss one more time, garnish with more basil, and then season to taste.
That's it!
Tortellini Salad Serving Suggestions
Serve the tortellini salad right away, or store it in the refrigerator for up to 4 days. If you make the salad ahead, wait to garnish it with fresh basil until right before serving. I also like to toss it with an extra drizzle of olive oil after a day or two in the fridge.
Enjoy this salad for lunch, or serve it as a side dish at a summer picnic or cookout. It pairs perfectly with classic cookout fare like veggie burgers, grilled vegetables, and fruit salad. For more BBQ recipe ideas, check out this post!
More Favorite Pasta Salad Recipes
If you love this tortellini salad recipe, try one of these summer pasta salads next:
Tortellini Salad
This tortellini salad recipe is a perfect picnic side dish or make-ahead lunch! It's filled with juicy cherry tomatoes, fresh basil, briny artichoke hearts, and a zingy homemade dressing.
Ingredients
18

ounces

cheese tortellini or vegan tortellini*

2

cups

halved cherry tomatoes

1

14-ounce can artichoke hearts, drained and chopped

1

cup

cooked white beans,

drained and rinsed

½

cup

thinly sliced red onion

5

pepperoncini

,

stemmed and chopped

2

cups

fresh arugula

1

cup

fresh basil

,

torn, plus more for garnish

Parmesan or pecorino cheese

,

optional

Red pepper flakes

,

optional
Instructions
Cook the tortellini according to the package directions until al dente. Drain and let cool.

Prepare the dressing according to the instructions in this recipe.

In a large bowl, combine the tortellini, tomatoes, artichokes, beans, onion, pepperoncini, and the dressing and toss to combine. Add the arugula and basil and toss again. Season to taste, and add Parmesan and red pepper flakes, if desired. Garnish with more fresh basil. Serve right away or store in the fridge for up to 4 days.
Notes
*Look for fresh tortellini in the refrigerated section of your grocery store.