This olive tapenade recipe has a delicious mix of fresh, salty, and briny flavors. Serve it with crackers or baguette for a simple summer appetizer!
A few years back, if you'd offered me olive tapenade at a party or gathering, I would have politely declined it. I'd always thought of myself as an adventurous eater, but for some reason, olives just hadn't been for me. But recently, I've finally(!) started to come around to them. I like them in Greek salad and on bruschetta, and now, I even love olives in tapenade! Who knows? If you're an olive skeptic, this recipe might win you over too.
If you're not familiar with tapenade, it's a salty, briny olive spread that originated in the Provençe region of France. It's fantastic on crackers and baguette, and it's an impressive centerpiece for a summer cheese board. My recipe calls for a short list of pantry ingredients, so it's easy to whip up at a moment's notice. It would be a perfect last-minute appetizer for a party today or anytime this season. Enjoy!
Olive Tapenade Recipe Ingredients
Traditional tapenade is made with anchovies in addition to olives and capers. To keep this recipe vegetarian, I skip the anchovies, but don't worry – it's still intensely flavorful. Here's what you'll need to make it:
Olives, of course! A traditional recipe would call for black olives such as niçoise or Nyon. For a colorful twist, I use a mix of green olives, like Castelvetrano, and kalamata olives instead. Tip: For quick and easy prep, buy pitted olives at the grocery store instead of pitting them yourself!
Capers – They amp up the tapenade's salty, briny flavor.
Sun-dried tomatoes – They're not entirely traditional, but they add gorgeous red flecks and rich, savory flavor to this recipe.
Fresh lemon juice – For brightness.
Garlic – For bite.
Extra-virgin olive oil – It brings the tapenade together into a cohesive paste.
And fresh basil or parsley – These herbs offer a fresh contrast to all the briny, salty ingredients in the recipe.
Find the complete recipe with measurements below.
Traditionally, olive tapenade is made in a mortar and pestle, but to streamline the process, I make mine in a food processor instead. It comes together in just 5 minutes!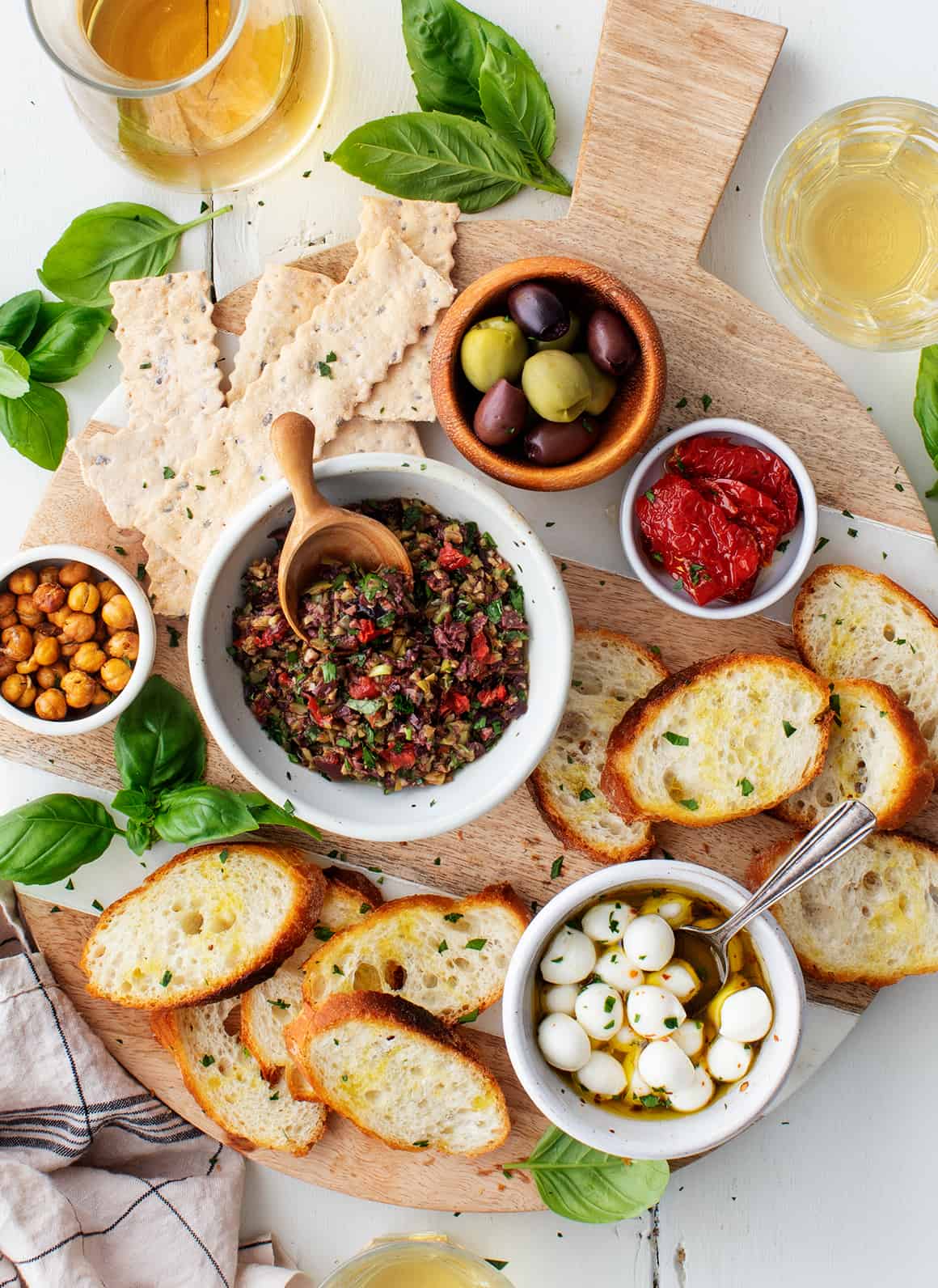 Olive Tapenade Serving Suggestions
My favorite way to serve tapenade is as an appetizer. Set it out with crackers or baguette, or serve it as part of a part of a snack board with components such as these:
Creamy dips. You can't go wrong with hummus or white bean dip.
Cheeses. I love serving this olive tapenade with soft, creamy cheeses like brie or fresh mozzarella.
Crunchy snacks. Roasted chickpeas and pecans are my go-tos.
Fresh veggies or fruit. Whatever's in season is your best bet!
But there are other ways to serve olive tapenade, too! Try dotting it onto pizza, or slather it onto a sandwich. Spoon it over hard-boiled eggs for a snack or onto scrambled eggs for breakfast. You could also add a few dollops to a summer salad, like a Caprese salad or this zucchini salad, for a bold punch of flavor.
How do you like to serve olive tapenade? Let me know in the comments!
More Favorite Summer Appetizers
If you love this olive tapenade recipe, try one of these summer appetizers next:
Olive Tapenade
This olive tapenade recipe is an easy, delicious appetizer! We love to serve it with crackers or baguette. Find additional serving suggestions in the post above.
Ingredients
1½

cups

pitted olives

,

mix of kalamata and green olives

4

oil-packed sun-dried tomatoes

3

tablespoons

extra-virgin olive oil

1

tablespoon

capers

½

tablespoon

fresh lemon juice

1

garlic clove

⅓

cup

fresh basil or parsley
Instructions
In a small food processor, combine the olives, sun-dried tomatoes, olive oil, capers, lemon juice, and garlic.

Pulse until combined but still chunky. Add the fresh herbs and pulse again.
Notes
Store leftovers in an airtight container in the fridge for up to 4 days.
Sources: David Lebovitz and The Art of Simple Food by Alice Waters