This tomato salad recipe is the ULTIMATE summer side dish! Full of juicy, ripe tomatoes and fresh herbs, it's simple, flavorful, and refreshing.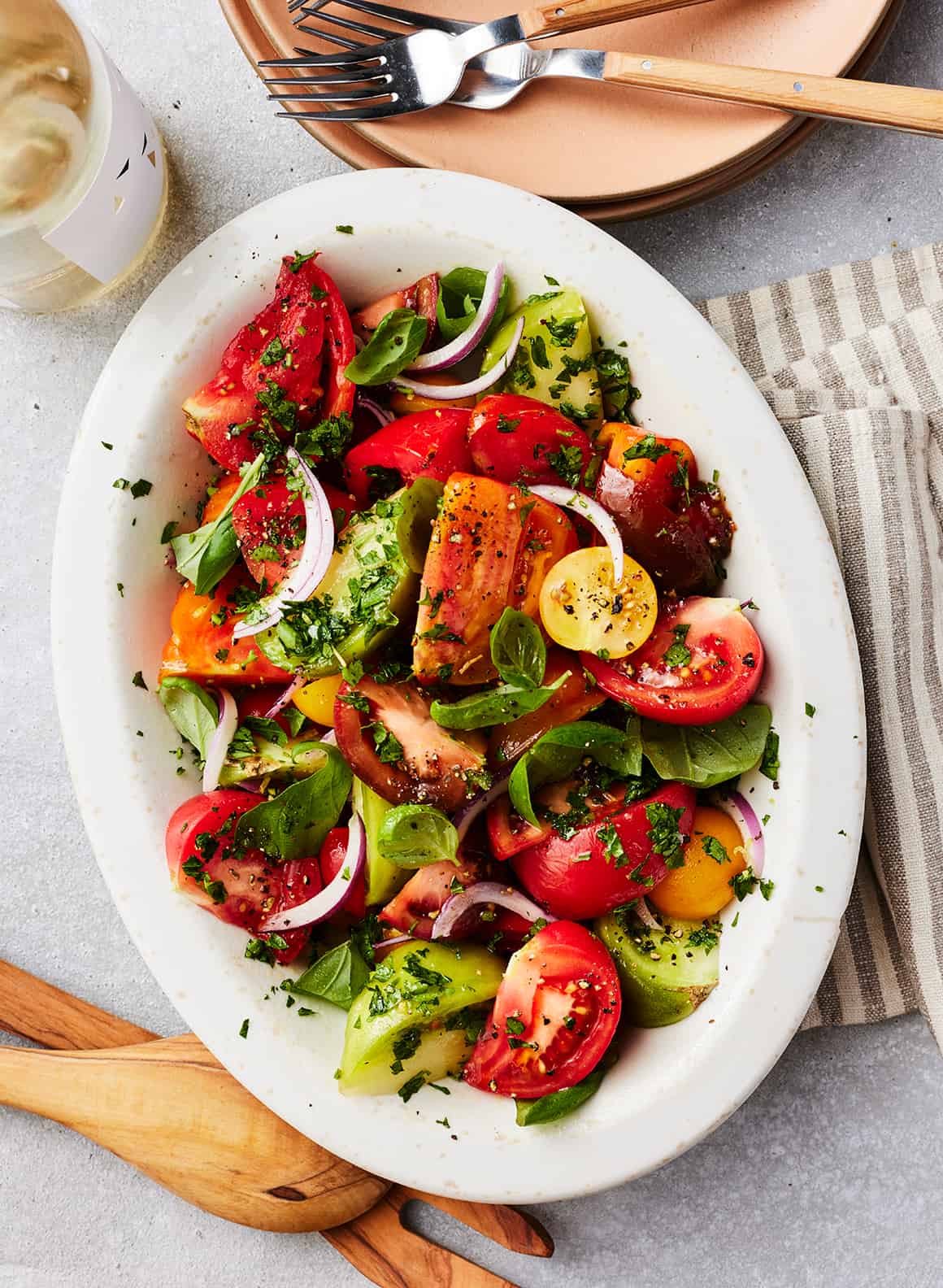 This week marks the official start of summer, so I thought I'd share a new tomato salad recipe to celebrate! I hope you have some fun, relaxing plans in store for the season…and that those plans include eating your fill of ripe, juicy tomatoes. Mine certainly do!
If you ask me, a tomato salad is something that everyone should know how to make. It doesn't take much work – this recipe calls for 8 ingredients and comes together in under 10 minutes – and it's guaranteed to impress anyone you serve it to. Thick wedges of heirloom tomatoes mingle with crisp red onion, fruity olive oil, tangy red wine vinegar, and a shower of fresh herbs. It's light, refreshing, and incredibly flavorful, largely because tomatoes at this time of year are just so good. Enjoy it with crisp white wine and crusty bread for sopping up any tomatoey juices left on your plate. Happy summer, friends!
Tomato Salad Recipe Ingredients
Here's what you'll need to make this tomato salad recipe:
Tomatoes, of course! Use as many shapes and colors as you can get your hands on! I like to use a variety of heirloom tomatoes plus a few colorful cherry tomatoes.
Red onion – For sharpness and crunch.
Red wine vinegar and olive oil – Instead of whisking together a separate dressing for this salad, I save myself a bowl and just drizzle the tomatoes with olive oil and vinegar. The oil adds fruity richness, while the vinegar makes the tomatoes tangy and bright.
Flaky sea salt – It helps all the flavors in the salad meld and pop. I also like how the flaky crystals add a delicate crunch!
Freshly ground black pepper – For a peppery kick.
Gremolata – This Italian condiment is a mix of fresh parsley, lemon zest, and garlic. It adds fresh, zippy flavor to this simple tomato salad.
And fresh basil – If I'm making a tomato salad, you'd better bet that you'll find lots of fresh basil on top.
Find the complete recipe with measurements below.
BIG TIP for this recipe: Because we're only using a handful of ingredients here, the quality of each one counts. First and foremost, you should use the best tomatoes you can find. If you're a gardener, throw in a homegrown tomato or two! Otherwise, look for heirloom tomatoes at your local farmers market or grocery store.
Beyond that, if you happen to have a nice bottle of olive oil or vinegar handy, now's the time to break it out! You'll really taste it in this fresh tomato salad.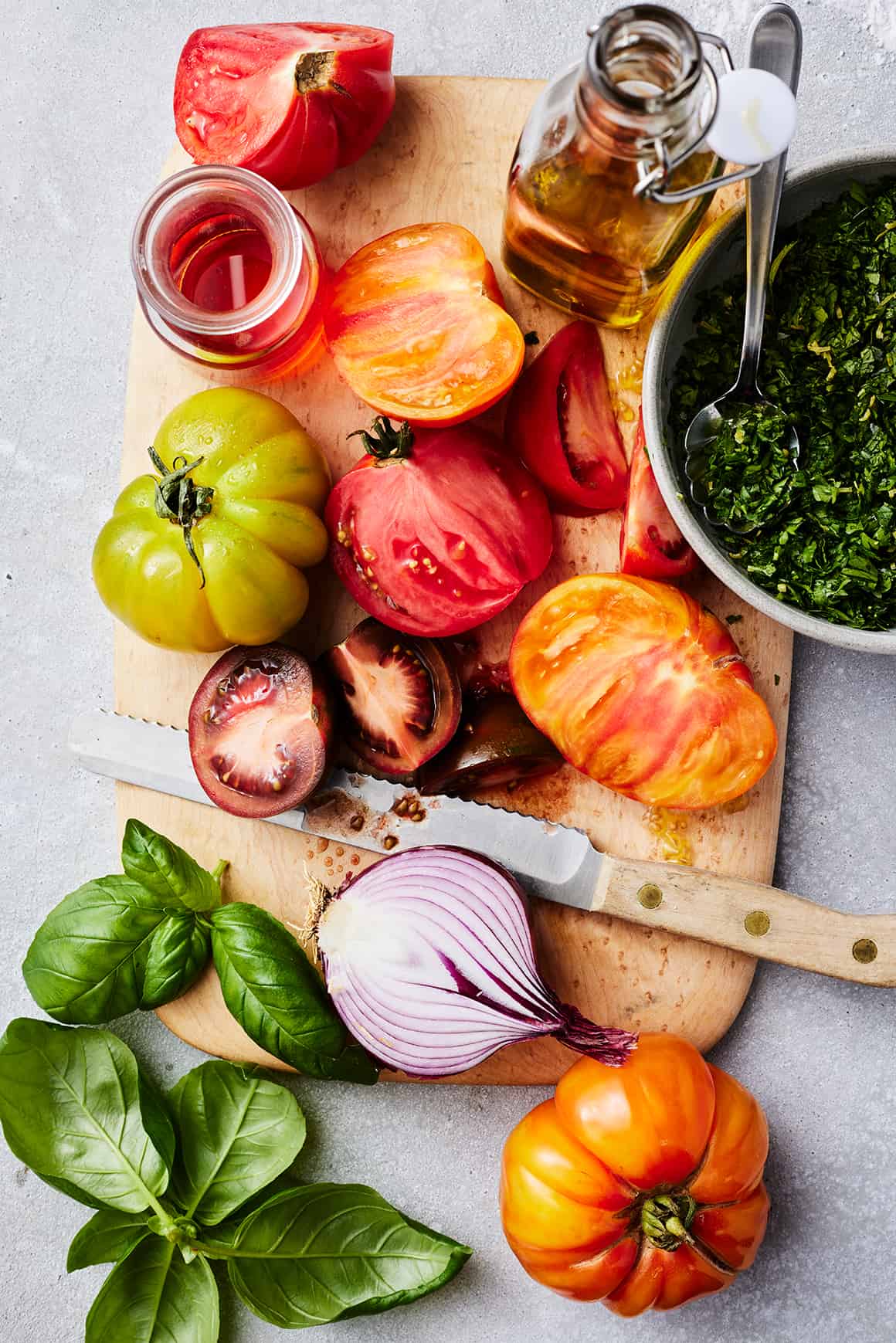 Slice the tomatoes into wedges, and toss them with the onion, olive oil, vinegar, salt, and pepper.
Arrange the mixture on a platter. Then, sprinkle on the gremolata and fresh basil, and serve.
That's it!
Tomato Salad Recipe Variations
We love this tomato salad recipe just as it's written, but please – don't hesitate to change it up! Like most summer salads, it's super flexible. Here are a few variations to get you started:
Switch the herbs. Swap the basil and parsley for other soft, leafy herbs like mint or tarragon. Fresh thyme would be delicious here too!
Add some cheese. Stir in torn fresh mozzarella or mini mozzarella balls. Or top the salad with shaved Parmesan or crumbled feta!
Up the crunch. Add pine nuts or thinly sliced cucumber to give the salad more texture.
Let me know what variations you try!
Now matter how you prepare it, this tomato salad is a fantastic summer side dish. Serve it with whatever you're grilling (maybe veggie burgers or black bean burgers?) or with a summery pasta like pesto pasta or spaghetti aglio e olio. Crusty bread for sopping up the salad's juices isn't required, but it is highly recommended. Enjoy!
More Favorite Summer Salads
If you love this tomato salad recipe, try one of these fresh summer salads next:
Tomato Salad
This tomato salad recipe is a simple, delicious summer side dish! It's really all about the tomatoes, so make sure to use the best ones you can find.
Ingredients
1½

pounds

tomatoes

,

cut into wedges

Heaping ⅓ cup thinly sliced red onion

1½

tablespoons

red wine vinegar

1

tablespoon

extra-virgin olive oil

¼

teaspoon

flaky sea salt

,

plus more to taste

¼

cup

Gremolata,

plus more if desired

Fresh basil

Freshly ground black pepper
Instructions
In a large bowl, combine the tomatoes, onion, vinegar, olive oil, salt, and several grinds of pepper. Toss to coat. Arrange on a platter, sprinkle with the gremolata, and top with fresh basil.

Season to taste and serve.