With recipes for cinnamon rolls, breakfast casseroles, French toast, waffles, and more, these Christmas breakfast ideas include something for everyone.
All our best Christmas breakfast ideas, all in one place! In case you're still figuring out your menu for the holiday morning (don't worry, I'm right there with you…), I thought I'd share some of my favorite festive brunch recipes today. They include Christmas breakfast ideas of almost every size and style–sweet ones, savory ones, ones you can make ahead, and ones you can whip up at the last minute. Some are great for a group, while others are meant for smaller celebrations. I hope you find some you love!
Christmas Breakfast Ideas for a Crowd
Serving a crowd on Christmas morning? These breakfast ideas are the ones for you.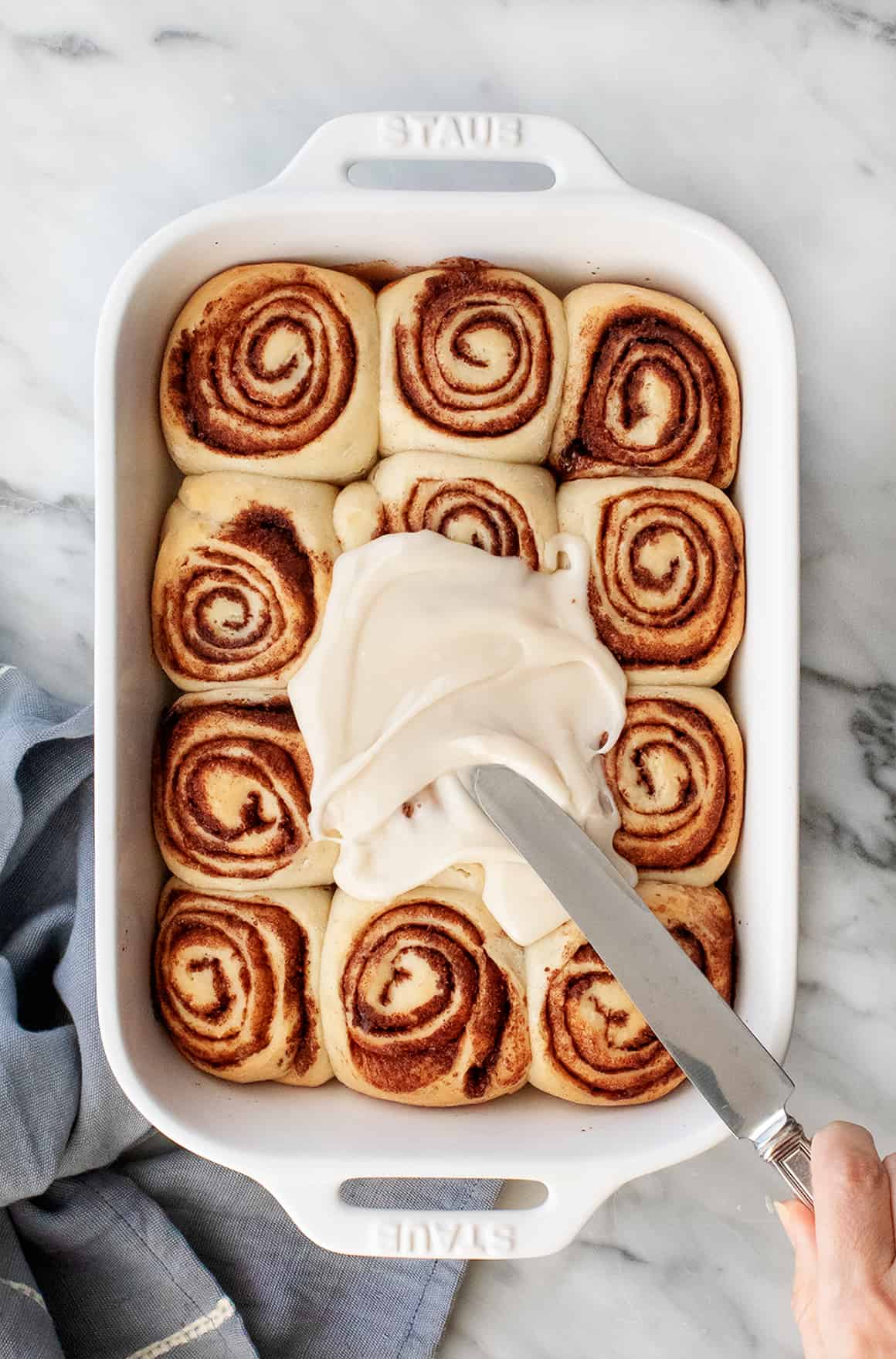 Cinnamon Rolls
My family's favorite Christmas morning breakfast! Served warm from the oven, they're soft, gooey, and packed with brown sugar and cinnamon flavor. A melty vanilla glaze takes them over the top.
French Toast Bake
Want to cook French toast for a crowd? This Christmas breakfast recipe is the way to do it. Instead of standing over the stove, flipping on repeat, you can layer the custardy slices into a casserole dish, and bake! How simple is that?
Healthy Breakfast Casserole
My mom's go-to breakfast casserole recipe! Packed with roasted veggies, sweet potatoes, and tangy feta cheese, it's easy, delicious, and great for serving a group.
Coffee Cake
Based on my grandmother's classic coffee cake recipe, this scrumptious treat is moist and tender, with a cinnamon swirl through the middle and a buttery crumble on top.
Blueberry Baked Oatmeal
This crowd-pleasing baked oatmeal is sort of like a breakfast fruit crisp. A toasty, nutty topping covers a soft layer of tender oats and fruit. I love to make it when I'm entertaining because the whole thing can be assembled in advance. It also happens to be vegan and gluten-free, so even guests with dietary restrictions can enjoy it.
French Toast Casserole
Here's another Christmas breakfast idea that you can make ahead! Assemble this cinnamon-spiced French toast casserole the night before, and in the morning, just pop it in the oven to bake.
More Egg-Based Christmas Breakfast Ideas
Love starting the day with something savory? Add one of these recipes to your Christmas brunch menu!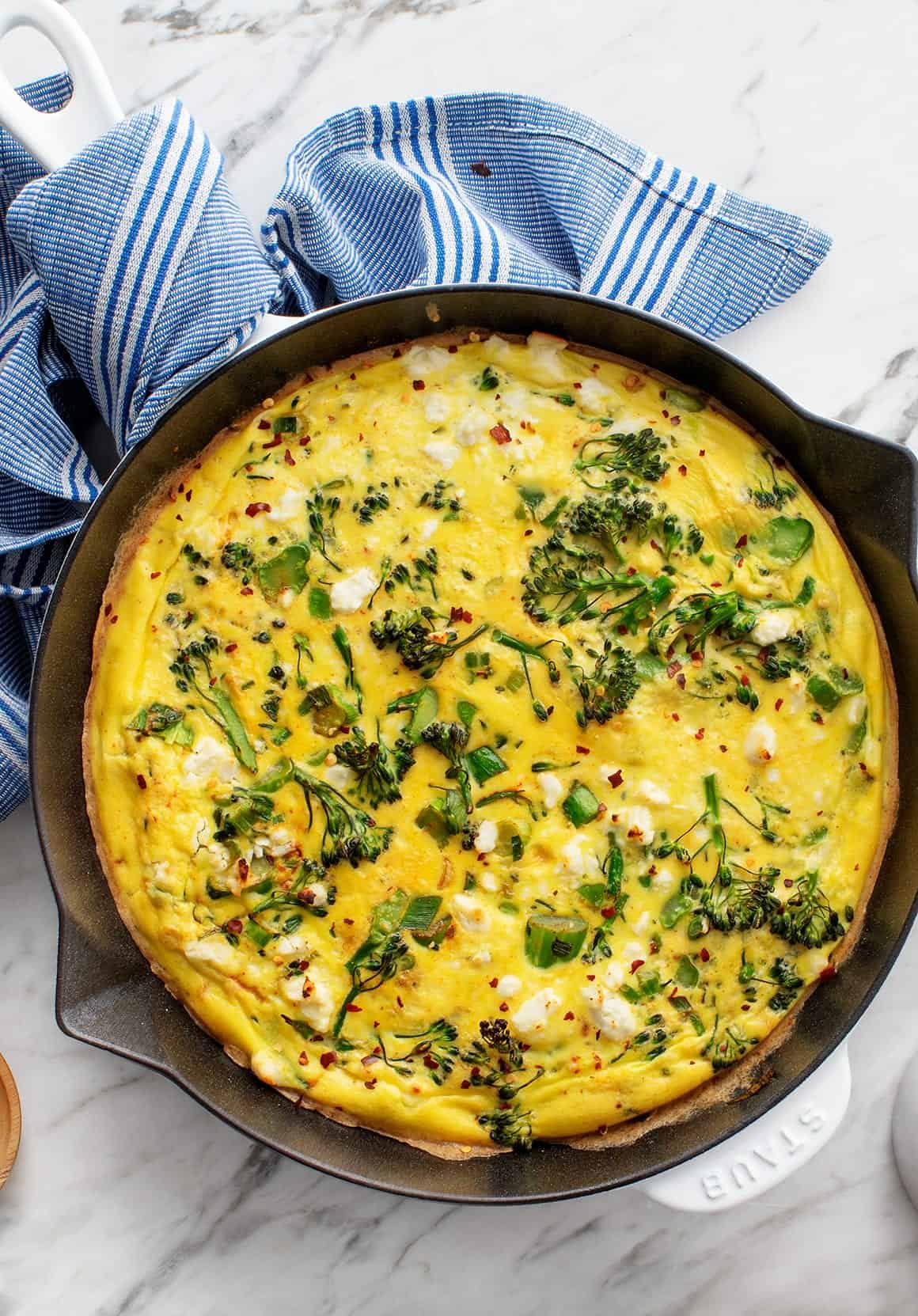 Frittata
A frittata is one of my favorite Christmas breakfast ideas. It cooks up in 30 minutes, it's flavorful and fresh, and you can make it with almost any assortment of veggies. Check out my recipe for 5 fun variations!
Best Shakshuka
This red and green recipe would be such a festive breakfast for Christmas morning! Serve it with pita or good crusty bread for scooping up the thick sauce.
Baked Eggs
These adorable eggs are so simple to make in the oven! With runny yolks and just-set whites, they're delicious topped with fresh herbs, sautéed veggies, and a sprinkle of feta cheese.
Scrambled Eggs
So simple, so delicious. Pair them with toast or a hot stack of pancakes.
Sunny Side Up Eggs
For a quick and easy Christmas brunch, serve these eggs with toast, avocado slices, and plenty of fresh fruit. They'd also pair nicely with something sweet, like pancakes or muffins.

Caprese Eggs Benedict with Healthier Hollandaise, page 41 of Love & Lemons Every Day
Making classic Hollandaise sauce is way too fussy for Christmas morning, but my healthier version is super simple to make in the blender (and you can even make it ahead!). Serve it over an English muffin topped with tomatoes, basil, and a poached egg for an impressive Christmas brunch.
Mini Frittata Muffins
These bite-sized frittatas would be a such a fun addition to a Christmas brunch! Feel free to change up the veggies – in the winter, I love making them with fresh sage and roasted butternut squash.
Sweet Potato Hash
This Christmas breakfast idea is easy to make in a single skillet! Just-set eggs top a flavorful medley of chili-spiced sweet potatoes, poblanos, and kale. Dress them up with avocado slices and a dash of your favorite hot sauce.
Breakfast Sandwich
Piled with a spinach omelet, fresh veggies, and herbed goat cheese, this loaded breakfast sandwich will kickstart your holiday morning. Serve it with a side of fresh fruit!
Waffles and French Toast
The ultimate breakfast comfort foods! What better time to make them than on Christmas morning?
Homemade Waffles
Kick off Christmas day with a homemade waffle bar! Set out toppings like fresh fruit, Greek yogurt, Nutella, and maple syrup, and let everyone customize their breakfast.
Vegan Carrot Waffles
Love carrot cake? Then you'll flip for this waffle recipe.
Almond Flour Buckwheat Waffles, page 51 of Love & Lemons Every Day
Made with buckwheat flour, almond flour, and ground flaxseed, these fluffy waffles are totally vegan and gluten-free. I love to serve them with a big drizzle of maple syrup and lots of fresh fruit.
Easy French Toast
With crisp edges and custardy middles, this classic French toast would be perfect for Christmas morning.
Vegan French Toast
No eggs? No problem! This vegan French toast is just as good as the real thing.
Pancake Recipes for Christmas Morning
Pass the maple syrup!
Blueberry Pancakes
Thick, fluffy, and packed with bursty berries, these pancakes will disappear as soon as they leave the griddle.

Banana Pancakes
These soft, moist pancakes taste just like banana bread! They're warmly spiced with nutmeg and cinnamon.
Lemon Cornmeal Pancakes, page 37 of Love & Lemons Every Day
If the thought of opening presents isn't enough to lure you out of bed on Christmas morning, imagine sitting down to a stack of these bright, lemony pancakes instead. You'll be heading to the kitchen before you know it!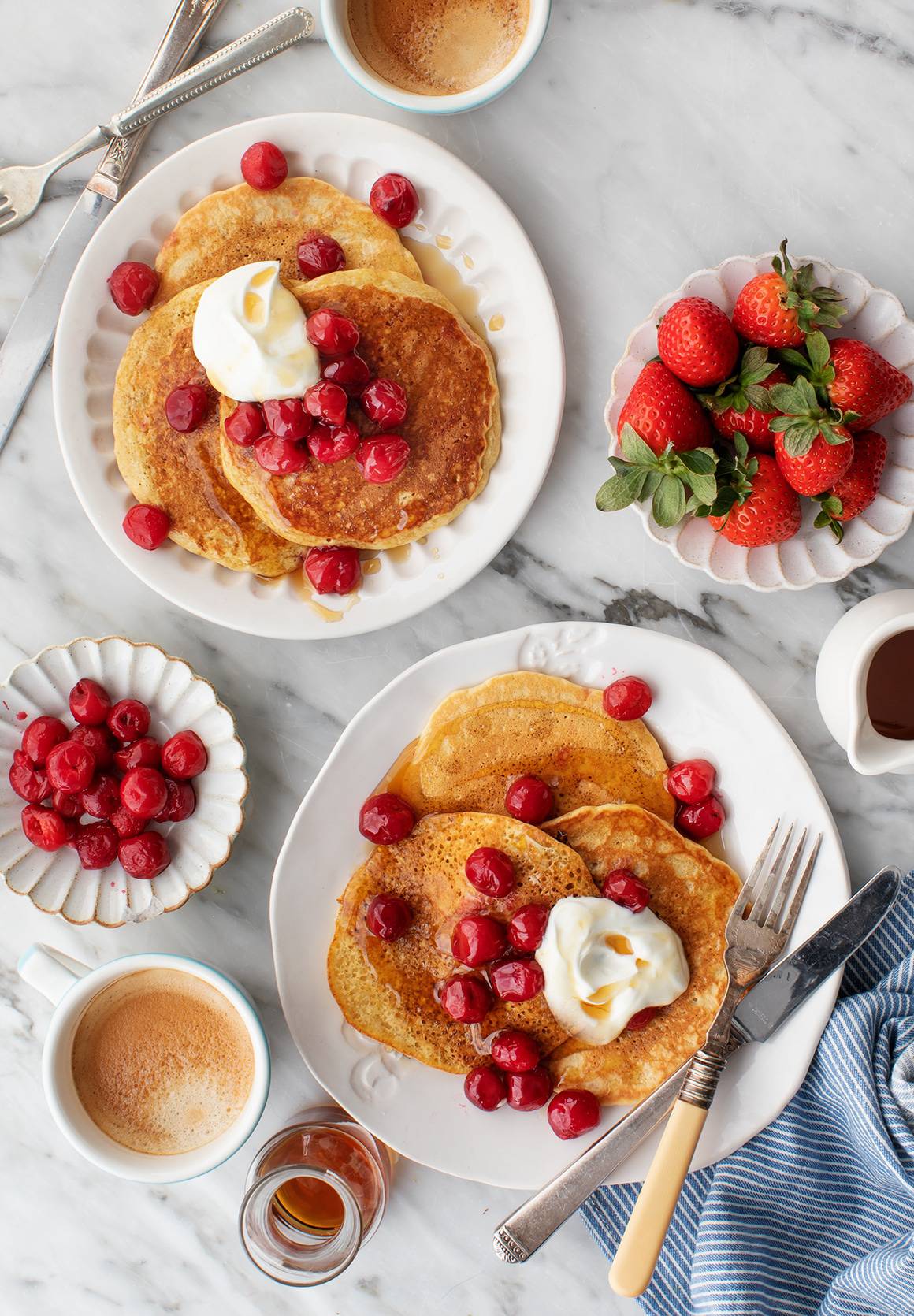 Gluten-Free Pancakes
Made with a mix of oat and almond flour, these gluten-free pancakes are soft, fluffy, and filled with rich vanilla flavor. Everyone will love them!
Raspberry Lemon Dutch Baby, page 49 of The Love & Lemons Cookbook
This Dutch baby recipe is lighter than most, made with almond milk and coconut oil instead of butter and cream. Still, it tastes delightfully indulgent, with browned edges and a puffed-up center. Dust it with powdered sugar, and serve it with fresh berries on top.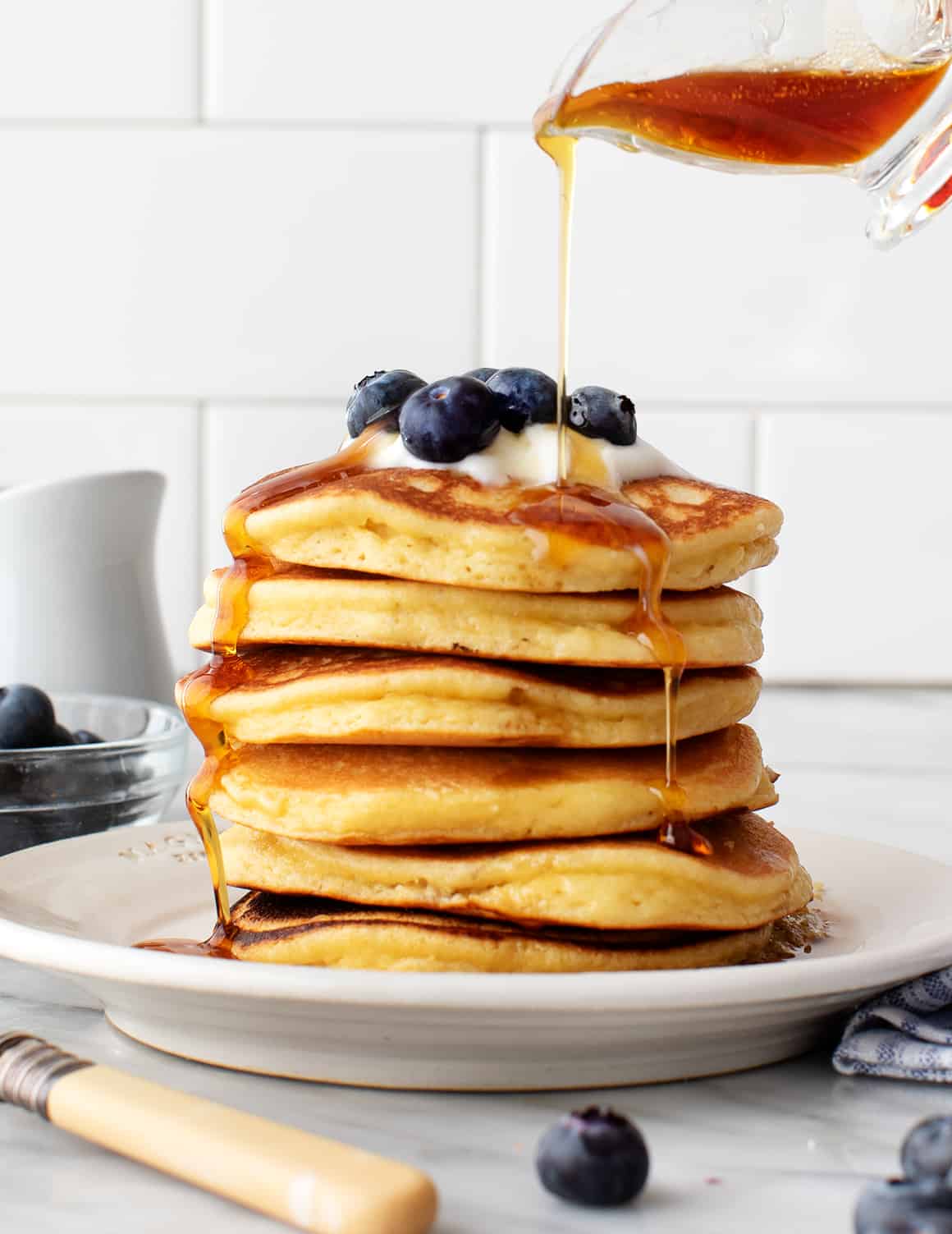 Almond Flour Pancakes
Our simplest gluten-free pancake recipe! It calls for just 7 ingredients and yields hearty, flavorful little pancakes. Yum!
Oat-y Christmas Breakfast Ideas
Like to start the day with something light? Serve one of these wholesome recipes for your Christmas breakfast.
Homemade Granola
Crisp, warmly spiced, and full of nutty clusters, this homemade granola beats the store-bought kind by a mile. Set it out with Greek yogurt and fresh fruit for a fun parfait bar on Christmas morning.
Steel-Cut Oatmeal
Another customizable Christmas breakfast idea! Cook a big pot of oatmeal, and let everyone choose their toppings. Nut butter, yogurt, fresh fruit, dried fruit, nuts, seeds, and toasted coconut flakes are all great choices.
Bagels and Toast
Not an egg person? Try one of these savory Christmas breakfast ideas instead.
Homemade Bagels
These chewy, crusty homemade bagels are just as fun to make as they are to eat! The dough rises overnight in the fridge, so in the morning, you'll just have to bring it to room temperature, boil, and bake.
Vegan Carrot Lox
Not sure what to serve with those homemade bagels? This vegan carrot lox will be a hit! The smooth, smoky carrot ribbons are surprisingly similar to real lox, and they taste fantastic with classic bagel fixings like capers and cream cheese.
Avocado Toast
Stick to the basic version, or try one of my 5 flavorful variations.
Southwest Christmas Breakfast Ideas
Spice up Christmas morning with these Southwest-inspired breakfast ideas!
Tofu Scramble
Sautéed onions, cumin, and nutritional yeast fill this vegan scramble with yummy savory flavor. I like to serve it with a side of tortillas, sautéed greens, and crispy breakfast potatoes.

Breakfast Burrito
Kickstart Christmas morning with this mega-veggie breakfast burrito! It's packed with scrambled eggs, black beans, pico de gallo, avocado, and more. To take it over the top, serve it with cilantro lime dressing for dipping.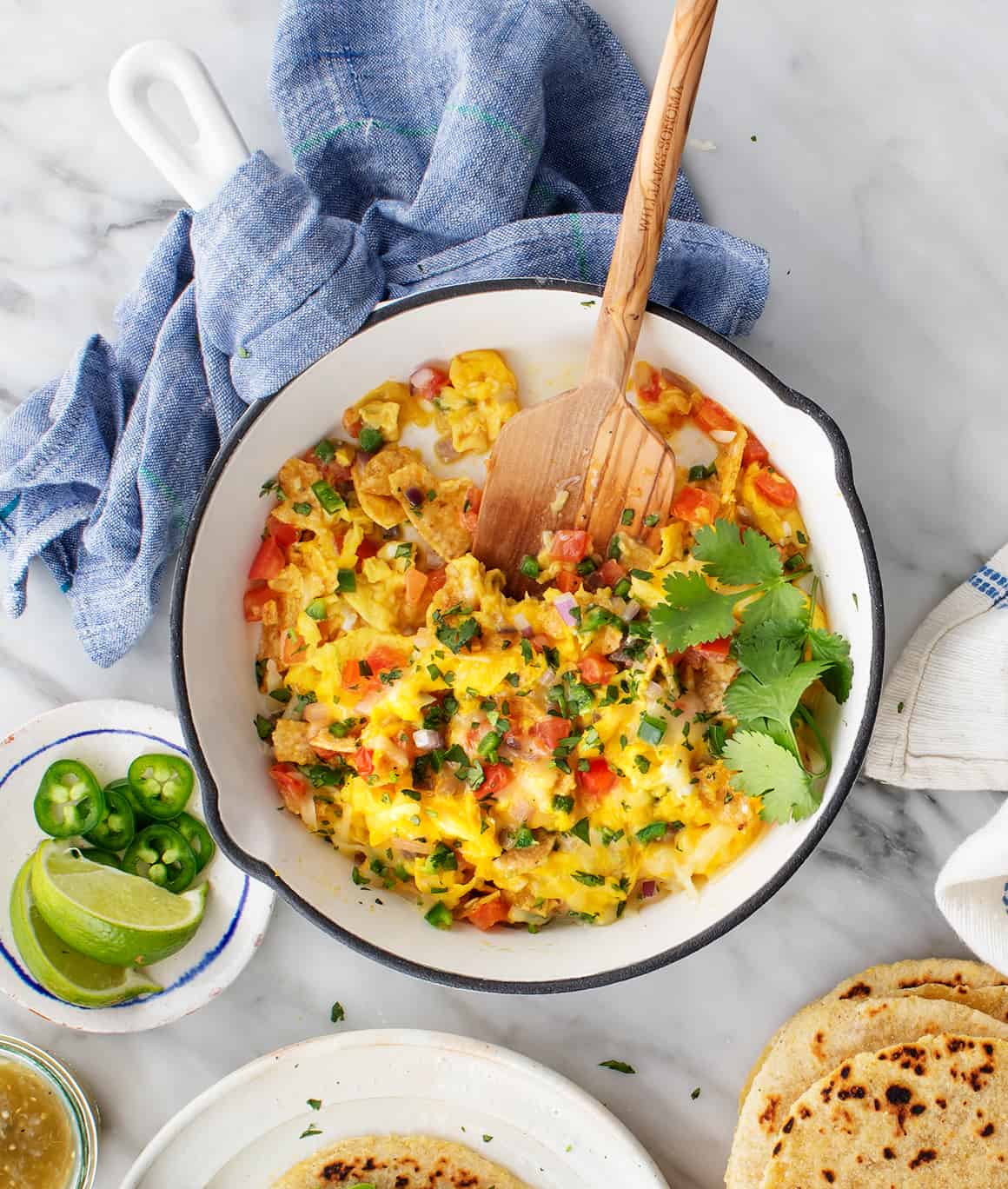 Austin-Style Migas
Take regular scrambled eggs to the next level by cooking them with crumbled tortilla chips, tomatoes, and cheese! I love to serve this classic Austin breakfast with tortillas and salsa so that I can assemble little breakfast tacos as I eat.
Muffins, Quick Breads, and Cakes
If you want to get ahead, make and freeze these breakfast recipes a few days in advance. Before you go to bed on Christmas Eve, take them out of the freezer and allow them to thaw at room temperature overnight. On Christmas morning, they'll taste like they were freshly baked!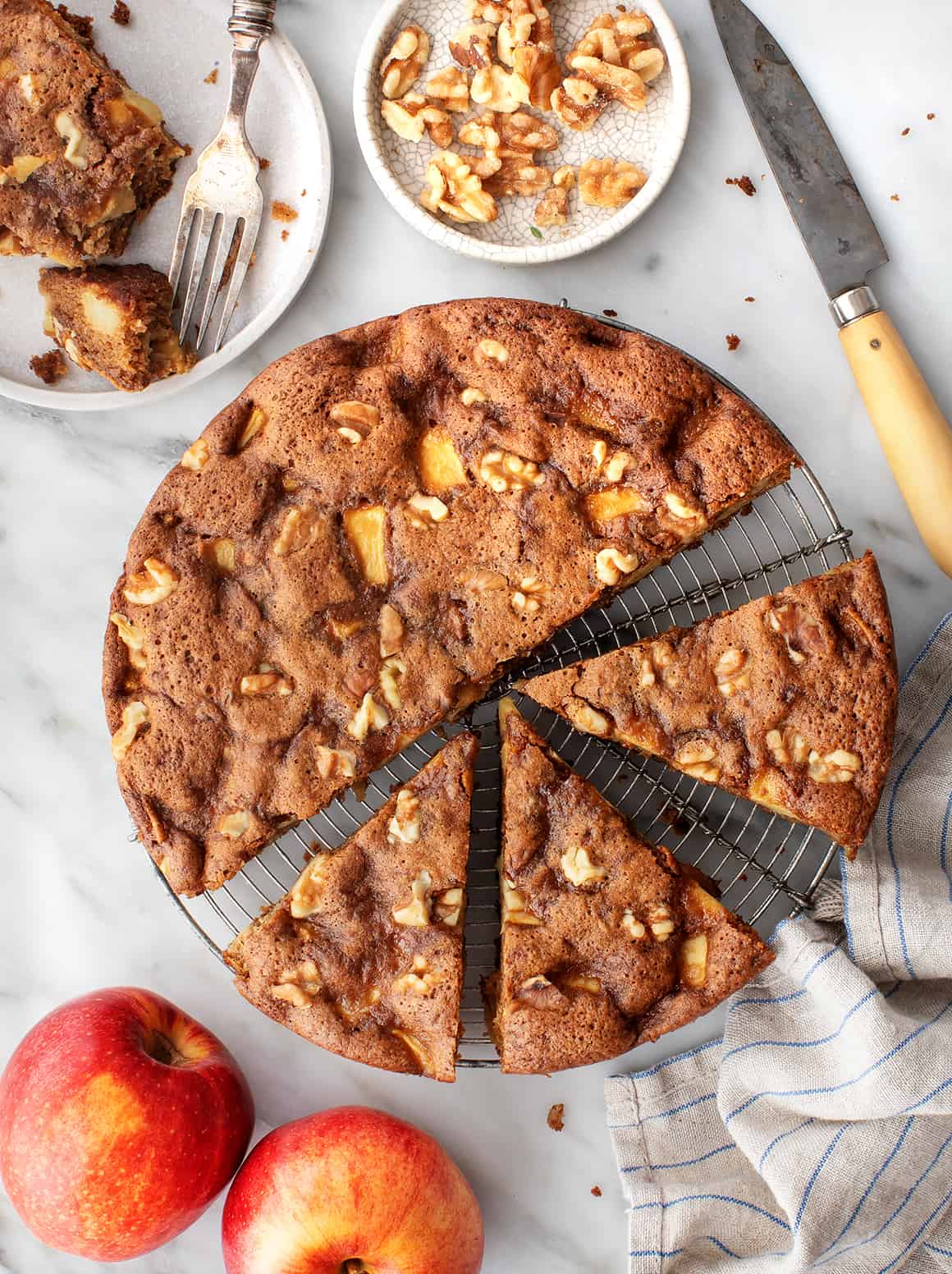 Apple Cake
This recipe is a standout from Yossy Arefi's gorgeous cookbook Snacking Cakes. Almost more apples than cake, it's tender, moist, and lightly sweet. It would be a fantastic addition to a Christmas brunch.
Chocolate Chip Muffins
Who doesn't love chocolate for breakfast?
Healthy Banana Bread
I use part almond flour in this banana bread recipe to give it an extra-moist, crave-worthy texture.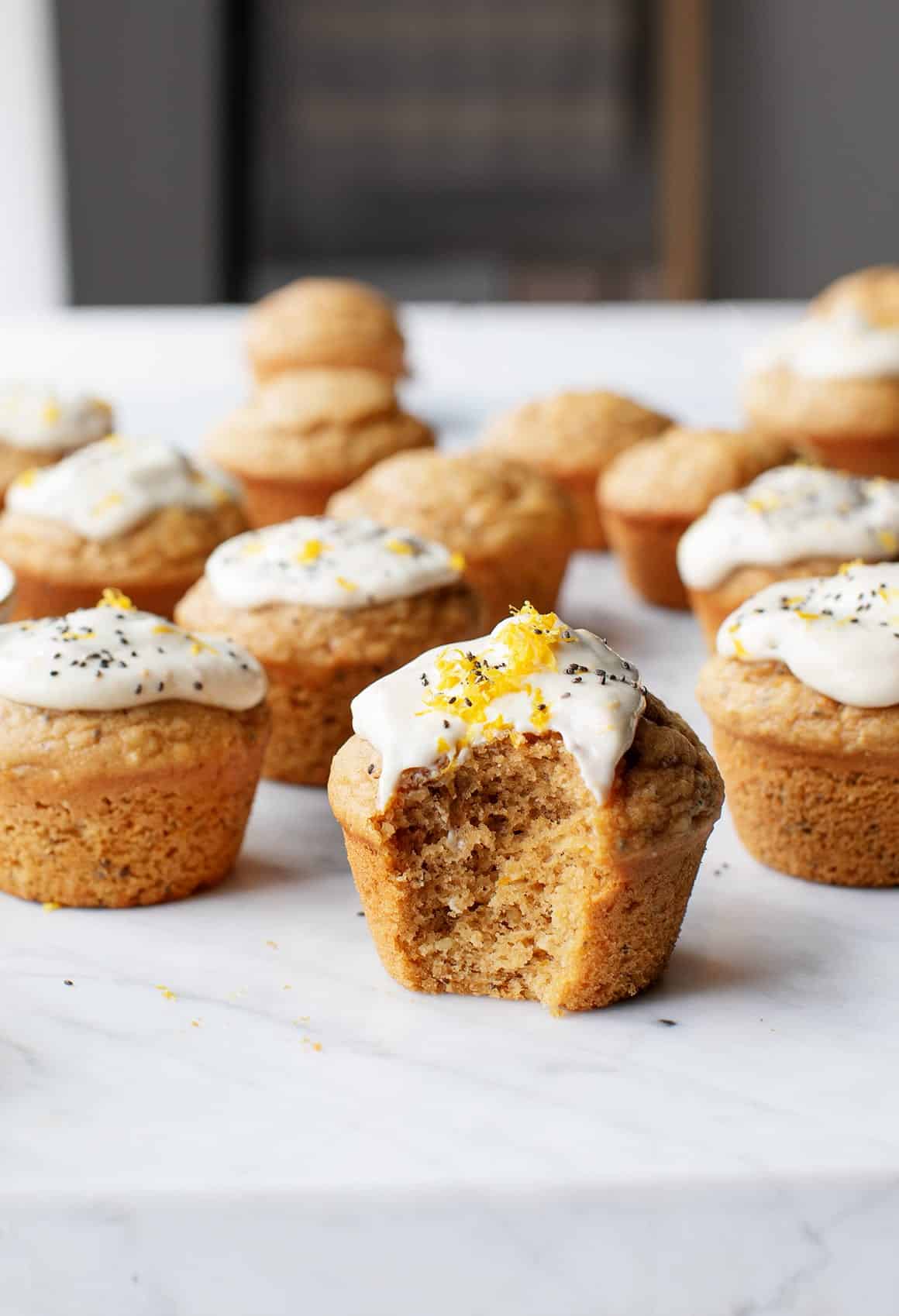 Vegan Lemon Muffins
These lemon-chia muffins are great on their own, but it's Christmas! Why not dress them up with tangy cream cheese frosting and extra lemon zest?
Apple Muffins
These ultra-moist muffins are packed with tender apple chunks and warm spices. A yummy cinnamon crumble adds delicious crunch on top!
Biscuits and Scones
Like the muffins and quick breads above, these Christmas breakfast ideas freeze perfectly! Feel free to make them ahead.
Blueberry Scones
You could serve these blueberry scones with scrambled eggs and fresh fruit or enjoy them on their own with a cup of coffee or tea. Crisp on the outside and moist in the middle, they're a delectable Christmas breakfast treat.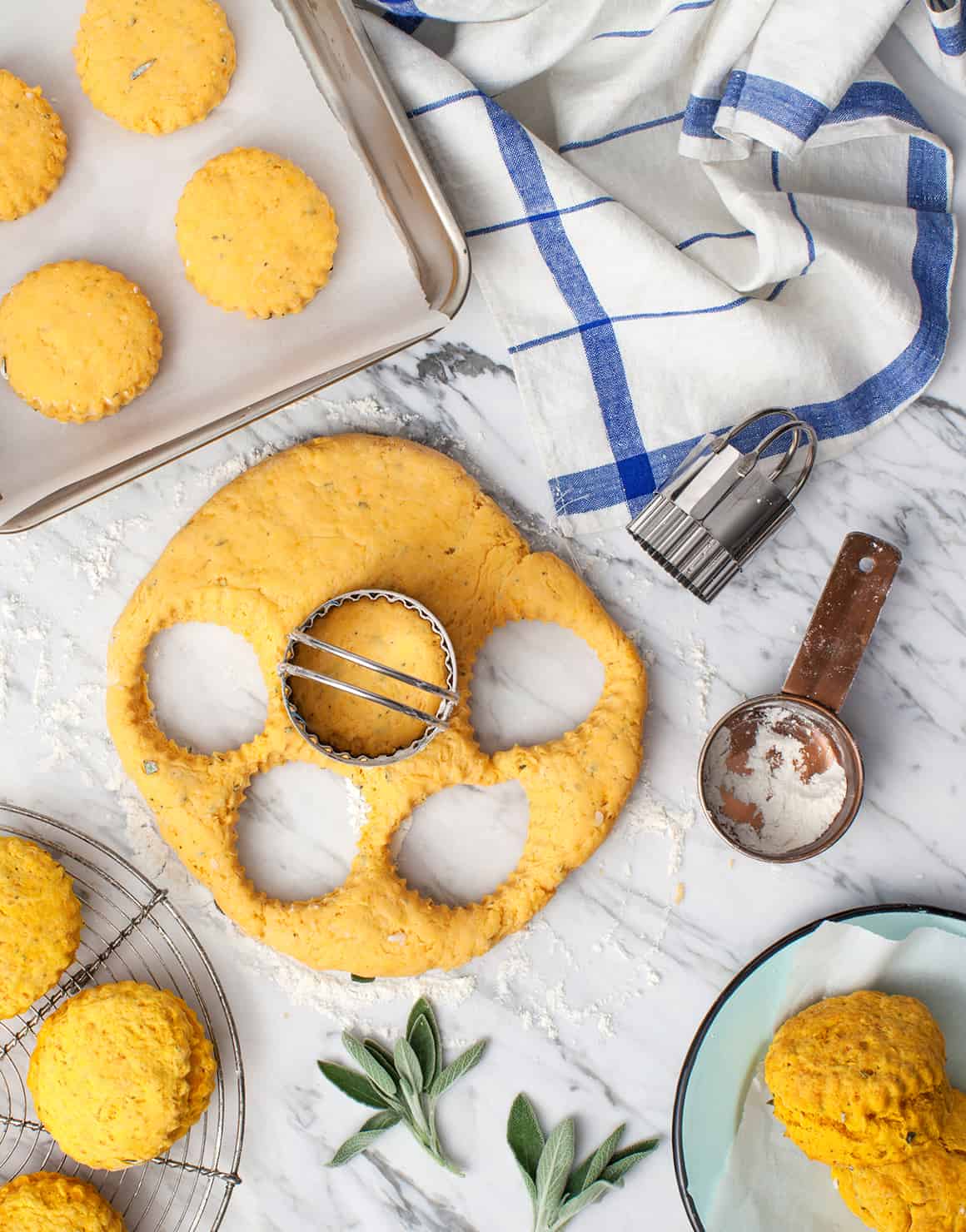 Sweet Potato & Sage Breakfast Biscuits, page 55 of Love & Lemons Every Day
Sweet potatoes and sage are always a winning combination, and they really shine in these moist, tender vegan biscuits. Serve them with a fried egg or a tofu scramble for a savory breakfast, or with honey butter or jam for a sweet one.
Cinnamon Apple Scones
Toasted pecans and a quick glaze turn these rustic scones into a holiday-worthy treat. Moist, warmly spiced, and packed with fresh apple, they'll be a hit on your Christmas breakfast table.
Vegan Scones with Raspberries
I use a combo of oat flour and coconut flour to make these yummy raspberry scones completely gluten-free. Making the powdered sugar glaze is optional here, but I highly recommend it.
Christmas Breakfast Ideas to Drink
Finished planning your Christmas breakfast menu? Wash it all down with one of these drinks!
Classic Mimosas
Pop the champagne!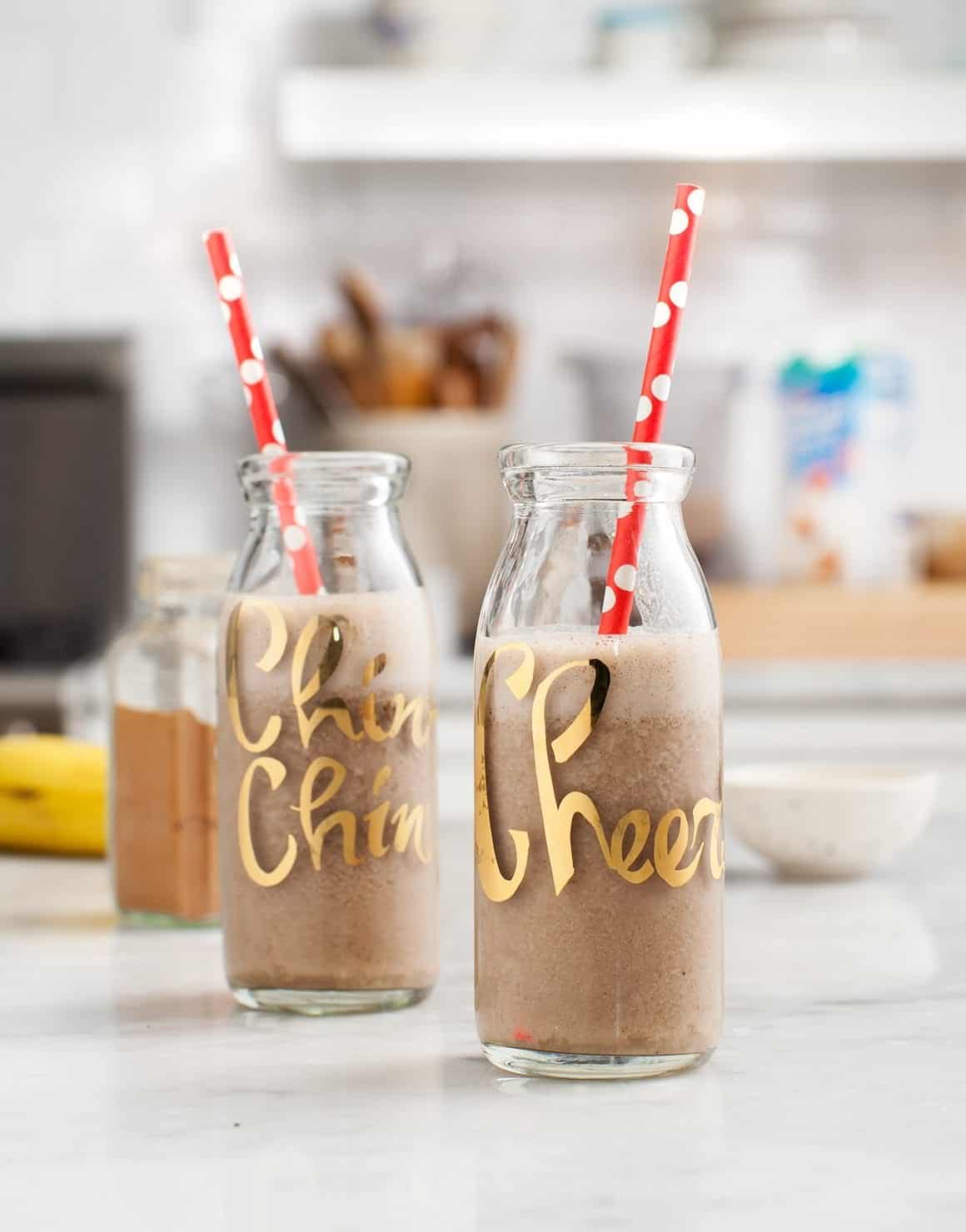 Cinnamon Coffee Smoothie
I like to think of this energizing drink as a cinnamon roll in smoothie form. Frozen bananas and a big scoop of almond butter make it irresistibly creamy and rich.
45 Christmas Breakfast Ideas
These cinnamon rolls are our favorite recipe for a holiday breakfast. For more Christmas breakfast ideas, see the blog post above!
Ingredients
For the yeast
½

cup

warm water

,

110°

1

¼-ounce package active dry yeast

1

teaspoon

cane sugar
Filling
½

cup

brown sugar

1½

tablespoons

cinnamon
Glaze
1½

cups

powdered sugar,

sifted

3 to 4

tablespoons

almond milk

½

teaspoon

vanilla extract
Instructions
Instructions

Grease an 8x11 or 9x13-inch baking dish.

In a small bowl, stir together the water, yeast, and sugar. Set aside for 5 minutes, or until the yeast is foamy.

Make the dough: In a medium bowl, combine the coconut oil, almond milk, sugar, and salt. Stir in the yeast mixture. Place the flour in a large bowl, then add the wet ingredients and stir until combined. The mixture will be sticky. Use your hands to roughly knead the mixture, then turn it out onto a floured surface. Knead 3 to 4 minutes until smooth, sprinkle with more flour if needed, and form into a ball.

Brush a large bowl with coconut oil and place the dough inside. Cover with plastic wrap and set aside in a warm place to rise until doubled in size, about 1 hour.

Make the filling: In a small bowl, mix the brown sugar and cinnamon.

Punch down dough and roll out on a floured surface into a 20x14-inch rectangle. Brush with 2 tablespoons melted coconut oil and sprinkle with the cinnamon sugar to within ½ inch of the edges.

Starting at one of the short 14-inch ends, roll tightly into a log, then slice into 12 rolls. Place the rolls into the baking dish cut-side up, cover, and let rise for 1 hour.

Preheat the oven to 350°F.

Make the glaze: In a medium bowl, whisk together the powdered sugar, 3 tablespoons almond milk, and vanilla until smooth. If it's too thick, add more almond milk.

Bake the rolls 25 to 30 minutes or until lightly golden on top. Remove and allow to cool for 10 minutes, then drizzle the glaze on top and serve.