This savory oatmeal recipe is just as good for breakfast as it is for dinner or lunch. Eggs, avocado, and garlicky greens top creamy steel-cut oats.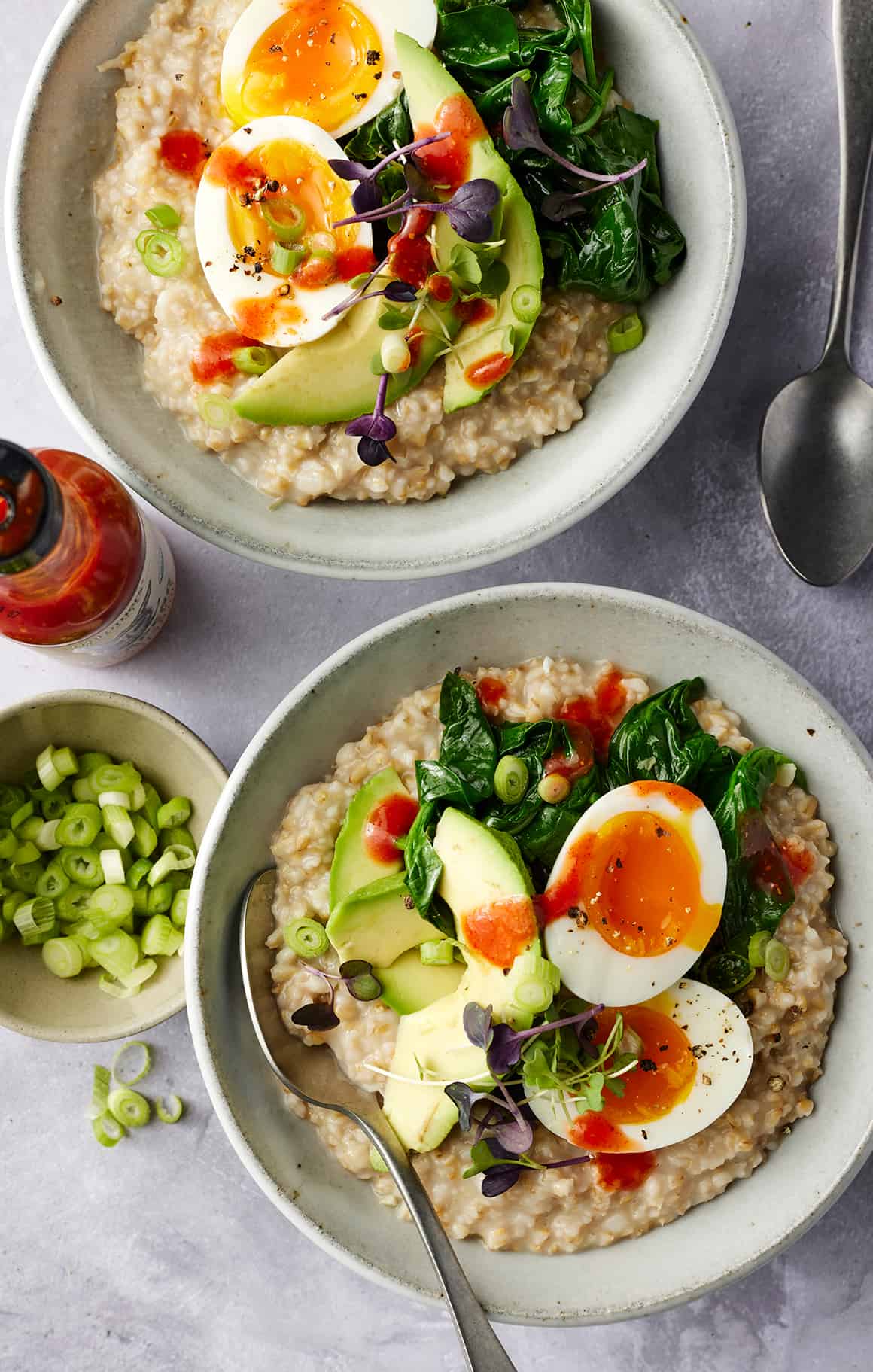 If you're used to topping your morning oats with nut butter and fresh fruit, the concept of savory oatmeal might sound strange. But give it a chance, and I think you'll be surprised. Oats (which, after all, are a whole grain like farro, brown rice, wheat berries, or any other) pair perfectly with savory fixings like avocado, sautéed greens, and soft boiled eggs. These hearty toppings make this savory oatmeal recipe a satisfying and nutritious breakfast, and they also carry oats beyond the breakfast zone, transforming them into a delicious option for a quick dinner or lunch.
So even if you're skeptical, I hope you'll try this savory oatmeal recipe. It's easy, healthy, and endlessly customizable (share your favorite toppings in the comments!). I think you're going to love it!
How to Make Savory Oatmeal
My #1 tip for this savory oatmeal recipe? Use steel-cut oats! Their creamy, chewy texture is almost like that of a risotto, which makes them a natural companion for toppings like veggies and eggs. Quick-cooking oats and even whole rolled oats are too soft and mushy to use in this recipe.
To infuse the oats with savory, umami depth of flavor, I cook them with shallots and garlic. I start by sautéing some finely chopped shallot in olive oil in medium saucepan.
Then, I stir in the oats and garlic and add water and salt. I bring the water to a boil, reduce the heat, and simmer, stirring occasionally, until the oats are thick and creamy but still have a slight bite, 15 to 20 minutes.
While the oats cook, I prep the toppings. Find my favorites below!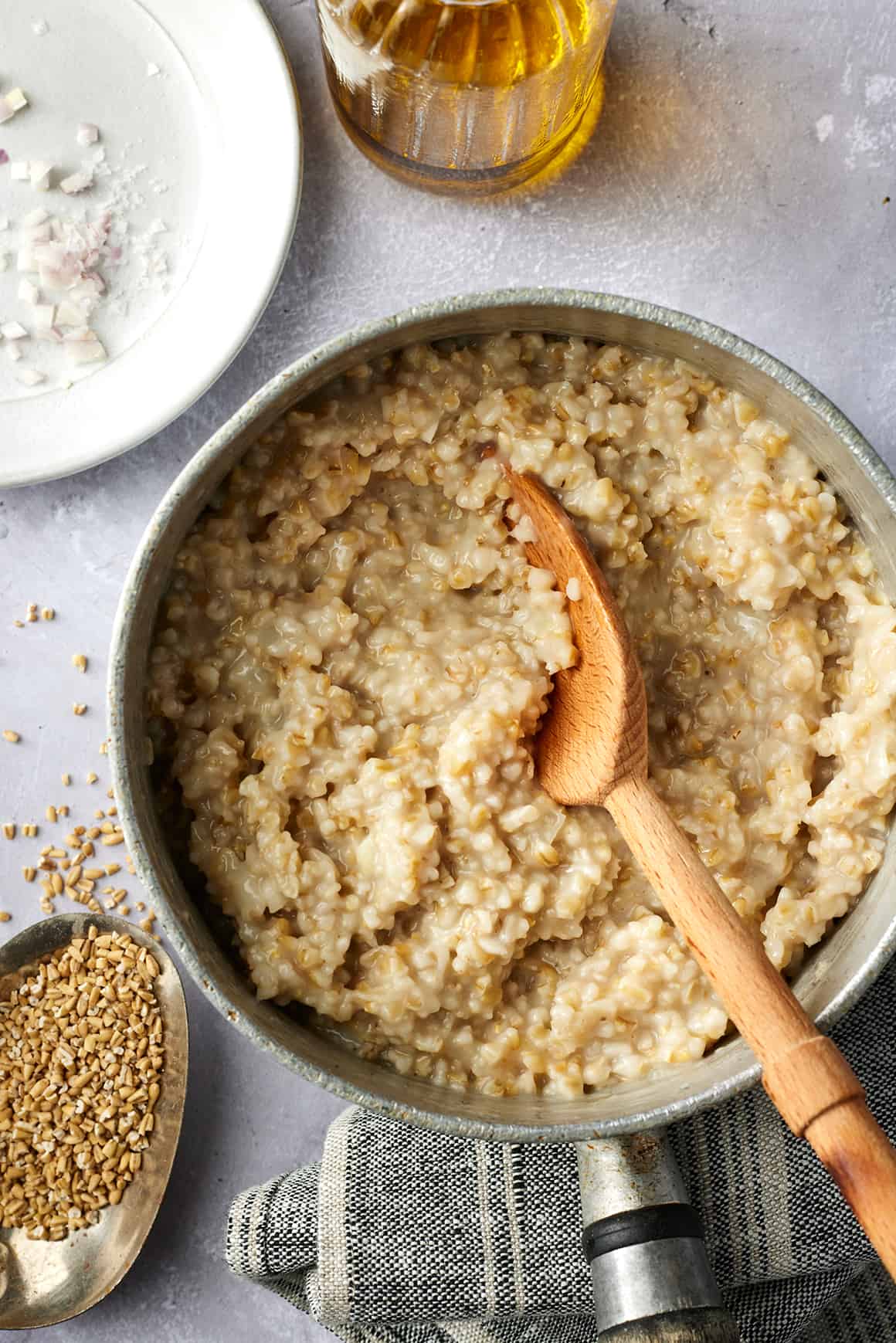 Savory Oatmeal Recipe Serving Suggestions
I love to top my savory oatmeal with soft boiled eggs, sautéed spinach, and avocado, with a sprinkle of scallions for oniony bite and microgreens for a fresh finishing touch. But the topping options don't end there! Feel free to customize your savory oatmeal to your liking. Here are a few topping ideas to get you started:
All kinds of eggs. Instead of using a soft boiled egg, top your oats with a poached egg or fried egg.
Plant-based proteins. Skip the eggs, and dress up your bowl with baked tofu or roasted chickpeas.
Sautéed veggies. Use sautéed mushrooms, broccoli, or kale instead of or in addition to the spinach.
Roasted veggies. Add roasted broccoli, Brussels sprouts, and butternut squash in the fall and winter and roasted cherry tomatoes, zucchini, and peppers in the summer.
Cheese or "cheese." Sprinkle on some freshly grated Parmesan cheese or crumbled feta, or, for a dairy-free option, use this vegan Parmesan cheese, made with cashews and nutritional yeast. Or, for a similar hit of umami, you could top your savory oatmeal bowl with caramelized onions.
Toasted nuts or seeds. Toasted sesame seeds, sunflower seeds, almonds, and/or pepitas add delicious crunch.
Fresh herbs. Sprinkle on fresh cilantro or thyme leaves.
Serve with hot sauce or pesto!
Savory oatmeal can be a bit time-consuming to make on busy mornings, but if you like, you can prep it ahead. Cook the oats in advance, portion them into meal prep containers, and store them in the fridge for up to 3 days. Reheat on the stove or in the microwave, and top with your desired toppings just before you eat.
More Favorite Oats Recipes
If you love these savory oats, try one of these delicious oats recipes next:
Or, for more healthy breakfast ideas, check out this post!
Savory Oatmeal
This easy savory oatmeal recipe is a healthy, delicious option for any meal of the day--breakfast, lunch, or dinner! We love the toppings listed here, but feel free to experiment with them. Find more suggestions in the post above!
Ingredients
1

tablespoon

extra-virgin olive oil

¼

cup

finely chopped shallot

,

about 1 small

¾

cup

steel-cut oats

1

garlic clove

,

grated

2¼

cups

water

½

teaspoon

sea salt

Freshly ground black pepper
Instructions
Heat the olive oil in a small saucepan over medium heat. Add the shallot and cook until softened, about 2 minutes. Add the oats and garlic and stir to coat in the oil, then add the water and salt and bring to a boil. Reduce the heat and simmer, stirring occasionally, for 15 to 20 minutes, or until the oats are thick and creamy but still have a slight bite. Season to taste with salt and pepper.

Remove from the heat and portion into bowls. Top with the sautéed vegetables, eggs, scallions, avocado, and microgreens. Serve with drizzles of hot sauce and a squeeze of lemon juice.