Fluffy and flavorful, these veggie and egg muffins are a delicious, protein-packed breakfast. Make them ahead for a quick and easy morning meal!
Savory breakfast people, these egg muffins are for you! Fluffy, flavorful, and studded with veggies and cheese, they're essentially little frittatas that you bake in a muffin pan. I love them because they're a) adorable, b) delicious, and c) perfect for meal prep! If you feel like your make-ahead breakfast rotation leans too far to the sweet side (with overnight oats, breakfast cookies, granola bars, etc.), then you'll love having these egg muffins in the mix.
Egg Muffins Recipe Ingredients
Here's what you'll need to make this egg muffins recipe:
Eggs, of course! 9 large eggs yield the perfect amount of "batter" for a 12-cup muffin tin.
Red bell peppers – For a veggie punch! I love using bell peppers in this recipe because they add color, crunch, and natural sweetness to the muffins without releasing too much moisture.
Scallions – They give the muffins a fresh, oniony kick.
Garlic – For a savory bite.
All-purpose flour and baking powder – The secret ingredients! They help the egg muffins create a light and puffy–yet stable–structure as they bake. Without them, the egg muffins will collapse inside the muffin cups.
Feta cheese – For rich, salty, tangy flavor.
And salt and pepper – To make all the flavors pop!
Find the complete recipe with measurements below.
How to Make Egg Muffins
These breakfast egg muffins are so easy to make! Here's what you need to do:
First, prep your pan. Grease a 12-cup muffin tin with olive oil or spray it with cooking spray.
Next, dice the bell pepper and scallions. Make sure to chop them finely! The small pieces will disperse nicely throughout the muffins, allowing you to get a little veggie in every bite. When all the veggies are chopped, evenly divide them among the muffin cups.
Then, whisk the eggs in a large bowl. Add the garlic, salt, and several grinds of pepper, and sprinkle the flour and baking powder on top. Whisk well to combine, trying to incorporate as much of the flour into the egg as you can. A few lumps will likely remain. That's ok! They'll meld into the muffins as they bake.
Evenly divide the egg mixture among the muffin cups, pouring it over the veggies. You'll need about a scant 1/4 cup in each one!
Sprinkle with the feta, and bake! Carefully slide the egg muffins into a 350°F oven and bake until the eggs are puffed and set, 22 to 24 minutes. Let the muffins cool in the pan. Then, enjoy!
Meal Prep Egg Muffin Cups
These breakfast egg muffins are fantastic on the day they're made, so if you have the time to make AND eat them for breakfast in a single morning, by all means, do! They're also a fun addition to a brunch menu. Pair them with something sweet, like pancakes or coffee cake, or with avocado toast and fresh fruit!
But if you'd rather make these egg muffins ahead, that works too! They're a great grab-and-go breakfast option to keep on hand. Store them for up to 3 days in an airtight container in the fridge, or, for longer storage, freeze them. Allow them to cool completely before transferring them to freezer-safe bags or airtight containers and storing them in the freezer for up to 3 months. Pop them in the microwave to reheat!
Egg Muffin Recipe Variations
I love this egg muffins recipe as written, but if you like, you can feel free to change up the veggies and cheese. Before you do, here are a few tips:
Keep the quantity constant. Don't add more than 2 1/2 cups diced veggies to the muffin cups.
Chop it all small so that the veggies disperse throughout the muffins.
Avoid adding too much moisture. Steer clear of raw tomato! It's too wet to use in these egg muffins, and it makes them soggy (I learned the hard way). Instead, experiment with pre-cooked vegetables. Chopped sautéed spinach would be a nice addition, provided you squeeze the excess moisture out first. Caramelized onions or my vegan mushroom "bacon" would also be delicious!
Changing the cheese is simpler. Don't love feta? Top off these egg muffins with shredded cheddar cheese, Parmesan cheese, or pepper jack instead!
Let me know what variations you try!
More Favorite Egg Recipes
If you love these egg muffin cups, try one of these yummy egg recipes next:
Want more healthy breakfast ideas? Check out this post!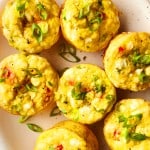 Breakfast Egg Muffins
This egg muffins recipe is healthy and delicious! It's a great easy breakfast recipe for meal prep--see the post above for my tips on how to store and reheat the muffins.
Instructions
Preheat the oven to 350°F.

Grease a nonstick muffin tin with olive oil and evenly divide the peppers and scallions among the muffin cups.

In a large bowl, whisk the eggs. Add the garlic, salt, and several grinds of pepper, then sprinkle the flour and baking powder on top. Whisk well to combine. It's ok if a few clumps of flour remain in the mixture.

Divide the egg mixture evenly into the muffin cups (you'll use about a scant ¼ cup in each one). Sprinkle the feta on top.

Bake for 22 to 24 minutes, or until the eggs are set. Let cool before removing from the pan.