For a delicious, elegant main dish, make this mushroom risotto recipe! It's rich and creamy, made with white wine, fresh herbs, and Parmesan cheese.
My ideal Valentine's Day would involve staying in and making this mushroom risotto recipe. My husband Jack LOVES mushrooms, and I love making risotto for date nights. They're those rare occasions when you actually want to stand at the stove, stirring and stirring and stirring, because you're also spending time with someone you love. The fact that all that stirring results in a comforting, flavorful meal is just the cherry on top.
Realistically, we probably won't make this mushroom risotto for Valentine's Day this year (thinking it would be hard to pull off with a toddler running around!). But if you're having a date night in, I hope you will make it. White wine, Parmesan cheese, and fresh thyme fill the rice with rich flavor, and its creamy texture contrasts beautifully with the crispy, meaty mushrooms. Top it off with fresh parsley and extra cheese for an elegant main dish.
Mushroom Risotto Recipe Ingredients
You could make this mushroom risotto recipe with just cremini mushrooms, and it would come out delicious. But if you want to take it to the next level, experiment with a mix of varieties. I have these types in the photo above:
Shiitake mushrooms
Oyster mushrooms
King oyster/trumpet mushrooms
Chanterelle mushrooms
Beech mushrooms
Any of these varieties would be fantastic, as would portobello mushrooms or maitakes. You'll need 1 1/2 pounds total. Use a combination of whatever types you can get your hands on/whatever fits in your budget. Creminis, shiitakes, and portobellos are more affordable, while oyster mushrooms, chanterelles, and maitakes are pricier. I often use a mix of mushrooms at different price points to balance cost and flavor.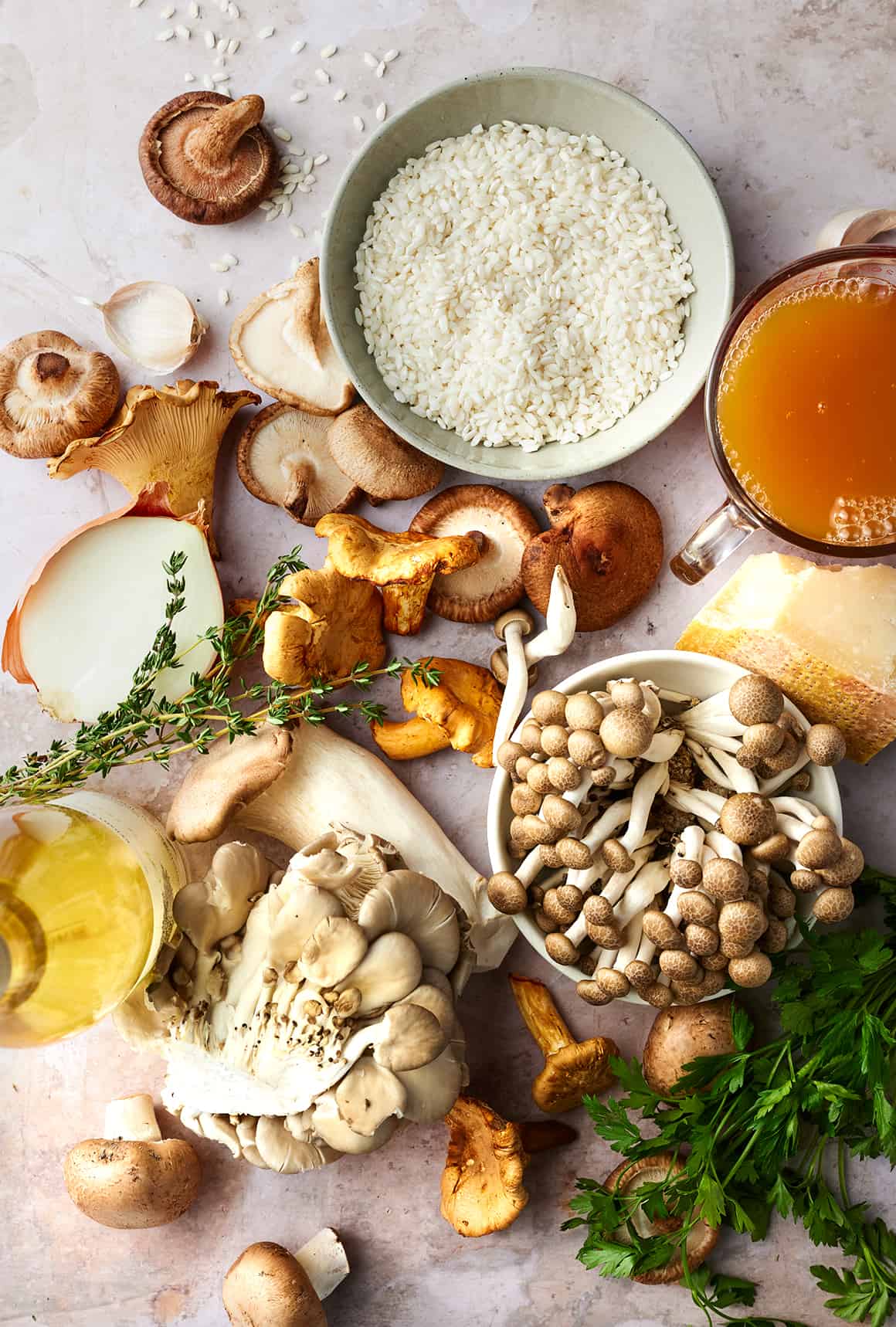 Aside from the mushrooms, you'll need these ingredients to make this recipe:
Arborio rice – My favorite risotto rice! This Italian short-grain rice holds its shape as it cooks while simultaneously releasing starches that make the risotto thick and creamy.
Extra-virgin olive oil – For richness.
Onion and garlic – For savory depth of flavor.
Fresh thyme leaves – Thyme and mushrooms go SO well together! I love the thyme's fresh, citrusy flavor against the earthy mushrooms.
Dry white wine – It adds acidity.
Vegetable broth – Use store-bought, or make your own!
Pecorino cheese – It adds rich, umami flavor. Parmesan works here too! To make a vegan risotto, skip the cheese and top the mushroom risotto with a sprinkle of my vegan Parmesan.
Fresh parsley – For garnish.
And salt and pepper – To make all the flavors pop!
Find the complete recipe with measurements below.
Mushroom Risotto Recipe Tips
Don't stir the mushrooms too much. The first step in this mushroom risotto recipe is to sauté the mushrooms. You want them to get tender in the middle and browned and crisp around the edges. The mushrooms need consistent contact with the hot pan in order to brown, so, for the best browning, it's important that you stir only occasionally. Just give them a good toss every couple of minutes. If your pan is too crowded when you add the mushrooms all at once, feel free to work in batches.
But stir the risotto often. Unlike the mushrooms, the risotto needs a lot of stirring! Without frequent stirring, the starches will become gummy and burn in the pan, and you won't end up with a smooth and creamy risotto.
Add the broth 3/4 cup at a time. Not all at once! After each addition, stir constantly until the rice has nearly absorbed the liquid, then pour in 3/4 cup more. The gradual additions allow you to control the consistency of the risotto. Cook until the overall texture is creamy but the individual grains of rice retain a slight bite.
Stir in some of the mushrooms, and pile more on top. The ones you stir in will soften slightly but infuse the risotto with umami flavor. The ones on top will stay lightly crisp, creating a fantastic combination of textures!
It will thicken as it sits. This mushroom risotto is best freshly made, but leftovers will keep in an airtight container in the fridge for up to 3 days. Note that the risotto will thicken in the fridge, so you might need to stir in an extra splash of water or stock when you reheat it.
What to Serve with Mushroom Risotto
Simple and elegant, this mushroom risotto makes a fantastic dinner on its own. But if you're craving a larger meal, you have plenty of great side dish options. It goes nicely with a quick veggie side dish like sautéed spinach, green beans, or roasted broccoli. It would also pair well with any of these salad recipes:
Round out the meal with homemade focaccia and a glass of white wine to drink!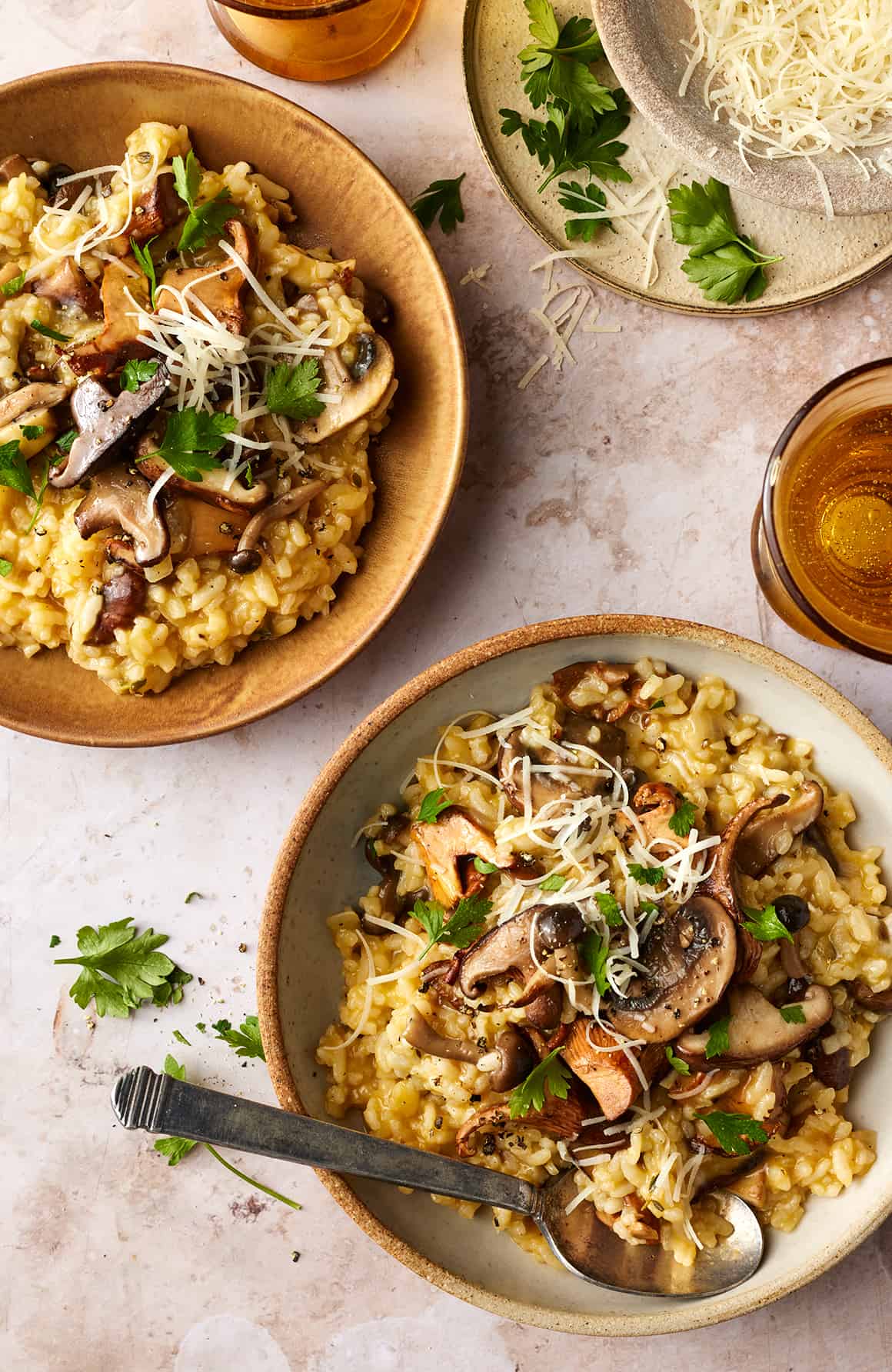 More Favorite Date Night Recipes
If you love this mushroom risotto, try one of these date night dinners next:
Mushroom Risotto
This mushroom risotto recipe is a delicious, elegant vegetarian main dish! It's rich and creamy, made with white wine, fresh herbs, and Parmesan cheese*.
Ingredients
4

tablespoons

extra-virgin olive oil

1½

pounds

mixed mushrooms

,

chopped

¾

teaspoon

sea salt

,

plus more to taste

Freshly ground black pepper

1

medium yellow onion

,

chopped

2

garlic cloves

,

finely chopped

1

tablespoon

fresh thyme leaves

1½

cups

uncooked Arborio rice

,

rinsed

⅔

cup

dry white wine

5

cups

warmed vegetable broth

½

cup

grated pecorino or Parmesan cheese*

,

plus more for serving

Chopped fresh parsley

,

for garnish
Instructions
Heat 2 tablespoons of the olive oil in a Dutch oven or large, deep skillet over medium heat. Add the mushrooms, ½ teaspoon of the salt, and several grinds of pepper and toss to coat. Cook, stirring only occasionally, for 8 minutes, or until soft and browned. Remove from the pan and set aside. Work in batches if necessary.

Wipe out the pan and return it to the heat. Add the remaining 2 tablespoons olive oil, the onion, and the remaining ¼ teaspoon sea salt. Cook, stirring occasionally, for 5 to 8 minutes, or until softened. Stir in the garlic, thyme, and rice. Let cook for 1 minute, then add the wine. Stir and cook for 1 to 3 minutes, or until the wine cooks down.

Add the broth ¾ cup at a time, stirring constantly and allowing each addition of broth to be absorbed before adding the next. With the final addition of broth, stir two-thirds of the sautéed mushrooms into the risotto. Cook until the risotto is creamy and the rice has a slight al dente bite. Stir in the cheese and season to taste.

Top with the remaining sautéed mushrooms, garnish with parsley, and serve with more grated cheese, if desired.
Notes
*To make this recipe vegan, skip the cheese and top the risotto with sprinkles of vegan Parmesan.