A homemade mushroom broth adds rich, umami flavor to this vegan ramen recipe. Filled with chewy noodles, veggies, and tofu, it's comfort in a bowl!
We have a new favorite recipe in our winter rotation: this vegan ramen! My plant-based riff on the Japanese noodle soup is warming, comforting, and intensely flavorful. It starts with a rich mushroom broth, which I spike with miso paste for extra umami. Then, I add chewy ramen noodles, savory baked tofu, and loads of fresh toppings–sautéed mushrooms, bok choy, green onions, and daikon radish. A swirl of chili crisp takes it over the top.
Ramen is a Japanese preparation of Chinese wheat noodles, and it has been eaten throughout Japan for over a century. You can find tons of variations on it throughout the country, made with different seasoning agents, broth bases, toppings, and more. Read more about its history here and here! I can't claim that this vegan ramen recipe is entirely authentic, but with its fragrant broth and slurp-able noodles, it's a great way to get your ramen fix at home.
Vegan Ramen Recipe Ingredients
For me, a flavorful broth is what sets apart an amazing bowl of ramen from a just-ok one. Most traditional types of ramen start with a meat or seafood broth. So, when I was testing this vegan ramen, the challenge was creating an equally rich broth with plant-based ingredients. My solution…mushrooms! I use this mushroom broth recipe as the base for my vegan ramen. It's made with fresh and dried shiitake mushrooms as well as creminis. Onions, garlic, ginger, kombu, and tamari deepen the flavor further. For vegan ramen, I also season the broth with mirin, rice vinegar, and white miso paste. It's savory, earthy, and slightly tangy…SO delicious!
Here's what else you need to make this vegan ramen:
Ramen noodles, of course! Look for dried noodles in an Asian market or the Asian section of your grocery store. Note that not all ramen noodles are vegan-friendly. Look for vegan ramen noodles made without eggs!
Extra-virgin olive oil – For cooking the veggies. Sub a neutral oil if you prefer!
Shiitake mushroom caps – You'll have them leftover from making the broth! I love their hearty, chewy texture in this recipe.
Baby bok choy – Slice it vertically into thin wedges.
Baked tofu – For protein! Want to simplify? Uncooked extra-firm tofu would work here too.
Julienned daikon radish or carrot – Its fresh crunch contrasts nicely with all the soft, soupy textures in this recipe.
Scallions – For an oniony kick.
And chili crisp and tamari – For seasoning to taste! If you don't keep tamari on hand, use soy sauce instead, but note that you should seek out certified gluten-free tamari (and noodles!) if you need this recipe to be gluten-free.
Find the complete recipe with measurements below.
How to Make Vegan Ramen
Heads up! This vegan ramen takes some time to make, because the mushroom broth has to simmer for an hour. To get ahead, I recommend making the ramen broth in advance. It keeps for several days in the fridge, and it freezes well too.
Once the broth is ready, the rest of the recipe comes together quickly. Sauté the mushrooms…
…and the bok choy.
Cook the noodles, and bake the tofu, if desired.
Then, assemble bowls with a ladle of the broth, some of the noodles, tofu, mushrooms, and bok choy. Top with the daikon and scallions, and serve with chili crisp and tamari on the side.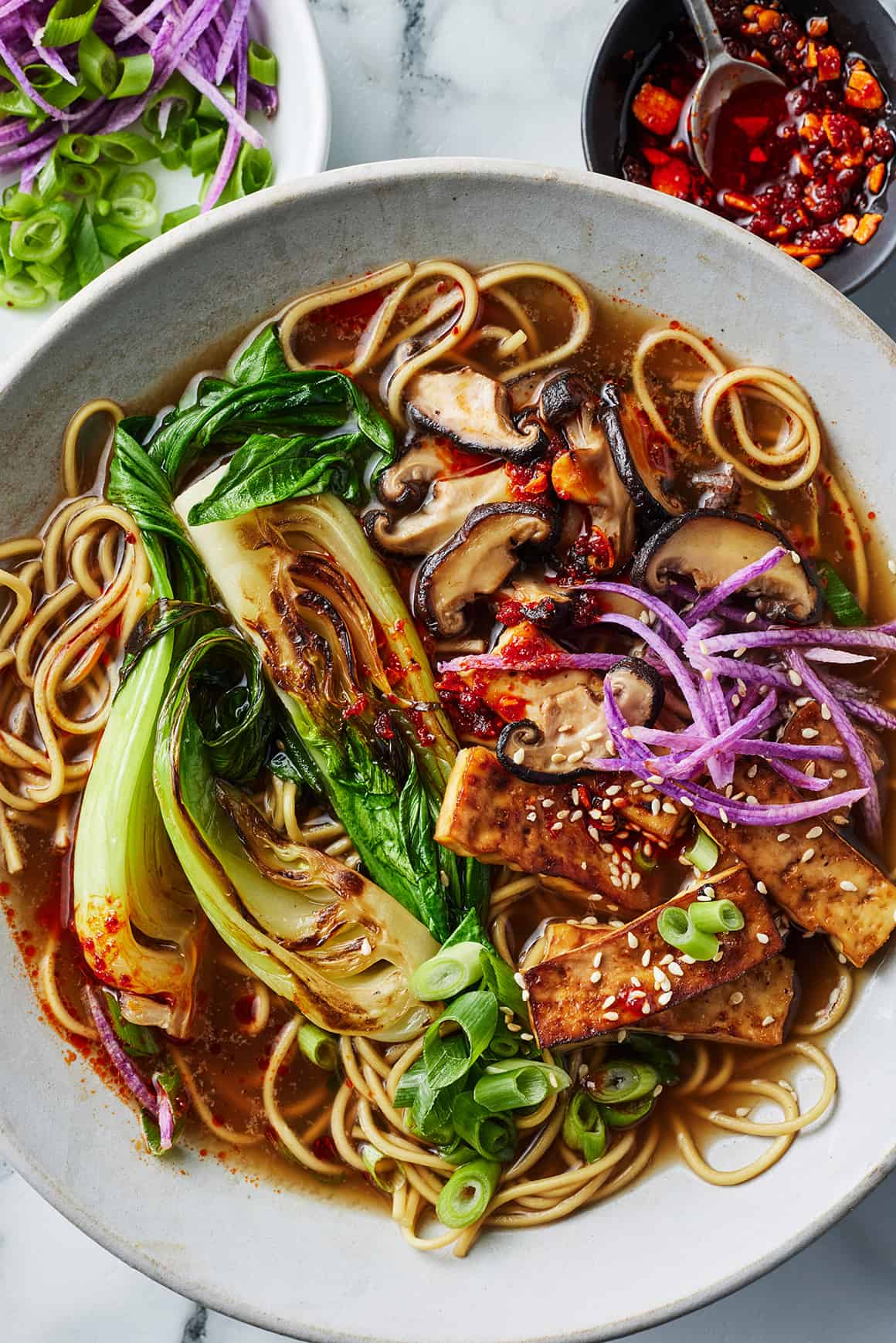 Vegan Ramen Tips
Don't swap the broth. It might be tempting to sub regular vegetable broth for the mushroom broth in this vegan ramen recipe. Please, don't do it! I know the mushroom broth takes some time to make, but it supplies SO much of the flavor here. To get ahead, make the broth in advance!
Store the components separately. I recommend assembling the ramen in individual bowls instead of adding the noodles and veggies to the pot with the broth. That way, if you have leftovers, you can store the components separately. If they're stored together, the noodles and vegetables will absorb the broth and become soggy.
Change up the toppings. We love the toppings listed in this vegan ramen recipe, but if you want to change them up, feel free! Try adding some thinly sliced nori, bamboo shoots, bean sprouts, or corn kernels, or swap out the bok choy for sautéed spinach. Don't keep chili crisp on hand? Season your bowl with sriracha instead. I also love to garnish my ramen with sesame seeds for crunch!
More Favorite Vegan Recipes
If you love this vegan ramen, try one of these delicious vegan recipes next: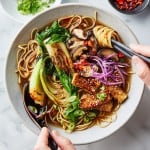 Vegan Ramen
A homemade mushroom broth adds rich, umami flavor to this delicious vegan ramen recipe. To get ahead, you can make the broth a day or two in advance and store it in the fridge. It also freezes well for up to 3 months.
Instructions
Prepare the mushroom broth according to this recipe. After straining, season it with the rice vinegar and mirin. Scoop ¼ cup of the broth into a small bowl and add the miso paste. Whisk until smooth, then stir into the broth. Season to taste.

Meanwhile, heat 1 tablespoon of the olive oil in a large lidded skillet over medium heat. Add the bok choy in a single layer and sear for 1 to 2 minutes, or until browned underneath. Sprinkle with salt, add the water, toss, and cover. Cook until the bok choy is bright green and tender, about 1 minute. Remove from the pan and set aside.

Wipe out the pan and return it to the stove. Add the remaining 2 tablespoons olive oil and heat over medium heat. Add the mushrooms and a pinch of salt. Let cook for 2 minutes without stirring, then toss and cook, stirring occasionally, for 5 more minutes, or until tender and browned.

Cook the noodles according to the package instructions. Drain and divide among four bowls. Pour in broth to cover. Top with the bok choy, baked tofu, mushrooms, daikon, and scallions. Serve with chili crisp and tamari.