This fresh, easy pasta salad recipe comes together in under 30 minutes! Tossed in a tangy vinaigrette & filled with veggies, it's a sure cookout hit.
Today's recipe is a picnic-perfect pasta salad! Every cookout needs a great pasta salad, and this is the one that I'll be making all summer long. It comes together in no time, it's full of fresh ingredients, and it packs a flavorful punch.
I took extra care to make sure that all of this week's recipes are not just easy, but also easy to make in advance… because I totally get that you don't want to be futzing with your salad when you could be spending time outside with your friends.
Note: if you do decide to make this in advance, toss on some whole basil leaves before serving to make your salad instantly prettier.
Pasta Salad Ingredients
I've made many pasta salads before (see here and here), but I realized that I didn't have a really good classic pasta salad with a vinaigrette dressing on the site. This recipe is easy and fresh – along with the pasta, I toss in juicy cherry tomatoes, tangy feta cheese, a generous handful of arugula, chickpeas for protein, pine nuts & little cucumbers for crunch, and lots of fresh parsley and basil.
The dressing is easy to make: it's a zesty mix of olive oil, lemon, garlic, Dijon, herbs & seasonings  – I like to use herbes de Provence but Italian seasoning would be equally good in its place.
How to Make Pasta Salad
Making this recipe is a breeze! Just follow these simple steps:
Cook your pasta in a large pot of salted boiling water. Drain it, toss it with some olive oil, and set it aside to cool.
Chop your cherry tomatoes and cucumbers, mince the parsley, and crumble the feta.
Whisk together the dressing ingredients.
And toss everything together in a big bowl! Season to taste and dig in.
My Best Pasta Salad Tips
Cook your pasta a little longer than normal. It should be just a tad past al dente (but not mushy) so that the pasta stays soft when it cools. I find that the higher time range listed on box instructions is usually just about right for pasta salad.
Let your pasta cool completely before tossing it with the other ingredients. If it's still warm, the hot pasta will start to cook and wilt the veggies. No one's a fan of warm cucumber, so make sure you're tossing cold pasta into this dish.
Save some herbs for garnish! This pasta salad recipe is a great one to make ahead, but if you do, save some of the herbs and pine nuts for garnish. The pine nuts will keep their crunchy texture and the herbs will be extra fresh, pretty, and flavorful.
Taste and adjust. Like most salad recipes, this one is super flexible, so be sure to taste and adjust it to your liking before serving. Add more lemon if you prefer a tangier salad, toss in more greens if you're all about the veggies, and always, always salt to taste.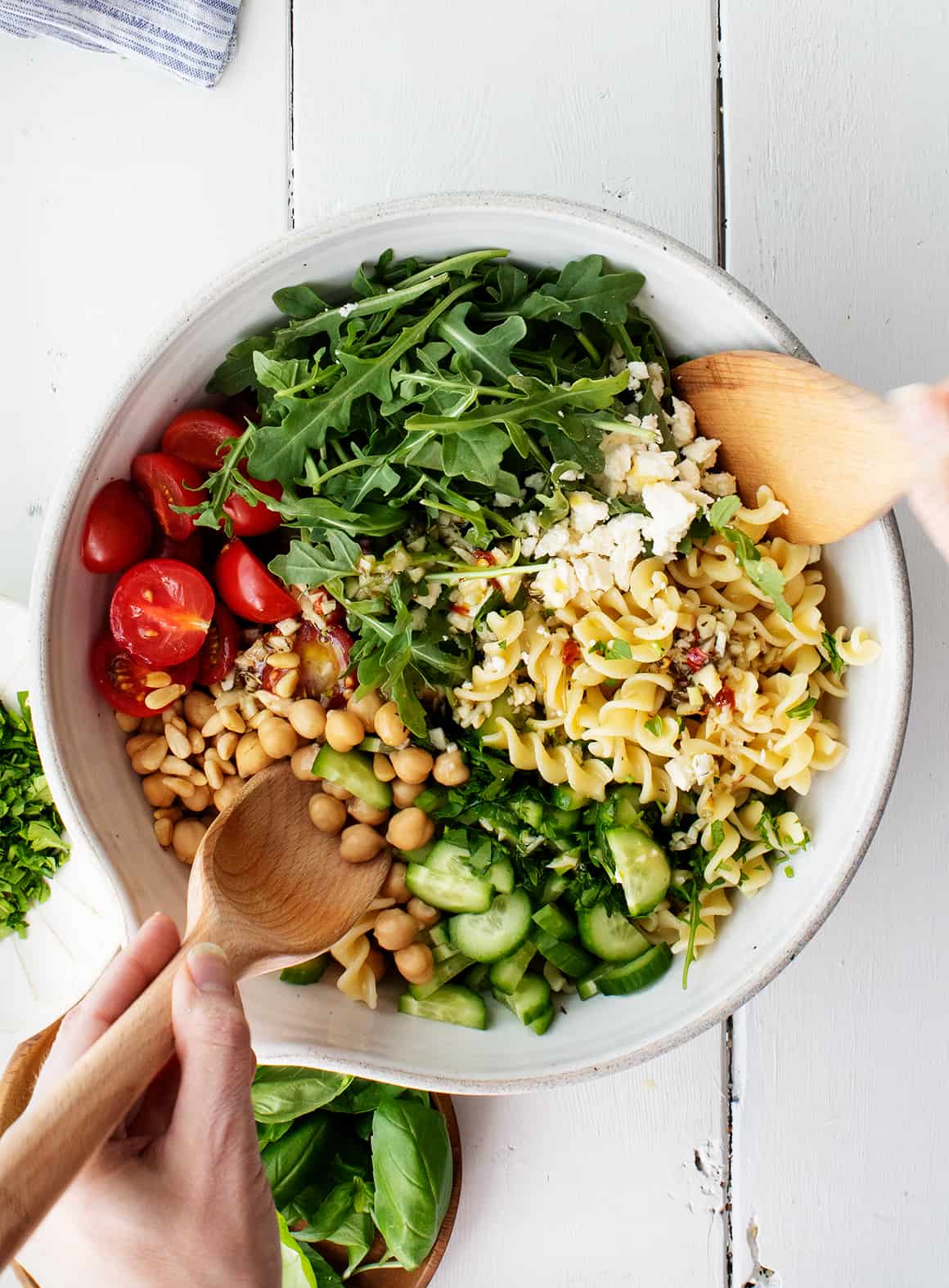 Easy Pasta Salad Recipe Variations
This pasta salad is fantastic as-is, but feel free to change it up to match your tastes or the ingredients in your pantry. Here are a few suggestions:
Make it vegan! Use olives or sun dried tomatoes in place of the feta.
Make it gluten-free! Use gluten-free pasta or quinoa in place of traditional noodles.
Go Greek. To make this recipe more of a Greek pasta salad, add kalamata or black olives and a half cup of thinly sliced red onion.
Try a caprese combo. Use halved mini mozzarella balls in place of the feta.
Try another herb. Fresh oregano would be lovely in place of the mint in this salad, and thyme would also be a great addition.
Swap out the arugula for spinach, or leave it out altogether if you prefer a higher pasta: veggie ratio.
Or roast your chickpeas for extra crunch.
If you love this pasta salad recipe…
Try this broccoli salad, this watermelon salad, this couscous salad, or this summer slaw next!
Easy Pasta Salad
You'll love this easy pasta salad recipe! It's a great one to make ahead - if you're bringing it to a picnic, prep it up to a day in advance.
Instructions
Bring a large pot of salted water to a boil. Prepare the pasta according to the package directions, or until slightly past al dente.

Meanwhile, make the dressing. In a small bowl, whisk together the olive oil, lemon juice, mustard, garlic, herbes de Provence, red pepper flakes, and salt. (Note: the dressing will have a strong flavor, it'll mellow once it coats all of the pasta salad ingredients).

Drain the pasta, toss it with a little olive oil (so that it doesn't stick together) and let it cool to room temp. Transfer to a large bowl with the tomatoes, chickpeas, arugula, cucumbers, feta cheese, basil, parsley, mint, and pine nuts. Pour the dressing and toss to coat. Season to taste with more lemon, salt, pepper, and/or a drizzle of olive oil, if desired, and serve.